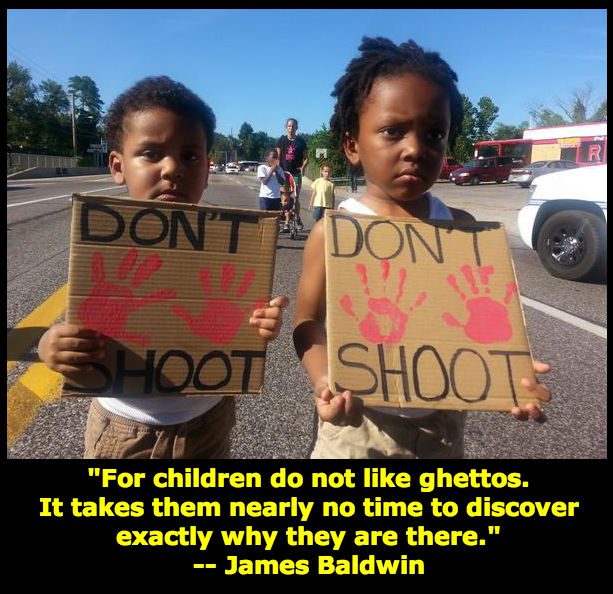 Stacia L. Brown, "A Brief History of Black Folks and Sidewalks"
You won't know this for at least a year or two — we have not started to read books like Henry's Freedom Box or Freedom on the Menu; you have not heard of Emmett Till, have not seen what it seems that every black child must: his bloated, disfigured face in an open casket — but someday you will understand just how many of our horror stories begin and end with sidewalks.

… Yes, in just a few years, you will know all about our complicated history with sidewalks in this country. And it will become quite clear how quickly something as simple as a sidewalk can get you killed. But it is not yet time and for that, I am exceedingly grateful. For now, just let the sidewalk be a site for sunshine, a concrete kaleidograph of shapes. Let it be what it hasn't be for the children of Ferguson since Friday: a safe haven, a play yard, a shore.
Jelani Cobb, "The Anger in Ferguson"
The truth is that you've read this story so often that the race-tinged death story has become a genre itself, the details plugged into a grim template of social conflict. The genre is defined by its tendency toward an unsatisfactory resolution of the central problems.
Osheta Moore, "I Raise My Hands: A Prayerful Response to Ferguson"
Today I raise my hands in surrender.  I can't do this work on my own.  I can't even pray for reconciliation on my own — I need to the Holy Spirit to come and take my jumbled, incoherent words and turn them into something powerful. Lord,  place a terrible fear in the heart of the Enemy, and advance your Kingdom of Peace where Violence has made it's camp.
Lt. Gen. Russel Honore: "Any time we have policemen pointing weapons at American citizens, they need to go through retraining."
See also:
• New York Times video: "Standoff in Ferguson"
• "Ferguson Police Reportedly Shot Pastor Renita Lamkin With Rubber Bullet During Protest"
• Jasmine Banks, "Black Kids Don't Have to Be College-Bound for Their Deaths to Be Tragic"
• Sarah Bessey, "In which I have a few things to tell you about #Ferguson"
• Sarah Vivian Gathright Taylor, "We Must Keep the Feast Day of Jonathan Daniels in Ferguson"