Hannah Anderson takes a somewhat skeptical look at multi-level marketing for Christianity Today, "Would Today's Proverbs 31 Woman Do Multi-Level Marketing?" It's more of a lifestyle-trends kind of piece than a follow-the-money exposé, but Anderson does some good reporting and doesn't back away from asking some of the necessary tough questions:
Can these companies fulfill their promises without straining their sellers' own finances (as they end up investing more than they earn) or their personal relationships in the process?

… A Federal Trade Commission report predicts that, factoring in time and financial investment, only 1 percent of MLM participants earn a profit. (A quick review of a company's income-disclosure statement confirms this.) Distributors may recoup investment in the form of product or discounts, but it takes a high level of recruitment and sales to actually make money.
That's quickly followed by "balancing" comment from "Christian money guru Dave Ramsey" (ugh), but Anderson lands the punch squarely before pulling it. That FTC report she links to there is titled, "Multi-Level Marketing's Abysmal Numbers."
The remarkable thing here is that those paragraphs quoted above appeared on the website of Christianity Today — a publication at the institutional heart of the white evangelical subculture. And in that subculture, you can't swing a Stella & Dot necklace with hitting several institutions dependent on MLM money.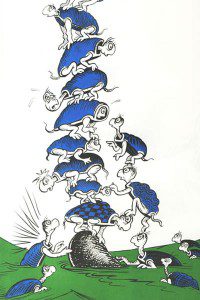 That money doesn't come from "Proverbs 31 women" (ugh, again) struggling to supplement their household income by recruiting their friends to sell essential oils and herbal supplements. That money comes from the tip-top level of multilevel marketing, from the billionaire family at the top of the pyramid. It's Amway money — DeVos money.
DeVos money is everywhere in American evangelicalism. Richard DeVos co-founded Amway in 1959. Today he's worth around $5.7 billion. (He's No. 258 on Forbes' billionaires list.) He and his heirs are committed to philanthropy. They have given a great deal of money to scores of the institutions that form of the backbone of the white evangelical subculture — churches, colleges, media and all manner of parachurch "ministries," associations and organizations. Their donations are large, generous, widespread, and — here's the rub — usually conditional.
One approach to philanthropy strives to create sustainability. The big donor says we'll give you a grant of $X for the next three years, part of which should ensure that you won't need to come back to us three years from now for another grant of $X. The goal is to develop recipients' capacity to stand on their own without being indefinitely dependent on the same big donors.
Another approach to philanthropy doesn't try to reduce that dependence, but to leverage it. Here the big donor says we'll give you a grant of $X for the next three years, after which we'll consider renewing that grant if you behave.
The DeVos family often seems to take the latter approach.
All of which is to say that I'm impressed and pleasantly surprised to find Anderson's mostly skeptical look at multilevel marketing being published by Christianity Today.
Anderson's piece starts off with a brief anecdote about Brownie Wise, the woman who invented the Tupperware Party. Wise was a single mother with an eighth-grade education. She was also a hard-working marketing genius who built a financial empire that paved the way for Amway and Herbalife and all the other "affinity" and multilevel marketing giants that followed the trail she blazed.
Brownie Wise is the ultimate multilevel marketing success story. She's also its ultimate cautionary tale: "In 1958, Earl Tupper unceremoniously and abruptly fired her, booting her from the multi-million dollar company she had helped build; she held no company stock and was given just one year's salary."
See also:
• Jayne O'Donnell, "Multilevel marketing or 'pyramid'? Sales people find it hard to earn much"
• Helaine Olen, "Money Between Friends: Silicon Valley's Embrace of Multilevel Marketing?"
• U.S. Securities and Exchange Commission, "Beware of Pyramid Schemes Posing as Multilevel Marketing Programs"