The Unbreakable Kimmy Schmidt is adorably funny. Ellie Kemper is terrific in the new comedy from Tina Fey and Robert Carlock, now streaming on Netflix. The show lands most of its jokes and then lets them build, so that each successive call-back works even better than the one before. (I'm still laughing over Robert Osborne's terrific cameo, and by the audacity of how much they were willing to milk that joke.)
Here's the trailer:
Also too: Carol Kane, folks. (Her part, like Jane Krakowski's, seems like it was written for her. As it should be.)
The show's premise seems outlandish: Kimmy is rescued from an underground bunker where she and three other women had been kept captive for 15 years after being kidnapped into an apocalyptic cult.
Well, that seemed outlandish to me. Flor Edwards says Kimmy's exuberant resilience after being rescued from a cult is often "strikingly spot-on." I'll defer to Edwards on that point — she's speaking from experience:
For a 29-year-old, Kimmy's enthusiasm to be at a park and swinging in a swing for the first time might seem questionable, but it's not. I remember the first time I walked on soft wood chips at a park in the suburb of Berwyn near Chicago. I will never forget the first time we stepped off the plane at Chicago's O'Hare Airport and my 11 siblings and I discovered a drinking fountain for the first time. We all gathered around and took turns pressing the button that magically spouted a clear fluid arch of drinkable liquid. We probably looked hilarious, but it didn't matter; we had discovered water like it was life on Mars. Kimmy doesn't care either if she looks ridiculous; she is discovering the world for the first time, and that is the appeal of the journey of Kimmy Schmidt. 
And it
is
appealing. Kemper has a tricky job portraying wide-eyed joy without overshooting the mark into either sentimentality or idiocy. I usually like my comedies like I like my coffee — dark and unsweetened — but Kimmy Schmidt, like Leslie Knope, has an indomitable optimism that can be almost contagious.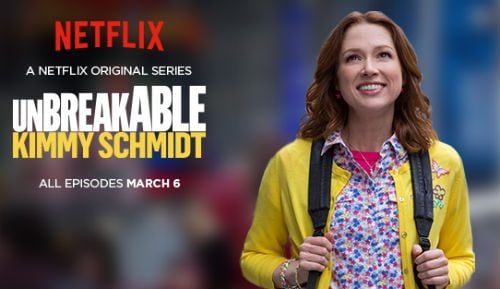 The edge of the joke stays sharp, I think, because that optimism comes from a darker place. I may not have the quote exactly right, but there's a line early in the show in which Kimmy explains the source of her optimism: "The worst thing that could ever happen to me already happened to me."
And that makes her fearless.
That same line of Kimmy's, I think, could be said by the protagonists of several other shows I've watched (or re-watched) in recent months. It could be said by Catherine Cawood in Happy Valley, or by Robin Griffin in Top of the Lake, or by Veronica Mars or Peggy Carter.
None of those are comedies, of course — and the first two can be pretty grim. The stakes are different in shows like that — more real and thus more intense. But those fearless protagonists could all say the same thing Kimmy says. They all demonstrate a courage that comes from having already encountered, and survived, their own "worst thing."
Those examples are also all women. I'm having a hard time coming up with a male protagonist who could say that same thing. (Maybe Bruce Wayne?) Does this suggest we require our fearless female characters to go through horrible ordeals before we'll allow them to be considered courageous?
Kimmy Schmidt's ordeal gets played mostly for laughs, but it's still a dark, uncomfortably traumatic premise for a show that's this cheerful and bubbly. It seems like that shouldn't work. But it does.