Can't sleep at night, and you wonder why …
So this is my favorite story from the week: "Donald Trump Accidentally Sat Through a Sermon About Welcoming Immigrants."
Trump visited First Presbyterian Church in Muscatine, Iowa, last Sunday. He's in Iowa because he's running for president and the Iowa caucuses are next week. His visit there wasn't a campaign stop, per se, but it was a visible part of a candidate's public itinerary in the week before voting, and at this point everything any candidate does is campaign-related — particularly in Iowa. Still, though, the occasion was pretty subdued, as far as Donald Trump goes. He didn't land in a helicopter on the church lawn or anything.
Trump made a surprise visit to the small congregation affiliated with the Presbyterian Church (USA) — the same denomination he has claimed on the campaign trail. Trump reportedly sat quietly throughout most of the service, singing along with hymns and nodding his head as scripture passages were read …
One of those scripture readings is where things began to get uncomfortable for Trump. First Press Muscatine, like almost all PCUSA churches, follows the Revised Common Lectionary. That's a rolling three-year schedule of four scripture readings — Hebrew scriptures, Psalm, New Testament passage, Gospel passage — that the Presbyterians share with hundreds of millions of other Christians around the world. In Muscatine, they read these passages from Eugene Peterson's lively modern translation, The Message. So on Sunday, in church, this is what Donald Trump heard when a member of the congregation rose to read the New Testament reading, from One Corinthians 12, Paul's extended analogy on unity, humility and interdependence:
But I also want you to think about how this keeps your significance from getting blown up into self-importance. For no matter how significant you are, it is only because of what you are a part of. An enormous eye or a gigantic hand wouldn't be a body, but a monster. What we have is one body with many parts, each its proper size and in its proper place. No part is important on its own. Can you imagine Eye telling Hand, "Get lost; I don't need you"? Or, Head telling Foot, "You're fired; your job has been phased out"?
In a press conference later in the day, Trump seemed a bit defensive about that particular reading. This admonition to remain humble, with it's caricatured epitome of arrogance saying "You're fired," seemed a bit too on the nose:
Trump also wondered aloud whether a reference to humility during the service was "directed" at him, saying of the reader, "Perhaps she had something in mind."

Trump even defended himself against the perceived slight: "I have more humility than people think," he said.
He may have a point. I doubt it's possible he has less humility than most of us think.
Alas for Trump, things only got more uncomfortable for him when it came time for the Gospel reading. This was kind of a two-for-the-price-of-one deal this week, since the passage from Luke's Gospel involves Jesus reading from the book of Isaiah:
Then Jesus, filled with the power of the Spirit, returned to Galilee, and a report about him spread through all the surrounding country. He began to teach in their synagogues and was praised by everyone.

When he came to Nazareth, where he had been brought up, he went to the synagogue on the Sabbath day, as was his custom. He stood up to read, and the scroll of the prophet Isaiah was given to him. He unrolled the scroll and found the place where it was written:

"The Spirit of the Lord is upon me,
because he has anointed me
to bring good news to the poor.
He has sent me to proclaim release to the captives
and recovery of sight to the blind,
to let the oppressed go free,
to proclaim the year of the Lord's favor."

And he rolled up the scroll, gave it back to the attendant, and sat down. The eyes of all in the synagogue were fixed on him. Then he began to say to them, "Today this scripture has been fulfilled in your hearing."
Phew. Jubilee, Jubilee, Jubilee. All that good news for the poor is bad news for Trump. As Rachel Held Evans put it, Trump just "stepped into a big ol' pile of actual gospel."
There are churches and preachers who could take that most-gospel-y of all Gospel readings, that proclamation of Jubilee, and still manage to produce a sermon that wouldn't perturb the slumbering conscience of a man like Donald Trump.* Unfortunately for Trump, the First Presbyterian Church of Muscatine, Iowa, is not one of those churches and the Rev. Pam Saturnia, who was preaching there Sunday, is not one of those preachers. Saturnia preached a sermon based on this Gospel reading. It was sermon that Jesus and Isaiah would've liked and, therefore, it was a sermon that Donald Trump must have found excruciating:
"Jesus is teaching us today that he has come for those outside the Church," she said. "Jesus has come to proclaim freedom and healing to those who are the most unloved, who are the most discriminated against, the most forgotten in our community and in our world. Jesus has come to proclaim the year of the Lord's favor on the teenagers who are homeless, on the Syrian refugees, on the Mexican migrants, and the people who find themselves prisoners of addiction and their families, on the poorest of the poor in Haiti — Jesus has come for them. Jesus has come for everyone."
This wasn't the sermon that Donald Trump was looking for when he walked into that church in Muscatine. But it was, perhaps, the sermon he needed.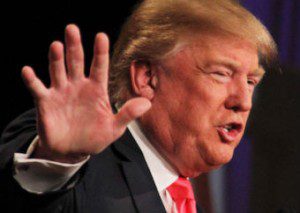 The delightful thing here is that Trump wandered into the message of this service almost at random. And the message of this service wound up finding its way to Trump by a similar happy accident. It all seems a bit providential.
Maybe God is trying to tell Trump something.
In any case, tomorrow is Sunday again and Donald Trump will likely still be in Iowa, making one last appearance in church in the Hawkeye state before heading to New Hampshire. It might be prudent for him to stay away from his PCUSA family for another week. This week's lectionary readings include 1 Corinthians 13 — likely a difficult passage for him, even though he's probably heard it read at numerous weddings (maybe even numerous weddings of his own). And the lectionary includes Psalm 71 — one of the many, many Psalms that speaks of God as a "refuge" for those fleeing "from the hand of the wicked, from the grasp of the unjust and cruel." A Psalm of deliverance for those seeking refuge seems like a poor fit for Trump's anti-refugee campaign.
So I'd advise Trump to stick to some nice, safe evangelical church this week — somewhere that doesn't use the lectionary shared by most of the world's Christians. I'm sure he can get his fundie friends Jerry Falwell and The Liar Tony Perkins to recommend some local church that would be better-suited for him. Someplace more hospitable to Trump's central campaign theme of inhospitality. Someplace where injustice and cruelty are never condemned.
Some nice, safe white evangelical church, in other words, where Trump won't have to worry about encountering a God who might be trying to tell him something. There are plenty of those to choose from.
– – – – – – – – – – – –
* I'm sure Robert Jeffress — the Dallas pastor who just endorsed Trump — could do it. And Trump's pals at Liberty University have mastered the trick. The key is to spiritualize everything. Spiritualize it hard. Just dig right in and spiritualize the crap out of it. Make it about good news to the spiritually poor, release to the spiritually captive, sight for the spiritually blind, freedom for the spiritually oppressed. It's a spiritual Jubilee. Meaning, you know, not an actual Jubilee.
This works for every reference to poverty, oppression, justice/righteousness, injury, disease, captivity, debt, hunger, danger, etc.
**