I believe that any journalist who interviews Donald Trump has an obligation, first and foremost, to press him hard on his many lies and outrageously bigoted statements and positions. Those are the questions that need to be asked, above all, and asked again and again until it becomes impossible for him to avoid answering them.
He should be relentlessly grilled on the predatory scam of "Trump University." He should be pinned down about his refusal to release his tax returns. He should be forced to explain the practical, logistical, logical and constitutional impossibilities of his border wall and his mass deportation plan. He should be called to account for decades of racist garbage — from his inflammatory railroading of the wrongly convicted Central Park Five to his years of bogus claims about President Barack Obama's birth certificate. He should be forced to account for his disdain and disgust toward women.
But after all of that — maybe not until after November, after he's been defeated and the republic has been saved — I hope that some journalist interviewing Trump also asks him what the deal is with him playing "Tiny Dancer" at all his rallies.
It's such an odd, inexplicably inappropriate song for that. I mean, it's not the most non-Trumpish Elton John song — that would probably be this one —
— but it's probably in the Top 10. And it's so utterly not a political rally song — especially not for Trump's brand of authoritarian, make-America-white-again, xenophobic, bristling-with-violence rallies.
I'm simply bewildered how "Tiny Dancer" came to be such an essential part of the weird liturgy in Donald Trump's cult of personality.
Elton John is an odd choice to begin with. Yes, Sir Elton infamously performed at Rush Limbaugh's fourth wedding (for $1 million, apparently), but he's not a right-winger like Trump. And a famously, fabulously gay, British pop-star doesn't seem like an apt choice for appealing to Trump's target demographic.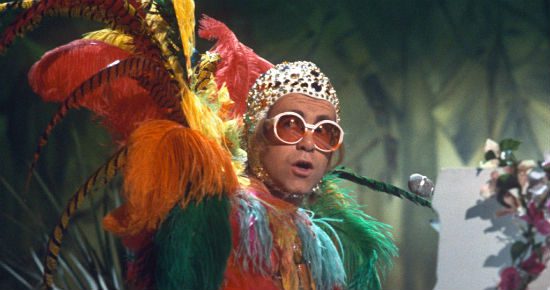 But if Trump was determined to go with an Elton John song for his rallies, there are certainly more rallying, or more appropriate, Elton John songs. Consider, for example, this list:
Top 15 Elton John Songs That Would Be Somewhat Better-Suited for a Donald Trump Rally Than "Tiny Dancer"
15."I'm Still Standing"
14. "Don't Let the Sun Go Down on Me"
13. "Goodbye Yellow Brick Road"
12. "Love Lies Bleeding"
11. "Sorry Seems to Be the Hardest Word"
10. "Saturday Night's Alright (for Fighting)"
9. "My Father's Gun"
8. "Tower of Babel"
7. "The Emperor's New Clothes"
6. "Bitter Fingers"
4. "Postcards From Richard Nixon"
3. "The Bitch Is Back"
2. "Be Prepared"
1. "I Just Can't Wait to Be King"
None of those would really withstand a closer look or a second listen — each of them is, in some way, incompatible with the themes and ideology of a Trump rally. But maybe they wouldn't be quite as jarringly, obviously, utterly out-of-place as "Tiny Dancer."