The Rev. Dr. William Barber is, as he said yesterday, a preacher and the son of a preacher. And when such a man is given just 10 minutes to speak, as Barber was at the Democratic National Convention in Philadelphia, he's going to have to go from zero to 60 in a hurry. Barber did that, somehow managing — in just over those 10 minutes — to briefly transform a political convention into something like a secular tent-meeting revival. He quickly introduced himself to the thousands of delegates at the Wells Fargo Center, and to the thousands more watching from home, and then he took us all to church.
Some thoughts:
• I've embedded the video there. If you can't watch it here or now, find it and watch it later when you can. I'd hoped to be able to link to a transcript, but couldn't find one — only many, many iterations of the video. That's just as well. This was meant to be seen and heard and felt, not transcribed.
• You can take the preacher out of the pulpit, but you can't take the pulpit out of the preacher. The substance of Barber's sermon was secular — a "revival" of "the heart of our democracy," but the style was unapologetically sectarian. The collar he wears is a clear symbol of where he's coming from as an individual, and that's not something he's going to hide, or to set aside, or to let us forget. I had to watch this twice to realize there was no organ playing an accompaniment, and I half expected there to be an altar call at the end (partly because I was ready to go forward myself).
• I loved the bit about "moral defibrillators." Barber there does something that many great preachers do, stepping back slightly to transition, somewhat awkwardly, into what seems, at first, like a strained analogy. (I'm thinking here, for example, of Dr. King's "promissory note.") You're forced to step back with them, pausing to think, "Uh-oh, I'm not sure this is gonna work." And then it does, and the unexpectedness of that adds to the delight and the impact.
• " I was surprised to see Barber speak at the DNC," Ari Berman writes for The Nation. "He's rarely endorsed candidates and been careful not to get too close to the Democratic Party, which he's also taken on over the years." So he asked the preacher, activist, and leader of North Carolina's Moral Mondays movement, what made him decide to appear at this event:
I didn't ask to speak or seek to speak. We tried to deliver our higher ground moral declaration to the RNC — they refused to meet with us. We did deliver it to the DNC.

The stuff at the GOP convention that literally bordered on heresy — when I hear a candidate say "I alone can fix" that, that's like hearing Caesar talk during the days of Jesus or the bad kings during the days of the prophet[s].

I prayed about if the opportunity came [to speak at the DNC], I might consider it, in light of this political idolatry that Trump represents. These are times that try men and womens' souls. We have not heard the type of things we've heard from Trump since George Wallace in 1968.
Extraordinary times.
• It's hard for me to say how successful Barber was at translating his sectarian moral argument into non-sectarian terms that can wholly transcend that sectarian reasoning and appeal to a broader, pluralistic audience. That means seeking universality without abandoning particularity. This is the same process and principle at work in fiction and poetry and all great art — exploring the specific and particular to better understand the general and universal. And it's based on the same premise, the same expression of faith in the idea that the particular can be universal because the human condition means that we — us humans — have more in common than all the complexity and diversity that seems to separate us from one another.
As someone who shares Barber's sectarian perspective, I recognized all the ways his secular sermon highlighted and was informed by, and infused with, the particularities of his faith. But I'm also thus less able to judge how that particularity sounded to the rest of us. (It clearly played well in that room, as shown by the fact that everyone was already on their feet long before Barber implored them to "Stand up!") How did this sound from where you, particularly, were sitting (or standing)?
• This was a big-picture sermon, not the kind of candidate-specific endorsement speech that makes up much of a political convention's agenda. Barber only mentions Hillary Clinton once (commending her) and never directly mentions Donald Trump at all. But I think he does give Trump a look. "I am a conservative," Barber says, "because I work to conserve a divine tradition that teaches us to do justice, love mercy, and walk humbly with our God." And when he gets to humbly — 'umbly, in his lovely North Carolina drawl — he glances directly at the camera and thus, perhaps, directly at the Republican nominee.
No further exposition is provided, but none is needed. Micah 6:8 provides a three-part test for what is required of a leader, and Donald Trump is clearly 0-for-3.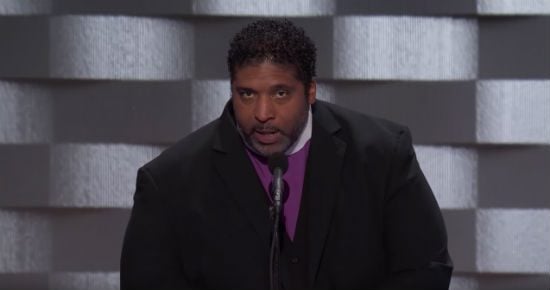 • While most of Barber's sermon was, I think, intended to appeal to a universal, secular audience, parts of it also seemed specifically pitched as an appeal to — and rebuke of — certain of his fellow Christians. Heck, let's just say it: white Christians. And even more specifically, white evangelicals — the brothers and sisters who have opposed him at every step as they have supported Art Pope's right-wing revolution in Barber's native state. Those are the Christians he was addressing in his pointed line about, "Those who say so much about what God says so little, while saying so little about what God says so much."
Barber also addressed his white evangelical fellow Christians throughout in his use of "revival" as a metaphor. His message to them was signaled clearly in his invocation of Isaiah 58 — a biblical reference that, alas, is likely to elude many white American Bible Christians, as it's never been among their beloved favorites. It is a ferociously apt prophetic rant aimed at precisely the sort of piously beside-the-point white evangelicals now supporting Trump.
You want revival? the prophet says. You'll never know revival if "you serve your own interest" and "oppress all your workers." Instead:
Is not this the fast that I choose:
    to loose the bonds of injustice,
    to undo the thongs of the yoke,
to let the oppressed go free,
    and to break every yoke?
Is it not to share your bread with the hungry,
    and bring the homeless poor into your house;
when you see the naked, to cover them,
    and not to hide yourself from your own kin?
Then your light shall break forth like the dawn,
    and your healing shall spring up quickly;
your vindicator shall go before you,
    the glory of the Lord shall be your rear guard.
Then you shall call, and the Lord will answer;
    you shall cry for help, and he will say, Here I am.
If you remove the yoke from among you,
    the pointing of the finger, the speaking of evil,
if you offer your food to the hungry
    and satisfy the needs of the afflicted,
then your light shall rise in the darkness
    and your gloom be like the noonday.
The Lord will guide you continually,
    and satisfy your needs in parched places,
    and make your bones strong;
and you shall be like a watered garden,
    like a spring of water,
    whose waters never fail.
Your ancient ruins shall be rebuilt;
    you shall raise up the foundations of many generations;
you shall be called the repairer of the breach,
    the restorer of streets to live in.
That's what Barber was calling for in the conclusion of his sermon, as he recited a verse from "that old hymn, 'Revive Us Again.'"
That hymn, written in the 19th century by Scotsman William Paton Mackay, is a Southern Gospel standard — a staple in white churches, beloved by white Christians. Barber is inviting white evangelicals to sing that song, but he does so in a way that echoes Jesus' words in Matthew 9: "Go and learn what this means …"
• Isaiah 58 also seemed to be the context — and the condition — for Barber's willingness to commend Secretary Clinton and the Democratic Party. Live up to this, and you will earn his support. If they work to loose the bonds, break the chains, feed the hungry, repair the breach, and restore streets to live in, then that support will continue. Otherwise …