• The federal budget proposed by Republican President Donald Trump would also slash LIHEAP — the program that provides heating assistance for low-income Americans.
This makes no sense. The only people who don't like LIHEAP are Randian anarchists like House Speaker Paul Ryan, who don't believe there should be a federal government, and Breitbart-addled racists who pretend to believe that all government assistance is a handout exclusively reserved for those people, (including those forms of government assistance they themselves rely on, and expect to be able to continue to rely on even after the people they elected to get rid of it eventually get rid of it). Everybody else understands that LIHEAP is necessary, effective, and small potatoes budget-wise.
Energy companies and utilities love LIHEAP, because ultimately they're the ones who receive this money. Fire departments and insurance companies love LIHEAP, because without it desperate people are forced to rely on unsafe means for keeping warm. And, of course, the program enjoys universal support among non-jerkwads, because helping poor people keep warm in winter is a Good Thing.
• "Don't you ever have anything positive to say about the Trump administration? C'mon, just one thing …"
"OK, fine. I liked Edge of Tomorrow."
• "Airstrike monitoring group overwhelmed by claims of U.S.-caused civilian casualties"
"Almost 1,000 civilian non-combatant deaths have already been alleged from coalition actions across Iraq and Syria in March — a record claim," Airwars said in a statement. "These reported casualty levels are comparable with some of the worst periods of Russian activity in Syria."
• "The claims in the ad remain true in spite of yesterday's [Friday's] events," said the right-wing oligarchical "American Action Network" PAC in defense of its television ads celebrating the repeal of the Affordable Care Act, which aired Friday night despite the utter collapse earlier that day of Republican efforts to make that happen.
The Robber Baron PAC's ads ran during NCAA Tournament games, with various versions tailored to "thank" local Republican members of Congress for voting to repeal the ACA. That looks a bit ridiculous given that none of those Congressfolk actually voted to do so and the ACA remains, as a mournful House Speaker Paul Ryan put it, "the law of the land."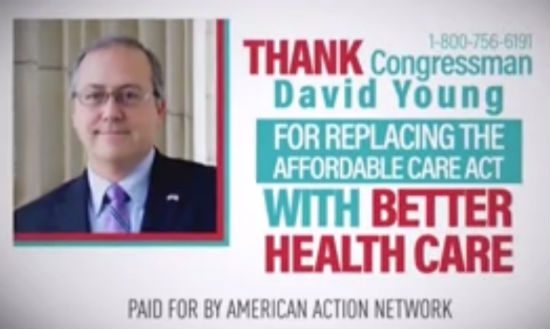 But these ads do serve a useful purpose, identifying by name certain un-Representatives whose loyalties lie with the rent-seeking bastards who fund things like the "American Action Network" PAC rather than with the interests of their constituents or their constitutional duties. So let's thank the AAN for identifying David Young, David Valadao, Darrell Issa, Will Hurd, Greg Walden, and Paul Ryan as people who need to be on the receiving end of an avalanche of letters and phone calls from now until they are voted out of office in 2018.
Those phone calls and town hall meetings? They worked. So keep calling.
See also: "10 Lessons from the Republican Health Care Debacle"
• Speaking of still-surviving beneficial legacies of the Obama presidency — The CFPB hasn't yet been repealed or defunded, so it's still living up to its name protecting the finances of consumers:
Two months after federal regulators fined two of the nation's largest credit reporting agencies — Equifax and TransUnion — $23 million for misleading consumers about the cost and usefulness of credit monitoring services, the Consumer Financial Protection Bureau has announced a $3 million settlement with Experian over allegations that the credit agency misled consumers about the usefulness of the credit scores available for purchase.
• Robyn Pennacchia's commentary on Internet Liar Mike Cernovich is somewhat related to our discussion of young-Earth creationists earlier today:
People aren't just "flat earthers" because they believe the world is flat. The primary draw there is feeling like you and all your other friends are so very clever that you have figured something out that no "expert" could previously do. You are smarter than the so-called experts, who have the gall to call you stupid and poorly informed. That feels better than just agreeing with the "experts."