We need a thread for this. You don't need me or anyone else to tell you that this is a good time to give if you can, but still.
The flooding in Texas (now heading into Louisiana) is almost incomprehensible. Millions of people have had their lives turned upside down. Some have lost everything. It's heartbreaking. (Odd word, "heartbreaking" — a strange case in which a thing breaking is what tells you it's working as it should.)
I've read and heard and watched a host of "What You Can Do To Help" pieces, like this one from CNN and this one from NPR. Closer to the ground, here's a good one from Texas Monthly.
And my go-to source for all things Houston is Charles Kuffner's Off the Kuff blog — which you'll want to follow in the weeks and months to come for local news on what promises to be a long, difficult recovery for America's fourth-largest city. Here's Kuffner's list of More Ways to Help.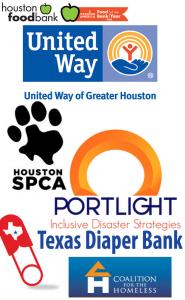 Nearly all "How to Help" pieces mention the American Red Cross, which is still the 800-pound gorilla of national disaster relief efforts. They're really big and have a ton of resources and experience that they can mobilize quickly. The Red Cross arrived fast and has been there, on the ground in Texas, helping real people in this disaster. They're also the folks you'll want to contact to donate blood (which is something that's always needed).
Alas, the American Red Cross has also ossified into something of an industrial monopoly on disaster relief. If you've read any of ProPublica's excellent reporting, you've got good reason to doubt that all of your donations there will be accounted for and put to good use. (Headlines like "How the Red Cross Raised Half a Billion Dollars for Haiti ­and Built Six Homes" do not inspire confidence.) Also, if you try to follow the rule of thumb about not giving to charities whose executives make more than 10 times what you do, then the American Red Cross may not make the grade.
Many of the "How To Help" round-ups have focused on local organizations in Houston. I've never been to Texas and have no personal experience with any of these groups, but they've been commended by multiple local outlets.
Consumer Reports reminds us that responsible giving entails a bit of homework. Some of these local charities have been evaluated and recommended by the charity watchdogs, but others haven't been. Follow the link there if you'd prefer to see a list of (mostly larger) groups that get the watchdogs' approval. Consumer Reports and all of those charity auditing groups all recommend giving cash as the best, most helpful response during a disaster.
Here, then, are a bunch of those local agencies:
• Houston Food Bank (just one of many great food banks operating in the city and the area)
• United Way of Greater Houston
• Portlight (focus on emergency assistance to persons with disabilities)
• Coalition for the Homeless of Houston/Harris County
If you know of more good local agencies that could use the support, please recommend them in comments.
It's a big world and Harvey is far from the only recent or still-unfolding disaster. The Mennonite Central Committee is aiding victims of deadly flooding in Peru. The Red Cross UK is raising funds to assist the more than 17 million people affected by monsoon flooding in South Asia.
None of us can do everything. None of us has to. Find where you fit and give what you can and patch your small piece of the net.