• We now have two longtime Republican senators from Arizona who are not seeking re-election and therefore have no fear of primary challenges from the white nationalist, Bannon-ite, tea party, lunatic fringes of their party. This seems to have liberated them to speak with greater honesty and candor about the current state of their party and its leader in the White House.
It would be good to see them back up those words with substantive action. That would be good for the country. It also might help them to atone for their prior complicity in the very things they're now lamenting and decrying.
• I have a Google News Alert for "manufactured home." Most days it provides a stream of local news stories about fires and about endless NIMBY efforts to keep such affordable housing and the residents thereof out of sight and out of mind. And at least once a week it provides stories like this one, from the Salt Lake Tribune, "Midvale seniors hope to stave off eviction, keep rents down by buying property where their mobile homes reside."
That story gets at the bind facing retirees and working-class families who own their homes, but not the land beneath them. They live in perpetual risk of eviction — meaning either the great expense of moving their home, or of losing all the savings they've put into it. And — because moving that home is so difficult and prohibitively expensive — they are vulnerable to predatory rent increases. The solution I've long advocated is just what these Utah citizens are attempting — securing financing to purchase the land beneath their homes, becoming a resident-owned community.
Here's another variation on that approach that's gaining steam: "Why Some Cities Are Buying Trailer Parks."
Boulder [Colorado] and a handful of other localities, desperate to hang on to homes middle- and working-class people can afford, have stepped in to buy parks, fix them up, and transfer ownership to residents or to a nonprofit on condition that rents be kept low.

Portland, Oregon's housing authority financed a deal last year that saved a mobile home park from being sold to a developer. Pitkin County, Colorado, is buying a park it intends to set aside for people who work in the area. And Boulder bought a park this summer, with the twin goals of improving its infrastructure and maintaining affordable housing.

Affordable housing advocates say that the best way to preserve mobile home parks is to turn them into co-operatives owned by residents. But in Boulder, land is so valuable — and parks need so many infrastructure upgrades — that it wouldn't be possible for low-income residents to finance the purchase alone.
• In honor of United Nations Day,
Dan Wells shared this image on Twitter
. It's from a 1969 "gospel tract." I need to find a larger, higher-res version of this.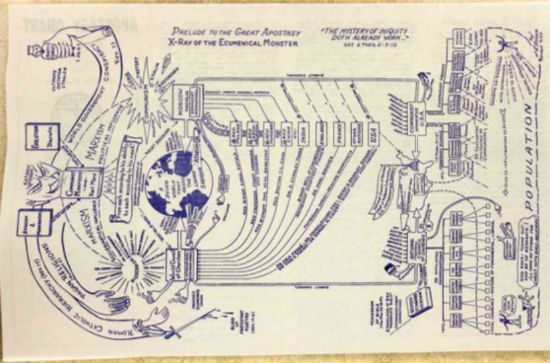 Tim LaHaye didn't invent the marriage of fever-swamp Bircherism with End Times Rapture-mania, he just popularized it.
Respectable, mainstream white evangelicals would of course distance themselves from this sort of thing. But then they'll turn around and treat things like the Institute on Religion & Democracy as respectable, when all it does is endlessly recycle and repackage exactly this same bizarre nonsense.
• This is a strange article on a strange new book: "The Supernatural Pseudoscience of Nazi Germany." The book, Eric Kurlander's history Hitler's Monsters: A Supernatural History of the Third Reich, sounds like a ready-made ratings stunt for the History Channel, but Michael Schulson argues that it also raises some timely issues:
We are living in a moment in American history when conspiracy theories and internet-borne fantasies seem to be ascendant. Trust in shared institutions of truth-making and fact-sharing are at a low. Something like Coast to Coast AM radio — the wildly popular nighttime show that features paranormal occurrences and occult theories — does not seem all that far from the White House. After all, both Coast to Coast AM and the president are on very warm terms with the conspiracy theorist Alex Jones.
• The title for this post comes from a Decemberist's song that belongs on everyone's creepy Halloween playlist. I particularly like Sarah Jarosz' rendition, which highlights the creepiest aspect of this spooky song — the fact that it's written as a lullaby, and the idea of anyone actually singing such a thing to small children at bedtime.