I would like to see Colin Kaepernick sign with the New York Mets.
There are probably a dozen reasons why that would never happen, only some of which have to do with baseball (or football). And my arguments against those reasons likely won't be persuasive, because my main reason for wanting this to happen is theological.
I want to see Colin Kaepernick playing for the Mets because Tim Tebow is already playing for them.
And Tebow is actually playing really well. It's unusual for anyone to be considered a credible Major League "prospect" at the age of 31, but in his second year in professional baseball, the Heisman Trophy winner and former NFL quarterback started looking like something more than a publicity stunt for the organization. He legitimately earned a spot on the (AA) Eastern League All-Star game and was credibly building a case for a September call-up with the big-league team before a broken bone in his hand ended his season early.
Again, my point here is religious so I'm trying not to get to bogged down in the sports side of things here. But allow me to explain why I think of these two former NFL quarterbacks as linked. Tebow entered the NFL as a rookie with the Denver Broncos in 2010, with Kaepernick drafted the following year by the San Francisco 49ers. Kaepernick was a seldom-played backup his first year, just as Tebow was the previous season. Each of the quarterbacks unexpectedly took over the starting role for their team in their second year and both marched their respective teams through the playoffs. In 2010, Tebow led the Broncos all the way to the AFC Championship game before losing (badly) to the Patriots. In 2011, Kaepernick led the 49ers to an NFC Championship before losing (narrowly) to the Baltimore Ravens in the Super Bowl.
But the main link between these two athletes doesn't have to do with their playoff success during their first years as starting quarterbacks. It has to do with the controversy that both men have encountered due to their exuberant expressions of their Christian faith. Tim Tebow and Colin Kaepernick are both evangelical Christians.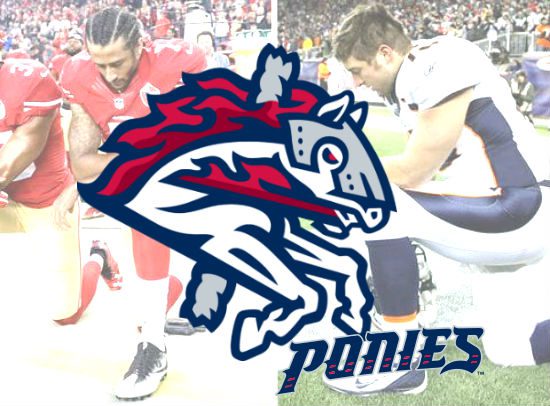 Evangelical Christianity is not unusual, and not usually controversial, in the NFL. Demonstrations of evangelical piety have become as much a part of the game as militarized patriotism. But even in the hyper-evangelical culture of the NFL, Tebow and Kaepernick stood out.
Tebow's reputation as an especially evangelistic evangelical began in college, where he regularly wore references to Bible verses in his eye black. They were always solidly evangelical, first-year-Awana type verses like John 3:16 and Proverbs 3:5-6. The attention this garnered led the NCAA to adopt a new rule — dubbed "the Tebow Rule" — forbidding players from writing messages on their eye black.
The quarterback's habit of kneeling in prayer to celebrate individual plays on the field became known as "Tebowing." It prompted a social media craze among white evangelical football fans who posted pictures of themselves imitating the pious pose.
And, like many other NFL players, Tebow steadfastly insisted on "Glory to God" after every game, win or lose. He epitomized the muscular Christianity of NFL-evangelicalism when he said — speaking at an evangelical mega-church:
My faith is the basis. … I've been very blessed to have the talent to play the game that I do and be successful at it. I think God guides me through every day and helps me take the right steps and has helped me to get to where I'm at. When I step on the field, I always say a prayer, say I am thankful to be able to wake up that morning and go out there and try to glorify the Lord with what I do on the field. I think if you go out and try to do that, no matter what you do on the field, you can be happy about what you did.
Wait, sorry. That wasn't Tim Tebow. It sounds like Tim Tebow, but that was actually Colin Kaepernick speaking at the very evangelical Summit Christian Church in Sparks, Nevada in 2013.
Kaepernick, like Tebow, was an outspoken evangelical Christian who was not ashamed of the gospel of Christ. And while the NFL forbade Tebow from writing Bible verses in his eye black, it couldn't do anything to prevent Kaepernick from wearing Bible verses on the field because he had those verses tattooed on both arms.
Today, of course, the original controversy about Kaepernick's outspoken, demonstrative Christian faith has been overshadowed by the far larger controversy created by his … outspoken, demonstrative Christian faith.
It was that faith — the same faith articulated in that Tebow-esque quote above from his talk at that mega-church — that led Kaepernick to begin protesting racial injustice. He did so by "Tebowing" during the singing of the national anthem before football games — a gesture that echoes perhaps the greatest sermon from the greatest American theologian of the 19th century.
And because of that protest, Colin Kaepernick is now despised and reviled by the very same white evangelical Christians who remain ardent admirers of Tim Tebow.
Those white evangelicals are uncomfortable when I refer to Frederick Douglass as a "theologian." But read the sermon linked above — "What to the Slave Is the Fourth of July?" — and explain to me how that is not, explicitly, a work of theology. The same theology that asks, today, What to the Family of Philando Castile Is the National Anthem? What is it to the family of Tamir Rice? To the family of Terence Crutcher? Of Alton Sterling? Of Walter Scott? Of Eric Garner? To all the families to whom it has been demonstrated — with lethal clarity — that the ideals of that anthem do not apply to them? To the millions more families who have been shown, in all of these cases, that the same thing could happen to them, at any time, for any reason, with impunity?
"And this horrible blasphemy is palmed off upon the world for Christianity."
That question is a part of Colin Kaepernick's Christian faith in a way that it is not a part of Tim Tebow's — or at least not a part of the faith of Tebow's white evangelical fans. Both men are, as we have said and seen, evangelical Christians. Both are undeniably evangelical in their piety, their devotion, their biblicism, their soteriology (narrowly understood). But the faith of Colin Kaepernick is larger than the faith of the Tebow-loving white evangelicals who despise him for seeking first God's justice (Matthew 6:33 — another good first-year-Awana verse). It includes something that confuses, confounds, and infuriates white evangelicals.
All of which illustrates why it is necessary — theologically necessary — to draw a clear distinction between evangelical Christianity and white evangelical Christianity. That distinction is not primarily demographic. It's theological.
It would not be fair to Tim Tebow here to make him out to be the embodiment of the whiteness of white evangelicalism. Just because white evangelicals embraced him as the literal poster-boy of their white theology doesn't mean he deserves that. He strikes me as a generally well-intentioned, stand-up guy. I admire his devotion and I believe he genuinely seeks to "trust in the Lord with all his heart and lean not on his own understanding." That seems to be, as my people like to say, the desire of his heart.
Alas, like most white evangelicals, his heart and his own understanding have been shaped, in part, by a lifelong diet of the whiteness of white evangelicalism. That toxic spirituality prevents us from following Jesus the way that many of us earnestly desire to do because it prevents us from seeing Jesus, from knowing Jesus. It keeps us trapped in the very hole the Gospels warned us about, the one in which we continually say, "Yes, but who is my neighbor?"
But I have faith in the amazing grace that is saving even wretches like me from the false idols of white evangelicalism, saving us from the White Jesus we've been taught to follow instead of the real deal.
And, like the New York Mets organization, I'm willing to bet that Tim Tebow is still capable of learning something new. I'd bet he could learn a great deal about his faith — about its boundaries and blindspots — if he had a teammate like Colin Kaepernick.
I'm making two bets there, really. The first is that Tebow would be capable of learning from Kaepernick, and the second is that white evangelicals might remain willing to listen to a guy like Tebow even if he were to start listening to someone like Kap. He is respected and revered within the white evangelical subculture today, but would that still be true even if he were to start treating such a brother in Christ as, well, a brother in Christ?
In any case, it would be fascinating to watch these two gifted athletes and polarizing figures come together as teammates. It might prove to be a step forward or, at worst, a study in contrast between these two strains of American evangelical Christianity.
I suppose that leaves us with one more question: Can Colin Kaepernick still pitch?
He was a two-time all-state selection in high school with a 90+ mph fastball that got him drafted by the Chicago Cubs despite his declared intention to play college football. He's only gotten stronger, and smarter, since then. So I'm guessing he can.
Would he want to? And would the Mets be willing to double-down with a second controversial 30-year-old rookie? I have no idea. But if this happened, I might buy season tickets for the Rumble Ponies and drive to Binghamton for every home game.