The Pennsylvania Grand Jury Report was released on August 14:
Top Roman Catholic leaders in Pennsylvania covered up decades of child sex abuse involving more than 1,000 victims and hundreds of priests, according to a long-awaited grand jury report released [Aug. 14].
Capping what may be the most comprehensive examination yet of clergy sex abuse across a single state, the nearly 900-page document accuses church officials in six Pennsylvania dioceses of routinely prioritizing their institution over the welfare of children in their care.
"Betrayed by faith." Tricia Nadolny's Inquirer report on one family's experience was published Thursday:
Looking back, the sisters say he laid the groundwork for their abuse from the day Lara, now 46-year-old Lara Fortney-McKeever, raised her hand to volunteer. He gave her odd jobs and paid her in cash, then invited her to bring her siblings along with her.

Soon five Fortney sisters — 13-year-old Patty, 10-year-old Lara, 7-year-old Teresa, 6-year-old Marisa, and 2-year-old Carolyn — were spending their free time with Giella alone at the rectory.

As devout Catholics, their parents saw it as a blessing for a man of God to take an interest in their family. When Giella came for dinner, Edward gave up his seat at the table as a sign of respect.

"I thought it was wonderful," he said. "I thought, 'Wow, kids got somebody else to relate to besides me.' "

Instead, when alone with the children, Giella began …
The rest is heartbreaking and infuriating and — according to that massive, relentlessly documented grand jury report — not unusual.
My nephew celebrated his eighth-grade graduation from a Catholic school here in Pennsylvania two years ago. On every seat in the auditorium, parents and relatives found these postcards: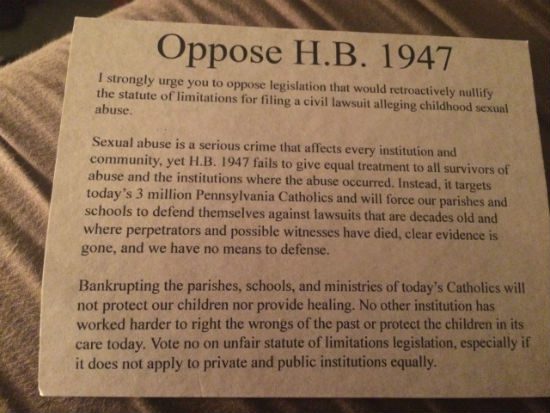 Here is what I wrote that week — "Maybe schools shouldn't be lobbying to defend sexual predators":
That's a postcard intended to be signed and sent to state legislators by every parent of every child at this school. "Oppose H.B. 1947" the postcard says, referring to a Pennsylvania bill that would eliminate the statute of limitations for sexual crimes against children.

So what we have here is a school — an elementary school — assuring every parent of every child there that school officials actively support shorter statutes of limitations for sexual crimes against children. "We want to make it harder for the state to prosecute those who prey on children sexually," school officials are telling the parents of the children in their care. "And we'd like you to help us do it."

… Accompanying these postcards were letters from Archbishop Charles Chaput, repeating his false claim that HB 1947 targets his church while exempting public institutions.
Four months after lying about that legislation, Chaput sent another letter that urged every Catholic family in the commonwealth to heed his moral and spiritual advice. That was a letter, three weeks before election day, bemoaning the "cultural damage" Chaput claimed Barack Obama had done to America and warning against Hillary Clinton as "a scheming, robotic liar with a lifelong appetite for power and an entourage riddled with anti-Catholic bigots."