• If you've ever wondered what 835 tubas (and euphoniums) sound like all at once, the Kansas City Star has the answer. Congratulations to the Kansas City Symphony and to everyone who participated in their record-setting 2018 TubaChristmas.
The previous world record, apparently, was a 2007 California concert involving 502 tubas. I am very much hoping that group will attempt to reclaim its status by organizing 900 or more tubas and that we are witnessing the beginning of a hotly disputed back-and-forth competition that will bring us ever-larger tuba ensembles year after year. The 1,000-tuba barrier was once considered impassable, but it now seems within our reach. Ad astra per aspera!
(I know that's the motto for the home state of the other Kansas City, but still.)
• Hemant Mehta has found "the least useful degree anyone could possibly get." It's a "doctorate of eschatology" from the unaccredited, online-only Luder-Wycliffe "seminary." This degree is one of several the "school" offers for the low, low price of just $2,240 (plus $225 for a fancy diploma, available in several attractive and expensive styles).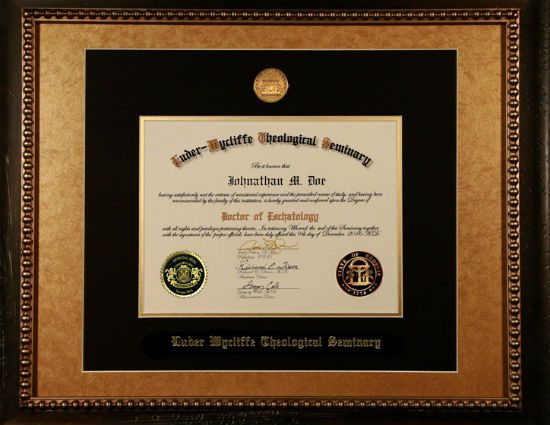 As Hemant notes: "If the world ends, your degree will be useless. If the world does not end, your degree will be useless."
• You remember the never-ending religious service being conducted at a church in the Netherlands to provide sanctuary for a family of asylum-seekers? It's still going on.
An Armenian family fled political persecution and was initially granted asylum in the Netherlands. But the Dutch government overruled that determination, without explanation, and ordered that the family be deported back to the same place they fled after receiving death threats. Bethel Church in The Hague offered the family sanctuary. Dutch law forbids the police from interfering in a church during an ongoing religious service, so Bethel decided to have one — one perpetually ongoing religious service. It's been going now for more than 1,000 hours.
Christianity Today
notes that evangelical churches and pastors have joined in with the many other groups keeping this marathon church service going. That's a Good Thing.
The form of this splendid protest seems tailor-made for evangelicals to participate. Here is the one place where evangelical preachers are encouraged to speak for hours and hours, and where evangelical worship bands can repeat the chorus of any praise song as many times as they like.
• Alas, I will not be traveling to San Diego any time soon, so I won't be able to see this play: "'This Beautiful City' Is a Complicated Portrait of Faith and Hypocrisy." Imagine the Laramie Project, but set in the white evangelical capital city of Colorado Springs at the time of Ted Haggard's fall into scandal. And as a musical.
• "I am deeply honored and humbled to receive this prestigious award," James Frey said, upon winning the 26th annual Literary Review Bad Sex in Fiction Award. The competition was, um, stiff.
• "You can never stop shouting because if you hold your tongue for long enough the appalled silence in the crowd around you will forever remind you of what you have lost." Read the whole thing.
• Having recently posted performances from albums by two terrific trios, I pretty much had to add this one. This is Dolly Parton singing with Emmylou Harris and Linda Ronstadt on Dolly's variety show, years before they recorded their albums together. The lyrics to "The Sweetest Gift" are sappy and saccharine, but I don't care as long as I can hear these three sing together like this.