Here is a Politico piece by Brandon Ambrosino from August of last year: "My Weekend at the Falwells' South Beach Flophouse." It seems that Jerry Falwell III owns the Miami Hostel, a seedy dorm-style outfit which "Trey" Falwell borrowed $4.65 million to buy. In addition to his day job as vice president for university operations at the college his grandfather founded, Trey Falwell co-manages this tourist hostel along with his business partner, a man named Giancarlo Granda.
It's a decidedly odd side-hustle for a crown prince of the religious right.
Here is another old article: "Jerry Falwell Jr. and a Young Pool Attendant Launched a Business That Sparked a Bitter Dispute." That's a May 31 Buzzfeed report by Aram Roston in which we learn that the Falwells and Granda are being sued by two men who claim the hostel venture was their idea, but that they were pushed aside after Granda got the Falwells to put up the money. (Liberty University President Jerry Falwell Jr. apparently loaned his son and Granda the $800,000 down-payment on the loan to purchase the property.)
That's a fairly mundane business-pages report. There's a somewhat amusing angle available due to the fact that the two men bringing the lawsuit are named Jesus Fernandez (Jr. and Sr.). That might've provided a fun "Jesus sues Jerry Falwell" hook, but Roston doesn't bother with that.
Instead, Roston gets deep into the details of the business as revealed through the lawsuit:
The suit says that while Falwell Jr. and his wife were guests at the Fontainebleau Miami Beach in 2012, they developed a "friendly relationship" with the pool attendant, Giancarlo Granda; flew Granda in a private jet; and eventually backed him in a business venture, setting up a hostel that offers low-cost dorm-style nightly accommodations to visitors. The pool attendant, according to public records databases, was 21 when he met the Falwells.

… The suit — which was filed in 2015, dismissed, then refiled in 2017 — alleges that after Falwell Jr. and his wife met Granda in 2012 at the hotel pool, the evangelical "indicated that he wanted to help Granda establish a new career and build a business."

Two affidavits attached to the lawsuit quote real estate agents who say that Falwell Jr. said "he was looking to purchase a business in order to provide a source of income to Giancarlo Granda."
Roston's piece also oddly detours into a discussion of Michael Cohen's role in securing Falwell Jr.'s early endorsement and enthusiastic support for Donald Trump's candidacy. "Cohen was so confident in Falwell Jr.'s support that he and Trump assured others, even before Trump announced his candidacy, that Falwell Jr. would issue an endorsement," Roston writes. But whatever does that have to do with this? Why bring up Cohen at all in the context of this hotel-deal-spurs-lawsuit story?
The whole report reads like notebook fragments from some larger story that Roston was pursuing. That later, larger story would clarify and explain the connections that this initial report only vaguely sketches out.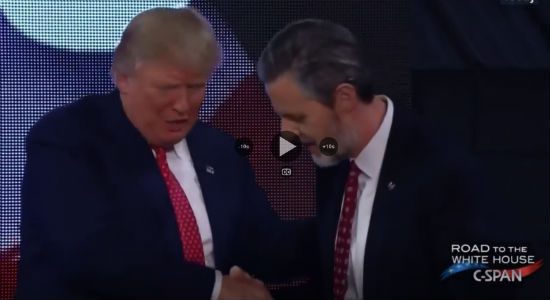 But after that initial story in May, Roston's only follow-up was a late-June report noting that Falwell introduced Granda to Donald Trump at Liberty University back in 2012. (Cohen accompanied Trump on that trip.) Trump apparently posed for a photo with Granda, but Liberty University seems to be weirdly defensive about allowing anyone to see that picture.
These older stories took on new life on social media this week after Cohen pleaded guilty to making hush-money payments on behalf of (and at the direction of) Trump. Now that Cohen has, on the record, admitted to keeping — and leveraging — secrets on behalf of his former boss, there's been renewed speculation attempting to connect the dots that Roston's original reporting wasn't able to connect. Much of that speculation has leaned heavily on the 21-year-old pool boy in South Beach aspect of the story, making the unsupported leap that something George Reker-ish must be behind this strange business arrangement with a young stranger.
I'm not going to speculate. Except perhaps about this: The viral second life of this six-month-old article might prompt Aram Roston to take another run at whatever further reporting he was unable to pin down back in June, and it might shake loose some of the leads he seems unable to have found the first time.
If so, I'll look forward to reading that story. It may prove more interesting than any mere speculation.
One final bit of old news, an Associated Press report from back in August: "A National Enquirer safe is said to have held damaging Trump stories."
The National Enquirer kept a safe containing documents on hush money payments and other damaging stories it killed as part of its cozy relationship with Donald Trump leading up to the 2016 presidential election, people familiar with the arrangement told the Associated Press.

The detail came as several media outlets reported on Thursday that federal prosecutors had granted immunity to National Enquirer chief David Pecker, potentially laying bare his efforts to protect his longtime friend Trump.

… Several people familiar with the National Enquirer's parent company, American Media Inc., who spoke to the AP on the condition of anonymity because they signed nondisclosure agreements, said the safe was a great source of power for Pecker, the company's chief executive.

… The Trump records were stored alongside similar documents pertaining to other celebrities' catch-and-kill deals, in which exclusive rights to people's stories were bought with no intention of publishing to keep them out of the news. By keeping celebrities' embarrassing secrets, the company was able to ingratiate itself with them and ask for favors in return.

… The AP cannot say whether the documents were destroyed or simply were moved to a location known to fewer people.
Speculation is understandable. But it's still only speculation.