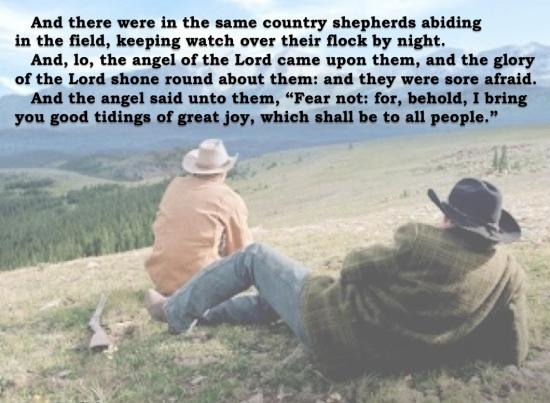 If you're wondering, the shepherds keeping watch in that picture are Ennis and Jack — two of the "all people" included in the angel's announcement of "tidings of great joy, which shall be to all people."
Some Christians will tell you that great joy isn't meant for them — that it is scandalous and unacceptable that people like them should be present at the Nativity. Their spiritual ancestors said the same thing about the original shepherds too. But those shepherds were invited — the high and mighty and the self-righteous offended by them weren't.
---
"So I'll tell you what the promise of Advent is: It is that God has set up a tent among us and will help us work together on our stuff. And this will only happen over time."
That's from Anne Lamott's "Advent Adventure," originally published back in 1998 and posted here every year around now.
That essay hasn't changed any since last year. But
we
have. So
let's read it again
.
---
It's Christmas Eve, babe. I didn't need to read the whole history of this song for it to be one of my holiday favorites, but here it is anyway. The big drum fills at the end still get me every year.
So Happy Christmas, I love you, baby. I can see a better time, when all our dreams come true.