Shorter version of the previous post: "We" are all, at best, Michael Keaton in Spotlight.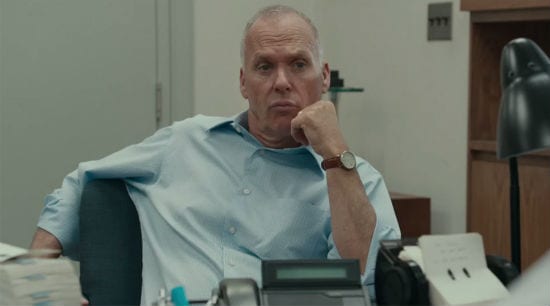 From the Oscar-winning script by Josh Singer and Tom McCarthy. Keaton played Robby.
BEN BRADLEE JR.: He knew and did nothing.

MIKE REZENDES: He coulda said something about this years ago. Maybe saved some lives.

ROBBY ROBINSON: What about us?

BEN: What's that supposed to mean?

ROBBY: We had all the pieces. Why didn't we get it sooner?

BEN: We didn't have all the pieces.

ROBBY: We had Saviano, we had Barrett, we had Geoghan. We had the directories in the basement.

BEN: You know what? We got it now.

MIKE: Robby, this story needed Spotlight.

ROBBY: Spotlight's been around since 1970.

BEN: So what? We didn't know the scope of this. No one did. This started with one goddamn priest, Robby.

(Robby looks at Sacha. A beat.)

ROBBY: MacLeish sent us a letter on 20 priests, years ago. Sacha found the clip.

MIKE: Are you freaking kidding me? 20 priests?

BEN: When?

SACHA PFEIFFER: Just after Porter. December of '93.

ROBBY: We buried the story in Metro. No folo. Sacha found the clip.

BEN: That was you. You were Metro.

ROBBY: Yeah, that was me. I'd just taken over. I don't remember it at all. But yeah.

(The room quiets. Gut punch. Ben shakes his head.)

MARTY BARON: Uh, can I say something? … Sometimes it's easy to forget that we spend most of our time stumbling around in the dark. Suddenly a light gets turned on, and there's fair share of blame to go around. I can't speak to what happened before I arrived but all of you have done some very good reporting here, reporting that I believe is going to have an immediate and considerable impact on our readers. (then) For me, this kind of story is why we do this.
"We" here being, again, the limited subset of "us" who have the privilege of not acknowledging what we ought to know. Many, many people never enjoy the opportunity of pretending not to know. They don't get to be Michael Keaton in Spotlight. They're stuck being Neal Huff in Spotlight.
"We" need to spend less energy considering all the reasons that "we" or our forebears couldn't have known and to spend more energy figuring out who it is we're not listening to right now.