• "I'm not going to cut Medicare or Medicaid," Donald Trump promised as a candidate for president. "Every other Republican's going to cut, and even if they wouldn't, they don't know what to do because they don't know where the money is. I do."
As president, Trump is now attempting to cut $845 billion from Medicare and billions more from Medicaid.
(Yes, I posted this item yesterday. It's still true today, too, and needs to be repeated until this campaign promise gets as much attention as the one about the wall that Mexico will never pay for.)
• Ojibwe journalist Mary Annette Pember takes a long, thoughtful look at the effects of "mission-trips" to Pine Ridge: "Members of Oglala Lakota Tribe Question 'Voluntourism' and Church-Based Charities."
The Pine Ridge reservation in South Dakota is the "poster child" for charities raising money for projects in Indian Country. The tribal government would like more assurances that the funds are being used for their stated purposes, while others worry that church-based social programs are really about proselytizing and suppressing Native religion.
Some of the Christian charities described here seem well-intentioned, but clueless. Others have behaved so disdainfully that it's hard not to think they're just cynical fundraising machines.
Pember's piece is one that should be read by any church group pondering short-term, hit-and-run mission trips — to Pine Ridge, or to Haiti, or anywhere. It might not be a comfortable read, but it is a necessary one.
The article makes me think of the annoying evangelical idiom "love on" — as in "We just need to love on those people." The awkward preposition there isn't just distracting, it's distorting. Prepositions matter. Church-groups seem to be doing their charity on the people of Pine Ridge. Or doing it at those people. Or for those people.
How about "with"? Try with. With might be better.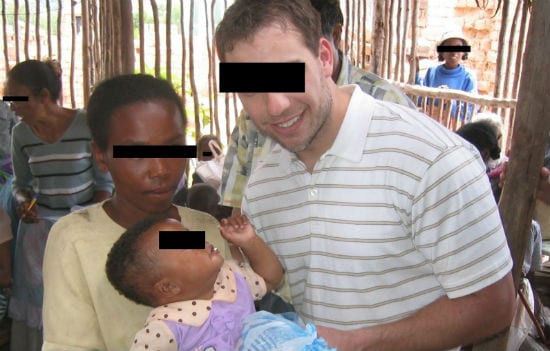 (Pember's article first appeared in Indian Country Today. I found it at the wonderfully named Daily Yonder — a site for "breaking news, commentary, reports from our rural correspondents, updates from the best rural bloggers, and eye-opening photography from across the rural U.S." Both of those sites are worth keeping an eye on for news and stories and perspectives that you won't find elsewhere.)
• Tucker Carlson, the favorite TV pundit of white nationalists, has gotten himself into trouble due to new attention to his long history of saying appalling, gross, creepy things as a frequent guest on the white frat-boy-ish "shock jock" radio show hosted by Todd Clem — who goes by the on-air name "Bubba the Love Sponge." Madeline Peltz of Media Matters has pored through hours of audio and transcripts from the show, demonstrating the many, many ugly and ludicrous things Carlson has said and professed there over the years.
But, as Atrios notes, there's something weird about the reporting on this — and Carlson's own "defiant" reaction to it. Media Matters' headlines contribute to this by describing the radio archives as "unearthed audio" — as though these were secret recordings from some private conversation hacked from an NSA wiretap. That's how Carlson himself is treating this — as though it were all some sort of violation of his privacy, as though someone were rudely reprinting hacked emails he'd sent to Mr. Love Sponge that he'd never intended the public to see or hear.
But again, this is all from
public statements on the radio
— statements made for broadcast with the hope and aim and design of reaching as large an audience as possible.
Carlson's feigned indignation and his cowardly refusal to stand by his own public words reminds me of Pastor Mark Harris' absurd response to criticism of sermons he preached — publicly, in the pulpit of his large church — during his failed attempt to cheat his way into a North Carolina congressional seat. Harris denounced that reference to his own public statements — his own voice saying words that he chose to speak, voluntarily and publicly — as a "dirty trick."
It's been years since I've been invited to speak on the radio or from a pulpit, but when I get such an opportunity to speak publicly, I try — as I do here — to say what I mean and to mean what I say. I'll want people to quote me — widely and at length, the more the better. That's the point of speaking publicly, isn't it?
• Speaking of Harris — there's been a lot of good political reporting on his political disgrace and downfall, but the man's political career has always been based on and bound up with his religious career as the (now former) senior pastor of one of Charlotte's largest churches. This Charlotte Observer profile from December explored that angle a bit, but it's from before Harris' own complicity in the election-fraud scheme was fully revealed:
Harris has courted top Republican politicians, hosting them at First Baptist Church. A cavalcade of prominent candidates, from Rick Santorum to Ted Cruz to Mike Huckabee, have spoken at the uptown Charlotte church, where Harris has also held events like the 2014 "Star-Spangled Sunday," to celebrate the anthem and promote a return to "traditional" morality and values in the U.S.

This fall, President Donald Trump visited Charlotte twice to campaign for Harris. The two shared a stage in front of thousands of cheering supporters at Bojangles Arena less than two weeks before the election.

"Mark Harris' rise is indicative of the modern Republican party and the appeal of evangelical Christians, and the support they give to the Republican party," said Catawba College political scientist Michael Bitzer. But he said it's still unusual for a candidate to rise directly from the evangelical clergy into politics. …
Now that Harris' full knowledge of the fraud committed on his behalf has been revealed — as well as the dishonesty of his initial claims of ignorance — I'd like to see some follow-up reporting. What do Richard Land and the other prominent Southern Baptist supporters of Harris' "divine calling" to politics have to say about that now? Has The Liar Tony Perkins been asked about the downfall of his long-time friend and ally? And what does this mean for the congregation and the future of First Baptist Church? They have been steeped in his brand of white Christian nationalist politics for decades, is any of this causing them to rethink any of that?
• "Right-wing activists Jacob Wohl and Ali Akbar appear to have filed false information into a police report in Minneapolis, Minnesota last month while filming a smear video against Rep. Ilhan Omar."
I'm noting this story because it includes an unlikely cameo from one of my favorite writers — Dianna Anderson (?). Wohl's sad career as a wanna-be Roger Stone has already managed to get him banned from both Wall Street and Twitter. Now he may face criminal charges. None of that will likely matter much once Republicans notice that he's: A) a conspiracy-minded right-wing ideologue, and B) only 21 years old, at which point he'll doubtless be given a lifetime appointment to the federal judiciary.
• The title for this post comes from the song "White Flag" by Joseph, which they did a lovely acoustic version of to open their mini-set for NPR's Tiny Desk series.