Here is a picture of a hasty Google search for Assemblies of God churches in South Florida: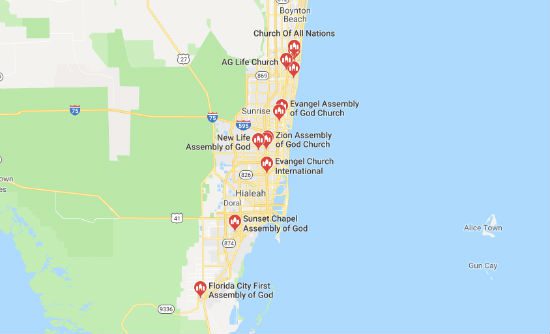 The most prominent results include Bethel Church in Palm Springs, Evangel AofG in Ft. Lauderdale, Place of Hope in West Palm Beach, New Life in Lehigh Acres, First AofG in Fort Myers, Bethel First in Ft. Lauderdale, Acts 2 Worship Center in Loxahatchee, AG Life Church in Deerfield Beach, New Life in Pembroke Pines, Faith AofG in North Fort Myers, Bethlehem Ministry in Lighthouse Point, Calvary AofG in Hollywood, and Church of All Nations in Boca Raton.
Zooming in further produces even more results from the area, but let's just focus on those 13 churches and those 13 congregations composed of members who are all part of the core constituency for Charisma magazine.
We could repeat this search to include dozens, perhaps hundreds, of other charismatic and Pentecostal denominations and nondenominational churches in that tradition sprinkled throughout the coast of South Florida. All of those churches and their members are also precisely the kind of American evangelical Christians that Charisma magazine caters to with its articles and advertisements. These are all Charisma's people — the flock that Charisma and its many related productions purports to shepherd.
Everything we're about to say about the 13 churches listed above is also true for all of those other churches and all of the members of them as well. But to keep things easier, let's just focus on the 13 churches flagged on the map above.
Here is a picture of another map of roughly the same area. This is from the Sea Level Rise Viewer provided by the National Oceanic and Atmospheric Administration. It represents a 2-meter rise in sea level — a moderately conservative estimate of the sea level rise already believed to be locked in by the end of this century due to climate change.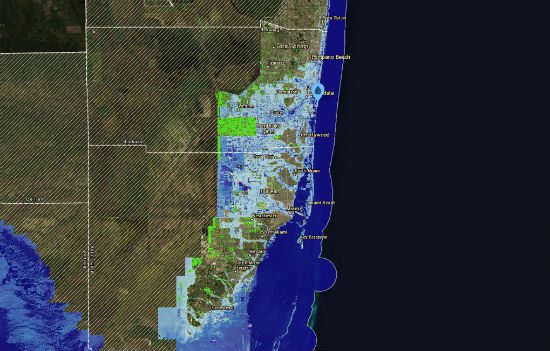 What you see there is that all of these churches and the homes of their members will be underwater. Within the lifetime of some of the children attending Sunday School there, the Bethel Church in Palm Springs will be flooded. It will lose all of its current property, which will become uninsurable and uninhabitable.
Bethel Church will be gone, as will the homes and businesses of all of its members.
And so will Evangel and Bethel First Assemblies of God churches in Ft. Lauderdale. And Place of Hope in West Palm Beach. And New Life Assemblies of God in Lehigh Acres. And First Assemblies of God in Fort Myers and Faith Assemblies of God in North Fort Myers. And all the rest.
This will happen this century. The next generation will not pass away before all these things have taken place.
Here is a third picture: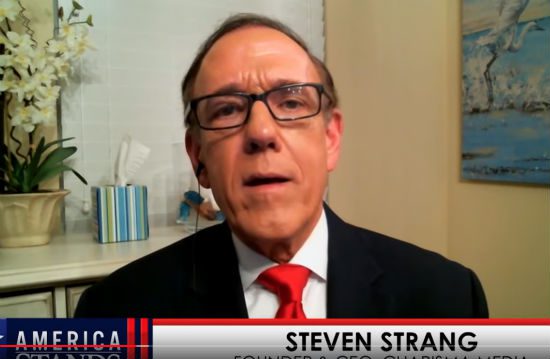 That's Steven Strang, owner and publisher of Charisma magazine and Charisma media, a man who has made millions of dollars from churches like the 13 congregations listed above and from their members. Strang lives and works in Orlando.
In this picture, Strang is speaking as a guest on a "news" program on Kenneth Copeland's "Believers Voice of Victory" network. On that program, Strang asserted that climate change is a hoax, a "Trojan horse" invented by evil Democrats in support of socialism and "the government to control everything."
Steven Strang urged the good Christian people who listen to him to ignore climate change, and to fight against anything done in the name of trying to check it, to mitigate its effects, or to prepare for its ever-more inevitable consequences.
See, Steve Strang is 67 years old. He's made millions of dollars in those 67 years, but he figures he still has maybe a couple of good decades left in him to make a few tens of millions more.
And then he'll be dead by, like, what?, 2040? 2050 at the latest. He'll probably live to witness increasingly extreme weather events, but the worst ravages of his home state, including the massive reconfiguration of its coastline, likely won't happen until years after he's dead.
So, Steve Strang figures, it's not his problem. He can run out the clock, doing nothing about climate change or even actively seeking to profit however he can from making it worse and peddling lies about it to the charismatic and Pentecostal believers he holds in obvious sneering contempt. If playing them for suckers and rubes makes him a little bit richer in the few years he has left to fleece them, then he's happy to do it — even to the extent of glibly telling them to ignore the waters literally rising around them.