Toni Morrison, Commencement Address to Rutgers University Class of 2011
The narrative of a worthy life is yours to write. I have often wished that Jefferson had not used that phrase, "the pursuit of happiness", as the third right — although I understand in the first draft was "life, liberty and the pursuit of property." Of course, I would have been one of those properties one had the right to pursue, so I suppose happiness is an ethical improvement over a life devoted to the acquisition of land; acquisition of resources; acquisition of slaves. Still, I would rather he had written life, liberty and the pursuit of meaningfulness or integrity or truth.

I know that happiness has been the real, if covert, goal of your labors here. I know that it informs your choice of companions, the profession you will enter, but I urge you, please don't settle for happiness. It's not good enough. Of course, you deserve it. But if that is all you have in mind — happiness — I want to suggest to you that personal success devoid of meaningfulness, free of a steady commitment to social justice, that's more than a barren life, it is a trivial one. It's looking good instead of doing good.
Toni Morrison, Nobel Lecture, December 7, 1993
There is and will be rousing language to keep citizens armed and arming; slaughtered and slaughtering in the malls, courthouses, post offices, playgrounds, bedrooms and boulevards; stirring, memorializing language to mask the pity and waste of needless death. There will be more diplomatic language to countenance rape, torture, assassination. There is and will be more seductive, mutant language designed to throttle women, to pack their throats like paté-producing geese with their own unsayable, transgressive words; there will be more of the language of surveillance disguised as research; of politics and history calculated to render the suffering of millions mute; language glamorized to thrill the dissatisfied and bereft into assaulting their neighbors; arrogant pseudo-empirical language crafted to lock creative people into cages of inferiority and hopelessness.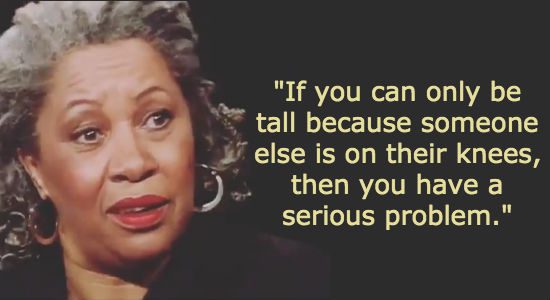 Toni Morrison, in Paradise
"Let me tell you about love, that silly word you believe is about whether you like somebody or whether somebody likes you or whether you can put up with somebody in order to get something or someplace you want or you believe it has to do with how your body responds to another body like robins or bison or maybe you believe love is how forces or nature or luck is benign to you in particular not maiming or killing you but if so doing it for your own good. Love is none of that. There is nothing in nature like it. Not in robins or bison or in the banging tails of your hunting dogs and not in blossoms or suckling foal. Love is divine only and difficult always. If you think it is easy you are a fool. If you think it is natural you are blind. It is a learned application without reason or motive except that it is God. You do not deserve love regardless of the suffering you have endured. You do not deserve love because somebody did you wrong. You do not deserve love just because you want it. You can only earn — by practice and careful contemplations — the right to express it and you have to learn how to accept it. Which is to say you have to earn God. You have to practice God. You have to think God-carefully. And if you are a good and diligent student you may secure the right to show love. Love is not a gift. It is a diploma."
Toni Morrison, "No Place for Self-Pity, No Room for Fear"
No! This is precisely the time when artists go to work. There is no time for despair, no place for self-pity, no need for silence, no room for fear. We speak, we write, we do language. That is how civilizations heal.

I know the world is bruised and bleeding, and though it is important not to ignore its pain, it is also critical to refuse to succumb to its malevolence. Like failure, chaos contains information that can lead to knowledge — even wisdom. Like art.