• Back when the "YouVersion" Bible app was first released in 2013, I mentioned that the name was an obstacle for me:
"YouVersion" just calls to mind that awful "Personal Promise Bible" and the mentality that produced it. If you're looking for a YouVersion, you're doing it wrong.
The name reminded me of the white evangelical thing where we teach kids to replace "the world" in John 3:16 with their own name: "For God so loved [Your Name Here] that he gave his only begotten son." That communicates one true thing that passage teaches, but it does so in a way that tempts us to misunderstand that as the only true thing that passage teaches — training us to substitute ourselves, literally, for the entire cosmos. And that can get real ugly real fast.
I prefer the way Mr. Rogers went about trying to teach this. He told children that they were vastly, immeasurably, irreplaceably special. And he also made sure they understood that everyone else they ever met was vastly, immeasurably, irreplaceably special too.
Anyway, I've just learned that YouVersion is apparently the most popular Bible app, with hundreds of millions of downloads. Not sure whether that popularity diminishes or confirms my initial suspicions about the app.
I learned this from a crime story about a registered sex offender who was using the Bible app to slither his way into online Bible studies for teenage girls (via Friendly Atheist).
• Speaking of creepy stalkers and also of white evangelical subcultural stuff I didn't realize was so popular … RNS reports that "John Crist's Netflix special on hold amid sexual harassment allegations."
Charisma magazine broke this story. (That is not a sentence I ever expected to read or write.) The experience of reading this story on that bonkers Christian nationalist platform is strange in so many different ways.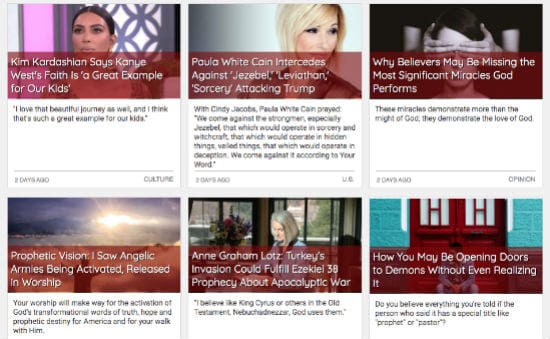 Charisma's piece tugs in several opposing directions, including a gross sense that they're laying out a cheaply performative path for Crist's inevitable "phenomenal" comeback. "It is unclear whether Crist has any pastoral or ministerial accountability system in place," Charisma says, with what seems like a mix of spiritual concern and image-management advice.
One gets the sense that Crist's audience feels betrayed that his sinful behavior is ongoing rather than a past-tense colorful backstory of his "personal testimony" reflecting the depravity of his life from way back, 18 months or so ago, before his re-dedication of his life to Christ. So they're hoping that he'll just do the whole re-dedication thing now and spin this all into a great redemption story to liven up his act 18 months from now.
My guess at how this plays out involves Crist returning with more explicitly political red meat in his act. Go hard enough on demonizing abortion and this audience will overlook anything else (See: Daniels, Stormy). That is, after all, the primary function of abortion politics for Charisma et. al. It was designed and promoted specifically to ensure that its adherents would embrace it as an excuse to overlook absolutely everything else. It works. It is, and has always been, fantastically effective for the purpose it was designed to perform.
After the initial hubbub dies down, Crist can offer a vague apology for vague misdeeds, then portray himself as the victim of the same evil liberal "PC Cancel Culture" that is persecuting white Christians all over America. Tickets to his comeback tour will be sold as a way of striking a blow for religious liberty and his audience will welcome him back, grateful for the opportunity to purchase yet another symbol of their inclusion in the MAGA elect.
• "Larycia Hawkins documentary shows the cost of embodied solidarity." Dilshad Ali discusses Linda Midgett's film, Same God, which will be airing on PBS later this year. Ali summarizes the story, about:
… Larycia Hawkins, the first African American woman to be a tenured professor at Wheaton College in Illinois, who set out to highlight the commonalities among the Abrahamic faiths — Judaism, Islam and Christianity — and discovered what keeps them apart.

Produced and directed by Linda Midgett, a Wheaton alumna, the film follows Hawkins' experiences after she decided during Advent in 2015 to wear a hijab in solidarity with Muslim women. Her intent was to explore what it means to embody solidarity with another faith — an inquiry that led her to post on Facebook that Muslims and Christians worship the same God.

At Wheaton, Billy Graham's alma mater and the United States' preeminent evangelical school, Hawkins' gesture of "embodied solidarity," as she called her wearing of hijab, was merely controversial, but the Facebook post was unforgivable. Despite student protests on her behalf, Hawkins eventually lost her professorship.
Ali offers some thoughtful insights on the meaning(s) of Hawkins' gesture of solidarity, which is one important aspect of this story. But Hawkins didn't lose her job — tenure schmenure, Wheaton decided — because of who she chose to stand with. What was "unforgivable" for Wheaton was who she chose to stand against. Hawkins was defying Donald Trump — the nominee of Wheaton's own political party, and thus the author and finisher of its faith. The donors controlling Wheaton's administration couldn't allow that.
After all, shortly before firing Hawkins, Wheaton had honored and celebrated the theologian Miroslav Volf, officially inviting him to campus to lecture on the same theme of "commonalities among the Abrahamic faiths" and neighborly respect for our Muslim neighbors. That was perfectly fine as an abstract truth, but it ceased to be acceptable once Trump made his Muslim ban a cornerstone of Republicans' agenda for 2016. Minimal respect for Muslim neighbors became retroactively partisan and therefore forbidden.
Oh, and also Volf was a white man and Hawkins was a black woman and thus Wheaton treated them very differently because Jonathan Blanchard has been dead for more than 100 years.
Anyway Wheaton's Republican donors gave their orders, Hawkins was fired, and one of those donors was rewarded with a seat in Trump's cabinet.