Here's your open thread for January 17, 2020.
Today would have been Eartha Kitt's 93rd birthday. I don't think anyone else could have done this song this way:
Ms. Betty White turns 98 years old today, so if you see her trending on social media, don't worry.
Today would also have been the 115th birthday of saxophone player and bandleader Peggy Gilbert who, alas, only lived to 102. Her lifelong partner, former vaudeville contortionist Kay Boles, outlived her, briefly. They were together for more than 60 years and both made it past 100, but still didn't quite make it to see their marriage legally recognized in California.
Gilbert was still playing live into her 90s. She made a guest appearance on The Golden Girls in 1988, so I was really hoping to find a picture or video of her and Betty White together. Sadly, she and her band, the Dixie Belles, only had scenes with Estelle Getty.
Today is also the 61st birthday of Susanna Hoffs, the former Bangle who may be best remembered for that thing she did with her eyes in the "Walk Like an Egyptian" video.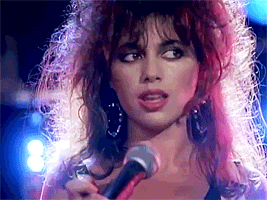 The Bangles were actually a pretty good band, and Hoffs has made some great music since then — particularly the three albums of cover songs she's recorded with Matthew Sweet. Here, for a taste, is their version of Marshall Crenshaw's "My Favorite Waste of Time." And the Zombies' "Care of Cell 44." And their terrific version of "The Kids Are Alright."
Andy Kaufman turns 71 years old today. Or
probably
not. And Steve Earle, against all odds, turns 65.
January 17 is the Feast Day of St. Sulpitius the Pious, also apparently sometimes called St. Sulpitius the Débonnaire, although I haven't been able to figure out why. Sulpitius was the bishop of Bourges (France) in the early 7th Century and Wikipedia cautions us not to confuse him with Sulpitius I of Bourges, who I'm told is sometimes called "Sulpitius Severus," even though I've never called him that and I'm pretty sure you probably haven't either. (Sulpitius Severus, Wikipedia further warns, should not be confused with Sulpicious Severus, an unrelated and even earlier figure. I have made a careful note of this to ensure I avoid any such confusion.)
As far as I can tell, Sulpitius the Pious achieved sainthood by forcing all of the Jews in Bourges to be baptized. Since this was neither orthodox nor saintly, neither pious nor debonair, I'm going to suggest Sulpitius as yet another example of the church's desperate need to weed out some of the accumulated dross in its catalogue of saints.
Today is also Mack Sennett's birthday, so if you see someone fall down or get hit in the face with a pie, be sure to laugh.
Talk amongst yourselves.