Here is your open thread for January 19, 2020.
Today is the birthday of Dolly Parton. She wouldn't want us to say how old she is, so we won't. It's a little odd to post "9 to 5" on a Sunday, but it's a great song, and if you need it tomorrow, just remember that it's here. (And while it usually isn't a "9 to 5" gig, lots of us do work Sundays — people in restaurants, retail, theater, the NFL. Even clergy, who probably shouldn't admit to their congregations that they sometimes feel this song too.)
If you like podcasts, I highly recommend the nine-part series from NYC, "Dolly Parton's America." It's all about Dolly, but not at all only about her, and it's as delightful as its subject. The episodes about and around her are terrific — including a weirdly apropos detour to a village in Lebanon. And the episodes including interviews with Dolly are just fun. I loved hearing the thrill in her voice as she recalled the joy of replacing a line about coffee with "a cup of ambition." And it's fascinating to hear her retelling of the whole Porter Wagoner saga and how she came to write and deliver the sweetest final notice of any employee ever.
January 19 is the Feast Day of St. Mark of Ephesus. Wikipedia tells me that Mark was "a hesychast theologian of the late Palaiologan period of the Byzantine Empire who became famous for his rejection of the Council of Ferrara-Florence (1438–1439). As a monk in Constantinople, Mark was a prolific hymnographer and a devoted Palamite."
I know what
several
of those words mean. But rather than reflecting on the life and ministry of this saint, I think it might be more edifying, for me at least, to remember today as the 39th birthday of Buffy Anne Summers.
Sunnydale might never have come to exist if it were not for Edgar Allan Poe, who was born on January 19, 1809. If you haven't read any Poe since you had to for school, try him again. It's all still really good.
Nothing Poe dreamed up was as macabre or vile as the actions of the traitor Robert E. Lee, who was born this day in 1807. This is the guy who tried leading a ground invasion of the United States. It did not go well for him. Lee's birthday is the pretext for a celebration of treason in defense of slavery in Texas, a state holiday called "Confederate Heroes Day." Alas, for Texans, Confederate Heroes Day lands on a Sunday this year, so kids won't miss a day of school until Tuesday, March 10, Osama bin Laden's birthday, which is when I presume Texans celebrate "Al-Qaida Heroes Day." (The comparison isn't totally fair — bin Laden didn't attack and kill nearly as many Americans as Lee did.)
Paul Cézanne was born on January 19, 1839. Here's his 1873 painting "The Hanged Man's House."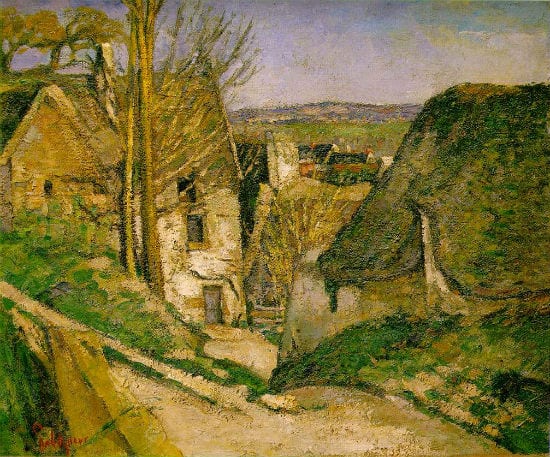 It's also the birthday of the spectacularly popular white evangelical painter Thomas Kinkade. His cloying paintings of cozy cottages work a lot better if you title all of them "The Hanged Man's House."
Finally, it's also the birthday of Janis Joplin, who would've been 73 today. Here's a song of great social and political import.
Talk amongst yourselves.