Here is your open thread for January 20, 2020.
Today is the birthday of Huddie William Ledbetter, aka Lead Belly, who was a rock star before anyone knew what that meant.
From the Midnight Special to the Philly Special:
Eagles Super Bowl hero and Liberty University MDiv. student Nick Foles turns 31 today.
Other Philadelphia legends born today: Ahmir Khalib Thompson, aka ?uestlove, and David Lynch (who came here in the late '60s for art school, hung out at the city morgue and frequented the Mütter Museum).
Jaunary 20 is also the Feast Day of St. Sebastian, the early Christian slain during the persecution of Emperor Diocletian whose martyrdom became the basis for a whole industry of nude paintings that were still deemed sacred.
Depending on which conspiracy theory you prefer, today is either Jeffrey Epstein's first birthday in Hell* or he's celebrating turning 68 in hiding at the kind of secret island hideaway available to corrupt billionaires with dirt on half the 1 percent who have the wherewithal to fake their death in order to evade justice. I would dismiss such conspiracy talk as absurd if not for the mind-boggling details of the actual no-prison sweetheart deal Epstein initially purchased coupled with the fact that the corrupt prosecutor who arranged that deal was awarded with a cabinet post and the Epstein lawyers whose extra-legal manipulations made it possible are back in the news, right now, as the defense team of the president of the United States.
It's the birthday of Patricia Neal, who won an Oscar for Hud. She's also terrific in A Face in the Crowd and Cookie's Fortune and The Day the Earth Stood Still, among others.
And finally it's the 90th birthday of Buzz Aldrin. You know, this guy: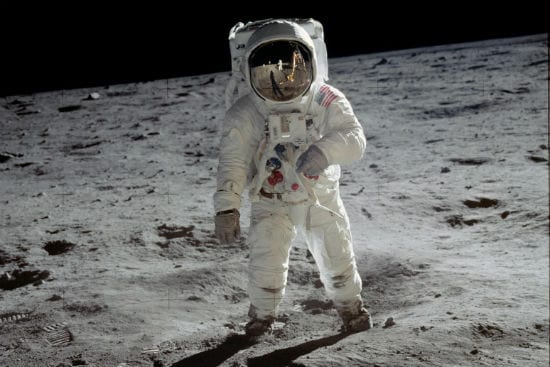 Talk amongst yourselves.
* There's no such thing as Hell. Not even for horrible men like Epstein.