Here is your open thread for January 29, 2020.
Today is the birthday of Tamás Erdélyi, born in 1949 in Budapest to Jewish parents who had hidden with neighbors to survive the Holocaust. The family fled Hungary during the revolution in 1956 and arrived as refugees in Queens, where Tamás grew up, went to high school, joined a band, and changed his name to Tommy Ramone.
Tommy became the drummer by default, since nobody else in the band could keep up. Here's one he wrote:
January 29 is a big day for troublemakers, smart-alecks, and rabble-rousers, marking the birthday of Thomas Paine, Edward Abbey, Germaine Greer, W.C. Fields, and Paddy Chayefsky.
It's also the birthday of Oprah Winfrey and of Emanuel Swedenborg, two mystics whose idiosyncratic spirituality is regarded by many as divinely inspired.
Oh, and it's Anton Chekhov's birthday.
January 29 is Kansas Day, commemorating the state's 1861 admission to the Union as a free state. To celebrate the anniversary, schoolchildren in Kansas re-enact the Battle of the Spurs. One lucky child is selected to play the part of John Brown, leading a party of free-staters and freedmen, while the rest of the class plays the part of the pro-slavery bounty hunters and kidnappers who flee in terror at the sight of the broadsword-swinging abolitionists. (Don't worry, the broadswords used in the Kansas Day pageants are just plastic props.)*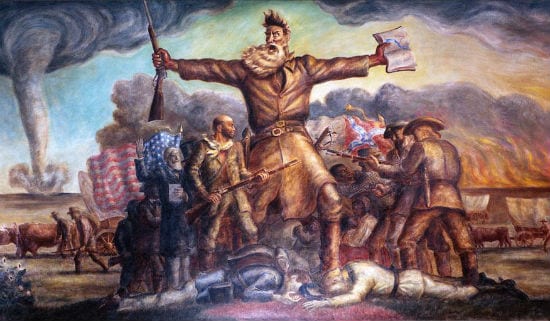 Talk amongst yourselves.
* They don't actually do this in Kansas. But they should.