Here is your open thread for February 3, 2020. "Today is tomorrow. It happened."
Today is also the birthday of Charles Arthur "Pretty Boy" Floyd:
February 3, 1959, was the day a plane crashed in Iowa, tragically claiming the lives of Buddy Holly, Ritchie Valens, the Big Bopper, and pilot Roger Peterson. That fateful crash also tragically inspired the Don McLean song "American Pie."
Beau Biden was born on February 3, 1969. He died in 2015. With all the attention given to his younger brother these days, it's a good time to remember Joe Biden's older son, who worked as a federal prosecutor, served a stint in Iraq, then became the attorney general of the state of Delaware, a post he kept — declining an almost sure-thing chance to run for Congress — in order to complete the prosecution of a horrific child-abuse case. Beau always seemed to understand the privilege he enjoyed as a son of Delaware's first family, but he seemed determined to use that privilege for good. He was a good man.
Patsy Ann McClenny, better known as Morgan Fairchild, turns 70 today. She started her career as Faye Dunaway's double on Bonnie and Clyde, had a long run as a soap-opera queen, and has now taken an unexpected late-career turn to comedy. She's pretty good at it.
Old-school comic Shelly Berman, who helped to found what later became The Second City, was born on February 3, 1925. I think this is one of his: "Lady gets on the train in Trenton and asks the conductor, 'Does this train stop at 30th Street?' He says, 'It better, or there's gonna be a heck of a crash.'"
February 3 is the birthday of both Gertrude Stein and Simone Weil — two very, very smart people who were, nonetheless, weirdly slow on the uptake with regard to what was happening in Europe in the 1930s.
Finally, it's also the birthday of Norman Rockwell, whose American grave Erik Loomis visited just a few weeks ago. I'm a big fan of Rockwell's "Four Freedoms" paintings, and of his iconic portrait of Ruby Bridges, "The Problem We All Live With," seen below at the White House with President Obama and Bridges herself.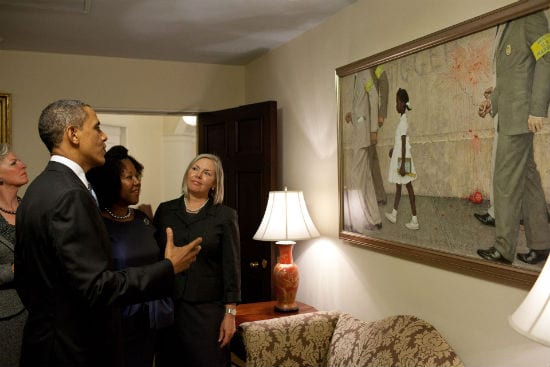 Talk amongst yourselves.