Here is your open thread for February 10, 2020.
Harmonica wizard Larry Adler was born 106 years ago today. Adler started out in vaudeville as a teenager, went on to renown as a classical musician, got blacklisted during the McCarthy era, and moved to the UK where he worked on film scores and become a beloved session musician. The video below is from a tribute album put together for Adler's 80th birthday in 1994.
That's Oleta Adams and Adler doing "Embraceable You" for that album, The Glory of Gershwin, which also features Cher, Sting, Meat Loaf, Sinead O'Connor, Jon Bon Jovi, and Peter Gabriel, and was produced by George Martin. It's really good.
Frances Moore Lappé turns 76 today. Her 1971 book Diet for a Small Planet sold more than three million copies and sparked a nationwide discussion of her environmental argument for a mostly vegetarian diet. The book was hailed as revolutionary and influential and as a landmark publication that changed the way Americans eat.
Except it didn't, really. Frances Moore Lappé made a strong argument and it sure seemed like she was probably right and all, but well, you know, most of us liked being meat-and-potatoes people. That's why people my age first encountered Diet for a Small Planet in used book stores, every one of which seemed to have several copies. Lappé used the profits from her best-seller to start a nonprofit, Food First, which advocates for sustainable solutions to hunger.
In 2010, Lappé's daughter Anna published an updated take on her mother's theme: Diet for a Hot Planet, examining the links between our diets, industrial agriculture, and climate change. It's a bit too pep-rally-ish — This'll be easy! We can solve climate change by virtuous personal consumer choices! — but, like the original, it was regarded as a basically sound and compelling argument for changes we'd prefer not to make. We won't need another such book 40 years from now because by then circumstances will have compelled us to make those changes whether we like it or not.
Lenny Dykstra turns 57 today, which means he's now one year even more too old to be crudely hitting on college girls at Smokey Joe's in Radnor. (True story: Game of "I Never" years ago, back before they tore down Smokey Joe's in the late '90s. Somebody says, "Never have I ever been hit on by Lenny Dykstra at a bar." Six of my friends take a drink.)
It's the birthday of E.L. Konigsburg and of Vince Gilligan — two storytellers whose stories are worth hearing.*
Laura Dern was born 53 years ago today. She won an Academy Award last night, and thus will have her picture on the front page of the first edition of every East Coast newspaper for her birthday, but I'm not sure an Oscar can compete with the honors she was given at the Spirit Awards the night before.
Here's Academy Award-winner Laura Dern with a classic demonstration of Spielberg Face: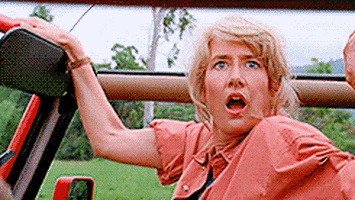 Bertolt Brecht was born February 10, 1898. If you, too, are a child of the '90s, you may relate to this:
As one who comes …

As one who comes to the counter with an important letter after office hours: the counter is already closed.
As one who tries to warn the city of a flood: but he speaks a different language: he is not understood.
As a beggar who knocks on a door for the fifth time, where he has received food four times before: the fifth time he goes hungry.
As one whose blood flows from a wound as he waits for a doctor: the blood goes on flowing.

So we come and report that we have suffered misdeeds.

When it was reported for the first time that our friends were slowly being slaughtered, there was a cry of horror. One hundred had been killed.
But when a thousand had been killed and there was no end to the slaughter, silence descended.

When the misdeeds come as the rain falls, then no one any longer cries halt.

When the crimes pile up, they become invisible.
When the suffering becomes unbearable, the screams are no longer heard.
The screams too fall like the summer rain.
Talk amongst yourselves.
– – – – – – – – – – – –
* Now my brain is doing this:
"You know. You all know exactly who I am. Say my name."
"Frankweiler."
"You're goddamn right."
** The lead actor/actress awards are usually too late for Eastern time zone papers to get pics of the winners for the first edition, so it's usually a picture of the winners in the supporting categories, which are given earlier in the evening.