Here is your open thread for February 21, 2020.
Today is the birthday of Nina Simone:
February 21 is the birthday of philosopher John Rawls, who took a really impressive run at demonstrating that doing the right thing is rational. Rawls' profound Theory of Justice proposes that we step back to examine the world from behind a hypothetical "veil of ignorance" — meaning we should look at the world as though we had no idea, beforehand, where we would personally be born into it.
Alas, everybody reading Rawls already knew where they had — in fact, and not at all hypothetically — been born into the world. So even if Rawls made a compelling rational argument that unjust systems are, in fact, unjust, he didn't provide the winners of such unjust systems with a purely rational reason to accept that injustice is a Bad Thing that they should help others change. He provided some new vocabulary to better enable the victims of unjust systems make the case that their plight is — rationally and objectively — unfair. But like everyone before him, he was unable to make the beneficiaries of unjust systems give a rat's ass about that.
For the error bred in the bone
Of each woman and each man
Craves what it cannot have,
Not universal love
But to be loved alone.
That's from W.H. Auden, who was also born on February 21, 14 years before Rawls.
Tyne Daly celebrates her 75th birthday today. Alan Rickman would have been 74. Talking Head Jerry Harrison turns 70. Mary Chapin Carpenter turns 62. Astronauts Mark and Scott Kelly turn 56 today. Academy Award-nominees Kumail Nanjiani and Jordan Peel turn 42 and 40, respectively. Ellen Page turns 33 and Sophie Turner turns 24.
Rep. John Lewis has been making good trouble for 80 years.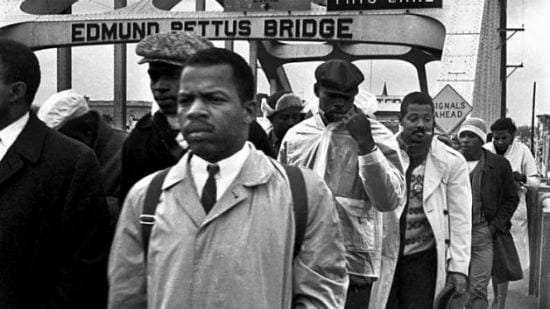 The late Rep. Barbara Jordan was born on February 21, four years before Lewis. Here is Rep. Jordan's statement to the House Judiciary Committee from July 25, 1974 (the video has the wrong date), during hearings related to the impeachment of President Richard Nixon. I wish this video was just a cool piece of history and not an extremely pertinent commentary on current events:
That speech — and indeed, the entire life and career of both Barbara Jordan and John Lewis — demonstrates the truth of what Adam Serwer wrote last year: "The American creed has no more devoted adherents than those who have been historically denied its promises, and no more fair-weather friends than those who have taken them for granted."
Finally, today would have been the 58th birthday of demon-haunted novelist David Foster Wallace. His most ambitious work, Infinite Jest, really is a remarkable, beautiful masterpiece. It deserved a better fate than becoming a totem for fan-boys who aspire to be just exactly the kind of creepy, controlling Hideous Men that Wallace himself warned against in such excruciating detail because he knew himself to be one.
Wallace 2005 commencement speech at Kenyon College — "This Is Water" — remains a piece of wisdom we'd all do well to heed if we want to avoid the frustration of seeking "to be loved alone." Or, as that other dour Pisces put it, why "We must love one another or die."
Talk amongst yourselves.