Here is your open thread for February 22, 2020.
Today is the birthday of George Washington. It's also three days after some very good friends blessed us with matinee tickets to Hamilton. Here's the song from that amazing musical about the most important thing George Washington did for his country:
The non-musical version of Washington's farewell address is here. I'm not sure if Hamilton had any hand in writing my other favorite piece of Washington's letters, his 1790 letter to the Hebrew Congregation in Newport. It's pretty great:
The Citizens of the United States of America have a right to applaud themselves for having given to mankind examples of an enlarged and liberal policy: a policy worthy of imitation. All possess alike liberty of conscience and immunities of citizenship It is now no more that toleration is spoken of, as if it was by the indulgence of one class of people, that another enjoyed the exercise of their inherent natural rights. For happily the Government of the United States, which gives to bigotry no sanction, to persecution no assistance requires only that they who live under its protection should demean themselves as good citizens, in giving it on all occasions their effectual support.
Since I've still got a post-Hamilton buzz, here's another Washington-focused track from the show, King George III's delightful third number, "I Know Him."
They say
George Washington's yielding his power and stepping away
Is that true?
I wasn't aware that was something a person could do
(Speaking of bringing down the British government, February 22 is also the birthday of
Christine Keeler
.)
One of the most famous portraits of Washington was painted by Rembrandt Peale, who also was born on February 22 (in 1778). You pretty much have to become a painter when your parents name you "Rembrandt" — especially when they're the sort of parents who name your siblings (and this is true) Raphaelle, Rubens, and Titian.
Today would have been Jonathan Demme's 76th birthday. Steve Irwin would have turned 58.
Prolific character actor James Hong turns 91 years old today. He has 436 acting credits on IMDB — more than almost any other non-porno actor alive. Basketball legend Julius Erving turns 70 today. Kyle MacLachlan turns 61. Drew Barrymore turns 45.
Today is also the birthday of Penn State, which was founded on February 22, 1855, as the Farmer's High School of Pennsylvania. Wikipedia says it was founded "in State College, Pa.," but I'm pretty sure that gets something backwards.
The traitor and human trafficker Jefferson Davis was inaugurated for a six-year term as president of the Confederacy on February 22, 1862. He did not serve the full six years.
Finally, it was on February 22, 1943, that German students Sophie Scholl, Hans Scholl, and Christoph Probst were executed for writing pamphlets urging their fellow Germans to resist and rebel against the Nazi government.
Since the conquest of Poland, 300,000 Jews have been murdered in this country in the most bestial way. … The German people slumber on in dull, stupid sleep and encourage the fascist criminals. Each wants to be exonerated of guilt, each one continues on his way with the most placid, calm conscience. But he cannot be exonerated. …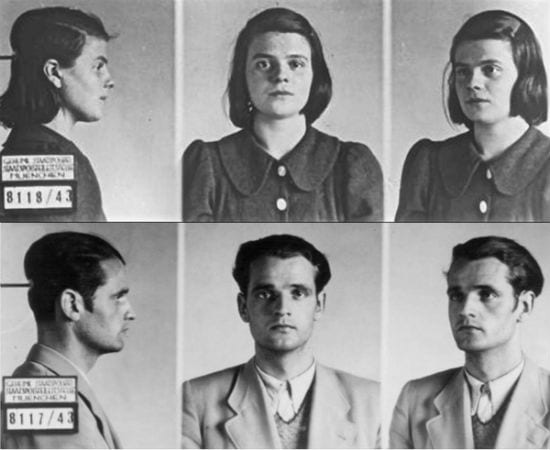 Oceans rise; empires fall. Talk amongst yourselves.