Here is your open thread for February 25, 2020.
It's George Harrison's birthday. The late Beatle (and Wilbury) would've been 77:
On February 25, 1970, Hiram Rhodes Revels was sworn in as a United States senator representing the state of Mississippi. Revels, a Methodist minister, did not run for a second term but instead went on to become president of what is now Alcorn State University.
Revels was one of two black Americans elected to the Senate during Reconstruction — both from Mississippi. America would not have another African American senator until almost a century later, when Edward W. Brooke was elected to represent Massachusetts in 1966.
On February 25, 1986, dictator Ferdinand Marcos fled the Philippines in response to the massive popular protests of the People Power Revolution. Remember that this is a thing that happened and, therefore, that this is a thing that is possible.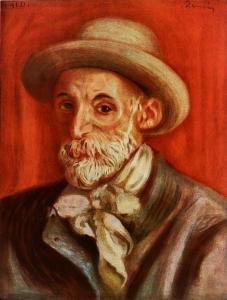 Today is the birthday of Herbert Manfred "Zeppo" Marx. He was the best-looking of the Marx brothers, which is faint praise. And he was the least-funny of the Marx brothers, which is faint damnation. It's also the birthday of the late Larry Gelbart, whose jokes made my family laugh every day at 7 p.m. and then again at 11 when we watched MASH re-runs on Channel 5.
Former U.S. Rep. Millicent Fenwick, the "grand dame" of Bernardsville, N.J., was born 110 years ago today. Civil-rights champion and federal appeals court judge Leon Higginbotham was born on February 25, 1928.
Art-loving nun Sister Wendy Beckett was born February 25, 1930, 89 years to the day after the birth of Pierre-Auguste Renoir. He wasn't her favorite painter, but watch her appreciation of his Luncheon of the Boating Party (starting about 9;20 into this video) and you'll come away impressed with both of them.
Today is the 68th birthday of longtime Daniel Amos/DA/da/Lost Dogs/Swirling Eddies/etc. guitarist Jerry Chamberlain. Give a listen to some of his work here. It's the 67th birthday of ex-X rocker John Doe (who was also great as the dad in Roswell). Hollywood everymensch Sean Astin turns 49 today. Chelsea Handler turns 45 and Rashida Jones turns 44. Jameela Jamil has now spent 34 years here in the Bad Place.
The Episcopal Church honors John Roberts today. This John Roberts was an Anglican missionary who served among the Shoshone and Arapahoe people in what is now Wyoming, teaching in schools, translating the Bible into local languages, and championing their traditional culture. That other John Roberts — the one now serving as chief justice of the Supreme Court — has not yet done anything to earn beatification in any church, although he remains in a position to act, and thus daily has the opportunity, so far never taken, to stand for justice in a way that might lead future generations to call his name blessed.
Go eat some pancakes and talk amongst yourselves.