Here is your open thread for March 26, 2020.
Miss Diana Ross turns 76 today. This song was actually playing yesterday while I was trying to help a Big Box customer who had no regard for the six-feet of social distancing we've asked them to maintain.
The poet A.E. Housman was born 161 years ago today. I like most of this one, but I find a little Housman goes a long way. It's all so nostalgic and wistful. I prefer something more wistless, I guess. I suppose my hope for you is that you manage to avoid accumulating so many regrets and remorses that you, too, won't ever quite manage a deep fondness for Housman.
Robert Frost (born 146 years ago today) is more to my liking. Frost could pile on the remorse and regret too, of course, but not with the same smothering nostalgia. Think of "Stopping by the Woods on a Snowy Evening" — which might be as close to perfect as a poem gets. The final stanza shakes off the temptation to indulge in all that wistful Shropshire Lad business because, well, there's work to be done and promises to keep. Damn straight. If nothing gold can stay, get busy being a leaf, "Since earth is earth, perhaps, not heaven (as yet)."
Since it's 2020, a census year, let's go with this one. As often with Frost, not much happens but there's a lot going on. The concluding lines have both a grief and a defiance that seem timely.
The Census-Taker

I came an errand one cloud-blowing evening
To a slab-built, black-paper-covered house
Of one room and one window and one door,
The only dwelling in a waste cut over
A hundred square miles round it in the mountains:


And that not dwelt in now by men or women.
(It never had been dwelt in, though, by women,
So what is this I make a sorrow of?)
I came as census-taker to the waste
To count the people in it and found none,
None in the hundred miles, none in the house,
Where I came last with some hope, but not much,
After hours' overlooking from the cliffs
An emptiness flayed to the very stone.
I found no people that dared show themselves,
None not in hiding from the outward eye.
The time was autumn, but how anyone
Could tell the time of year when every tree
That could have dropped a leaf was down itself
And nothing but the stump of it was left
Now bringing out its rings in sugar of pitch;
And every tree up stood a rotting trunk
Without a single leaf to spend on autumn,
Or branch to whistle after what was spent.
Perhaps the wind the more without the help
Of breathing trees said something of the time
Of year or day the way it swung a door
Forever off the latch, as if rude men
Passed in and slammed it shut each one behind him
For the next one to open for himself.
I counted nine I had no right to count
(But this was dreamy unofficial counting)
Before I made the tenth across the threshold.
Where was my supper? Where was anyone's?
No lamp was lit. Nothing was on the table.
The stove was cold—the stove was off the chimney—
And down by one side where it lacked a leg.
The people that had loudly passed the door
Were people to the ear but not the eye.
They were not on the table with their elbows.
They were not sleeping in the shelves of bunks.
I saw no men there and no bones of men there.
I armed myself against such bones as might be
With the pitch-blackened stub of an ax-handle
I picked up off the straw-dust covered floor.
Not bones, but the ill-fitted window rattled.
The door was still because I held it shut
While I thought what to do that could be done—
About the house—about the people not there.
This house in one year fallen to decay
Filled me with no less sorrow than the houses
Fallen to ruin in ten thousand years
Where Asia wedges Africa from Europe.
Nothing was left to do that I could see
Unless to find that there was no one there
And declare to the cliffs too far for echo,
"The place is desert, and let whoso lurks
In silence, if in this he is aggrieved,
Break silence now or be forever silent.
Let him say why it should not be declared so."
The melancholy of having to count souls
Where they grow fewer and fewer every year
Is extreme where they shrink to none at all.
It must be I want life to go on living.
Tennessee Williams was born 109 years ago today. The big three —
Streetcar, Cat on a Hot Tin Roof,
and
Glass Menagerie
— still get produced all the time. That's good, but I'd love to see somebody gamble on reviving the later Williams plays that weren't as successful.
Leonard Nimoy would have been 89 years old today. Teddy Pendergrass would have been 70.
Sandra Day O'Connor, the first woman to serve on the Supreme Court, turns 90 today. Alan Arkin turns 86. Have you seen the original (1979) The In-Laws? You really shouldn't deprive yourself of one day seeing The In-Laws.
James Caan turns 80 today. He was born the same day as Speaker of the House Nancy Pelosi. Bob Woodward turns 77.
Today is Martin Short's 70th birthday. He was studying to become a social worker when he got cast in the 1972 Toronto production of Godspell. Jennifer Grey turns 60. Kenny Chesney turns 52.
Billionaire co-founder of Google Larry Page turns 47 today, meaning he doesn't have enough time left to spend all the money he's already got. Keira Knightley turns 35.
Finally, in the Episcopal Church, today is the feast day of Richard Allen, founder of the African Methodist Episcopal Church, the first black Christian denomination in America. Here's the Richard Allen mural in West Philly: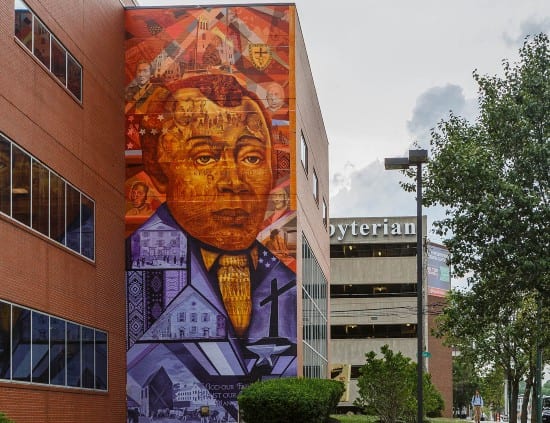 Serpentine! And talk amongst yourselves.