Here is your open thread for April 4, 2020.
Fifty-two years ago today, on April 4, Martin Luther King Jr. was assassinated in Memphis, Tennessee. The last 52 years in America can best be understood as the conflict between those who seek to continue what he started and those who seek to erase every trace of it. Most days it seems like the latter group is winning.
On April 4, 1865, President Abraham Lincoln visited Richmond, Virginia, the former capital of the Confederacy. He arrived with his young son (it was Tad Lincoln's 12th birthday), accompanied only by a handful of American sailors. American troops had retaken the city just two days earlier and Lincoln was greeted with cheers by huge crowds of newly emancipated slaves.
Less than two weeks later, Lincoln would be dead. The following 103 years of American life can best be understood as the conflict between those who sought to continue what he started and those who sought to erase every trace of it. Most days …
Susanna Salter was elected mayor of Argonia, Kansas, on April 4, 1887. No woman had ever before been elected mayor of any town in America. Salter's name was placed on the ballot as a derisive joke by men from the town who were trying to mock the idea of women's involvement in politics. She didn't know she was running until election day. Salter served one year in office and, by all accounts, was a capable and successful mayor, but chose not to seek re-election.
On April 4, 1988, Arizona Gov. Evan Mecham — who became nationally infamous due to his enthusiastically ugly opposition to a holiday honoring Martin Luther King — was convicted of obstruction of justice and misuse of government funds and removed from office.
Netscape was founded on April 4, 1994. It was soon destroyed by MicroSoft, which was founded on April 4, 1975.
Quaker minister and painter Edward Hicks was born on April 4, 1780. He painted more than 60 versions of The Peaceable Kingdom (including the 1826 version below) and in all of them the lion just looks … odd.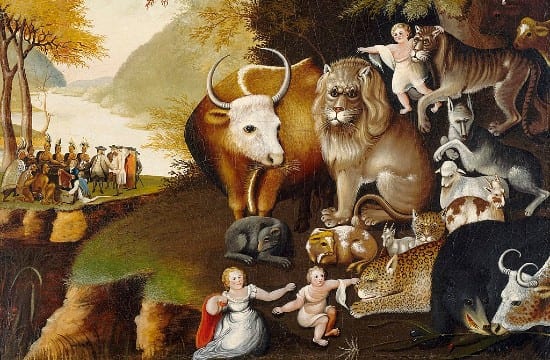 Founding Father Thaddeus Stevens was born 228 years ago today. If you don't think of Stevens as one of America's Founding Fathers, you're drastically misunderstanding America. And you're drastically underestimating the agenda of those who are working, every day, to undo this nation's founding.
Dorothy Dix was born 218 years ago. She served as superintendent of Army nurses for American forces against the Confederacy, treating the wounded from both sides.
McKinley Morganfield, better known as Muddy Waters, was born 107 years ago today. Here's "Mannish Boy."
Composer Elmer Bernstein was born 98 years ago. Here's his theme for The Magnificent Seven.
Today is the birthday of both Gil Hodges (1924) and Jim Fregosi (1942), a sentence that causes mixed emotions for Mets fans.
Poet, memoirist, singer, and civil rights activist Maya Angelou was born 92 years ago today. Her friend Martin Luther King Jr. was slain on her 40th birthday.
Heath Ledger would have been 41 years old today.
Hugo Weaving turns 60 today. David Cross turns 56. (Here, again, is a favorite sketch from Mr. Show.) Robert Downey Jr. turns 55. (Not a ranking or an exclusive list, but here are three non-Iron Man RDJ flicks I'd happily watch again: Chaplin, Kiss Kiss Bang Bang, Only You.)
Philadelphia poet Jill Scott turns 48 today. (A good day to see if The No. 1 Ladies Detective Agency is part of that free HBO deal.) James Roday turns 44. And the one and only Natasha Lyonne turns 41. (Have I recommended Russian Doll here yet? Because it's really good.)
Talk amongst yourselves.