"If Costco can reopen safely, why not Illinois churches, Gov. Pritzker?" Ed Stetzer asks in a column for Religion News Service.
Bear in mind, columnists don't write their own headlines and rarely have any say in them, so Stetzer isn't to blame for the smirking, wiseass-in-the-back-of-the-class-mistakenly-thinking-he's-outsmarted-the-professor tone of that title. He does make the facile churches-to-Costco comparison, and he does single out Pritzker as the focus of his frustration, but he's not trying to be quite as belligerent as that headline makes it seem.
Stetzer's complaint was sparked by Gov. Pritzker's plan to gradually ease the safety restrictions now necessary for containing the spread of the very contagious and often lethal covid-19 virus. This is a daunting challenge here in America where widespread testing is nonexistent, inaccessible to most citizens, and nowhere near a top priority for the federal government. Unlike wealthier, more advanced countries like, say, South Korea, Vietnam, or Senegal, the United States just doesn't have the capability or the leadership to produce the kind of testing and contact-tracing system that would allow us to "re-open" safely. Absent such testing or the national leadership to make it happen, it's going to be a long, long time before local churches can safely meet for services as a congregation.
How long? Gov. Pritzker says it will be at least a year.
That seems overly optimistic to me. It's long-shot possible that we'll have a safe, effective, universally available vaccine by then. Or maybe we'll have a new presidential administration with the interest and capability of instituting testing and contact-tracing on a national scale just months after taking office. But if I had to bet my life on it — and in a sense, I do — I wouldn't wager that it would be safe to share a hymnal for congregational singing even by May of 2021.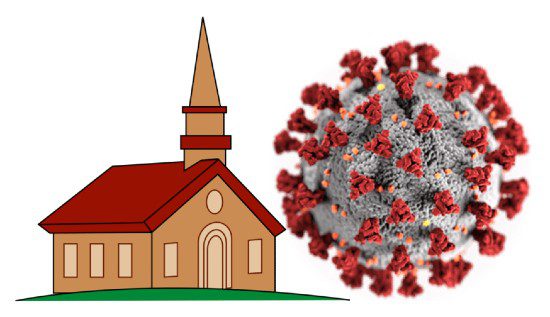 But Ed Stetzer, commendably, misses church. And he doesn't want to wait a year or more before he's able or allowed to go back.
That distinction — "able" vs. "allowed" — is one that Stetzer is too impatient and frustrated to consistently keep clear in his piece. In one breath he acknowledges that it's the virus itself, not the governor, that is keeping Illinois churches closed, but then in the next breath he'll go back to arguing as though the safe reopening of churches were being delayed only by the obstinate governor's meddling. It's not fair, he suggests, that grocery stores are allowed to be open but not churches. "If Costco can make it work," he writes, "so can the churches."
I wish I were as confident as Stetzer that Costco is making it work. I haven't been in a Costco, but I'm at the Big Box for 50-60 hours every week and I'm far from sure that we are "making it work." Probably 90 percent of our customers are doing their best to practice social distancing, but surprisingly few people have a good sense of how far 6 feet really is. And that other 10 percent — more than 200 people a day — are disturbingly indifferent to any of the precautions listed on signs throughout the building. Every day, we'll have a handful of customers who bully their way in without wearing masks or defiantly remove their masks after entering. The giant sign by the front entrance asking people to shop individually rather than in groups may as well not even be there.
Our area isn't yet a hot-spot — Chester County still has "only" about 1,800 confirmed cases and 183 deaths. But if the hundreds of houses of worship here were to re-open with the same protocols followed in the same way as at Costco and the Big Box and area supermarkets, then we'd likely see those numbers rapidly climb.
Stetzer says:
Faith leaders are ready to work with the governor to follow the science and to gather in larger groups. …

By convening a designated group of pastors and other religious leaders, government officials establish a model that supports public health and opens our communities again. …

Rather than put church and state at odds, let's partner to talk about how to allow churches to gather safely. We can begin to establish a relationship between Illinois and its churches predicated upon collaboration, aimed at serving our communities.
See what's happening there? All we need, he says, is for "church and state" to work together to hammer out some new policy amenable to "both sides." But the virus won't be at that negotiating table. Or, rather, it will be — it just won't be there to negotiate.
That's where this whole column falls apart. Stetzer just can't keep it in his head that it's the virus, not the governor, that's closed down the churches and that it will be up to the virus, not the governor, when they re-open.
One church that understands that all too well is the Living Spirit United Church in Calgary. That's in Alberta, where churches are also closed and which doesn't have a Jewish Democratic governor who can be blamed for that.
"'I would do anything for a do-over': Calgary church hopes others learn from their tragic COVID-19 experience," Chris Epp reports for CTV News. It's a heartbreaking story. The church wasn't reckless. They were as careful as anyone at the time knew to be:
Members of a Calgary church ravaged by COVID-19 in the early days of the pandemic are sharing their stories of grief and healing, after Alberta's chief medical health officer cited them as a cautionary tale.

"I had the opportunity recently to talk to a faith leader whose faith community gathered together in mid-March before many of our public health measures were in place," Dr Deena Hinshaw said Thursday. "The congregation had a worship service and then gathered together for a celebratory social event. There were only 41 people present, and they were careful to observe two meter distancing and good hand hygiene. They followed all the rules and did nothing wrong. "

Despite that, 24 of the 41 people at the party ended up infected. Two of them died.

Rev. Shannon Mang is the minister of Living Spirit United Church.

"One of our most beloved members was having a very important birthday and we wanted to celebrate that," Mang said of the post-service celebration. "Under the circumstances, we thought we were going to be safe. We were very diligent about physical distancing, very diligent about hand hygiene."

Though the church has capacity for 200 people, fewer than 50 were at the event – well within the public health rules of the time.

Food was served but everyone handling it wore gloves.

"We were very careful and then a week later, we learned of the first person who was diagnosed with COVID-19," explained Mang. "A few days later we had the second, and the third and within a week there were about 14. Within two weeks, there were 24 of the 41 people who had been there that day."
Pastor Mang urges other congregations to learn from their experience:
"We don't want another organization or faith community to go through what we've been through," said Mang. "It's really, really hard. There seems to be this huge divide between those who've experienced (COVID-19) and the majority who haven't.

"If you haven't experienced it, you are so lucky. You have no idea how fortunate you are."

Even as public health restrictions start to loosen, Mang is encouraging people not to rush.

"Think about the oldest person that you hang out with and visit and take care of. Are you willing to give them up?"
If white evangelicals like Ed Stetzer want to see churches re-open sooner, without the loss and death that Living Spirit experienced, then they need to stop pretending that governors are the only thing keeping them from congregational worship. The virus is real and it doesn't care what you heard on Fox News or on right-wing Christian Family Radio. And right now the virus is calling the shots.
We don't need local officials to "convene a designated group of pastors and other religious leaders" to find some way to safely re-open local houses of worship. We need testing. We need contact-tracing. We need PPE. We need a massive moon-shot national and international push to develop a safe, universally available vaccine. And we need a federal government that understands those things must be priorities.
Without those things, local churches won't even be able to meet together for the funerals of all the members who will get sick and die thanks to some muddled scheme to "compromise" with reality.