The Times Herald-Record, a local paper in New York's Hudson Valley, demonstrates how not to write a headline for this story: "Warwick cafe owners criticized for online remarks after one attended Trump rally in D.C."
That bland, vague headline manages to be both bad journalism and bad business. It's bad journalism because, while technically accurate, it's almost contentless. And it's bad business because the same tepid timidity that produced such a lukewarm headline discourages anyone from actually wanting to read the story. It's click repellant.
The cafe owners' "online remarks," after all, involved calls for violence against then-Vice President Mike Pence, a rant against "satanic Jews," and the claim that "Hitler was actually very kind to all people."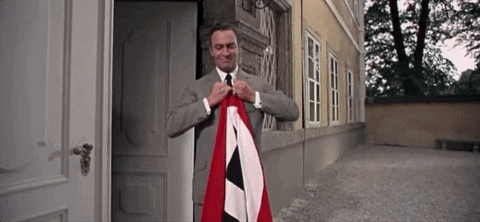 That seems newsy. That's the lede you don't want to bury and that's the news you want to put in big type in the headline if you want anybody to actually read your report. Instead of discouraging potential readers with bland boilerplate like "criticized for online remarks" you can attract readers and capture their attention with a truthful, accurate headline including the actual news that "Warwick cafe owners praise Hitler."
And when that is the story — which it is — there's no need to sub-contract out the "criticism" of such "online remarks" to some vague, passive-voice third party. This is not a matter of controversy or a "divisive hot-button issue" requiring disinterested "balance." There's no need to fall back into the timid trope of "Critics suggest that praising Hitler might be less than good, but we as objective journalists can't possibly regard this opinion as anything we can either confirm or deny."
Praising Hitler is bad. You're allowed to say so. And saying so is not a violation of some principle of "objectivity," because praising Hitler is objectively bad.
And but so, since the headline refuses to tell us what happened up in Warwick, let's look at the story itself:
The owners of a Warwick coffee shop have come under fire after one attended and staunchly defended last week's pro-Trump mob outside the U.S. Capitol and both were then alleged to have made anti-Semitic remarks on Twitter in the past.

Co-owner Tom Torres took part in the pro-Trump mob and broadcast a Facebook video afterward from his hotel room in Washington, mocking media reports of violence as untrue while boasting that he'd be "in that stuff" – fighting – if Black Lives Matter or Antifa protestors had been there or if Trump supporters had found Vice President Mike Pence inside the Capitol.

"If Mike Pence was being dragged out – God damn! – I'd be part of that, I promise you," Torres said in the video, which has since been removed from Facebook but preserved in excerpts that were posted online.

Torres' cheers for what escalated into a riot and the ransacking of the Capitol and killing of a police officer prompted a torrent of online criticism and angry phone calls to his business, Caffe a la Mode. That, in turn, led flag-waving Trump supporters from around the region to pack into his business for lunch and then rally outside it on Sunday.

The controversy also invited scrutiny of the social media accounts of Torres and co-owner Scott Elfant that unearthed a tweet attributed to Elfant in December that said, "Hey, the real history of Germany, hitler was actually very kind to all people."

Online sleuths also traced a tweet to Torres in June in which he responded to a complaint about the media, sports teams and other institutions being politically "tainted" by saying "they're all owned by satanic Jews."

The Jewish Federation of Greater Orange County condemned those remarks in a Facebook statement Sunday evening, shortly after the gathering of Trump supporters at Caffe a la Mode had ended.
The statement from the Jewish Federation is a good one, but it's disturbing that it's left to stand alone as the sole local criticism of this local Nazism. Was anyone else in Warwick troubled by these statements? What does the mayor/council have to say? The local chamber of commerce? Other local clergy or business or civic leaders?
To the paper's credit, the Times Herald-Record did run a five paragraph op-ed piece several days later signed by a dozen local clergy condemning the Trump rally in support of the Hitler-praising local business: "Warwick area clergy call for peace in a troubling time." It doesn't quite have the moral clarity or courage of, say, the Dead Kennedys, but it's something at least:
Non-residents may have come here with profanity on their flags and hate in their hearts, but with the need to lower the vitriol, temperature and voices of all, we call upon one another to act upon the values of tolerance and love. These principles are neither reserved for our sanctuaries nor our religious school classrooms, they tell everyone that hate is not welcome here.
Local newspapers are now forced to make bricks without straw. They're struggling to provide an essential service without anything close to the staff or resources that task requires. I appreciate that and know exactly what it means.
But for all of the challenges they now face, they've got to get better at covering this story, which is a national story but also always a local one.