• At some point, I had to hit the library/Google to learn who Ea-nasir was and why he seemed to be the basis for so many jokes enjoyed by ancient-history/bib-studies friends. Everyone who works in retail should know this story: Open Culture has a nice introduction, including a fun video with a reading of a  translation of Nanni's fierce, 4,000-year-old customer complaint letter (one of several such letters found in what may have been Ea-nasir's house).
• Disgraceful antisemite "televangelist" Rick Wiles has long dismissed the pandemic as a hoax orchestrated to make the former guy look bad (How could the hoaxers have known it would make him look bad?) and has warned against getting vaccinated because he sees vaccines as an internationalist plot by "The Jews" to murder Christian babies.
Rick Wiles is now in the hospital with COVID-19.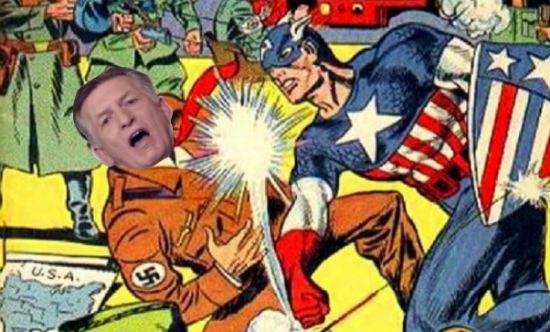 See earlier: "We need to do something about Rick Wiles." That details why the Nazi-punching artwork is appropriate. Rick Wiles isn't just preaching some reckless supercessionist theology, or occasionally falling into pejorative stereotyping, or just using the stock antisemitic tropes ("globalism," "coastal elites," "Soros") commonly found among most of the religious right. He's a full-on Jew-hater who goes off on long rants about the "synagogues of Satan" and speaks in eliminationist terms about a zero-sum existential struggle between white Gentiles and Jews. He's a Nazi and his TruNews is Hutu Radio.
I know I ought to be praying for Wiles to recover and then to come to repentance so that he can live a long life atoning for and correcting his harmful, hateful lies. But other possible outcomes that would also result in him no longer spewing his hate also strike me as potentially positive developments.
• "Wheaton College rewords plaque calling Indigenous people in mission field 'savage'."
This is a good step and it seems that Wheaton put some work in here trying to do the right thing in the right way and for the right reasons.
The plaque here commemorates Jim Elliot, Ed McCully and three other white Christian missionaries who were slain in 1956 while trying to make contact with the Waorani people in Ecuador. It's a modern martyrdom story beloved by American evangelicals (even if it's more complicated than the hagiographies make it seem), and particularly important at Wheaton, the alma mater of Elliot and McCully. The original plaque, donated by Wheaton's class of 1957, said the missionaries died at the hands of "savage indians."
That language has been criticized by students, faculty, indigenous people, and missionaries (missiology has come a long way since 1957). That criticism led to a task force charged with fixing the plaque — one that included a missionary now serving among the Waorani and a professor who is a member of the Kuna tribe of Panama and Colombia.
A statement on the new plaque, released under the name of college president Philip Ryken, said that "In the 64 years since the College received this gift, we have continued to grow in our understanding of how to show God's love and respect to people from every culture" and that "We have also learned much more …"
Growing in understanding is a Good Thing. So is learning more.
If Ryken himself had been willing to learn more and to grow in understanding, maybe he wouldn't have become a walking punchline and a disgracefully dishonest man who still refuses to learn, tell or acknowledge the truth about, say, Wheaton's pre-Obama health insurance, how contraception works, how human reproduction works, the age of the universe, or why he fired Doc Hawk.
• D.L. Mayfield reviews five recent movies that conjure "The Complicated Nostalgia of Seeing My Evangelical Childhood on Film." This includes two musical documentaries, two comedies, and a musical. I'm going to have to check out the Pedro doc and the comedies. Probably not the musical, though, as it sounds like it's not quite bad enough to achieve so-bad-it's-good status.
• My only large complaint about the finale of Mare of Easttown was that we only got to hear one verse of Siobhan's "We Belong" at Frank and Faye's wedding. So here's Pat and Spyder sharing their song with Martina McBride:
(You can hear Angourie Rice sing the whole thing here.)