• Groundhog Day is a good day to revisit one's New Year's Resolutions. That's true both because of the promise of coming rebirth that this cross-quarter day of Candlemas/Imbolc brings, and because of the lessons of that Bill Murray parable many of us now associate with this day.
You might be thinking that the beginning of February is way too late for any thought of New Year's Resolutions, but don't fall into that trap. This is a trap I'm well acquainted with thanks to having grown up in white evangelical purity culture, a framework that trains you to think of virtue as a kind of original innocence and purity you must struggle to preserve, gripping it tight with white-knuckled determination. If you've learned to think of yourself and the world that way, then you'll wind up making the kind of New Year's Resolutions that will never survive past Epiphany. You'll tell yourself that this year you're going to always or to never or to every, and that kind of superlative perfection is always a trap.
That kind of purity thinking never allows us to get better because it's based on the idea that becoming better is impossible — that our only hope is to stave off getting worse.
Anyway, if you've gotten stuck in that trap this year, then Groundhog Day is as good as any day to scrap all of that and resolve to stop resolving for purity and perfection. Whatever is it you're resolving to be or to become, you don't have to get there today or this year. But today is a good day to start practicing.
• I've never eaten groundhog and I'm not inclined to try it. Even though I've been feeding groundhogs in my garden for more than a decade, I'm not interested in having one feed me.
Our garden did enjoy a one-summer respite from the area groundhogs a few years back after some of the neighborhood foxes chose to raise their litter of kits under our shed. From the sound of things in the woods out back at night, it seems some of those foxes are once again planning families for this spring. If I knew of any way to invite them to do so in our yard agin, I'd do it.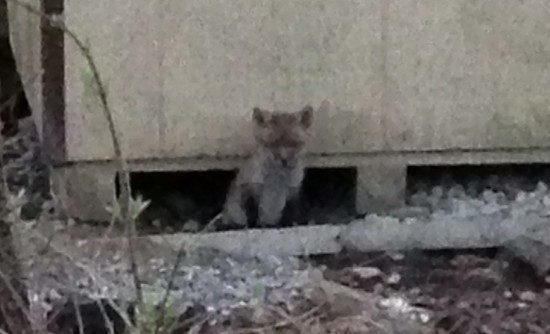 • Prudence Crandall is such a perfect name for a Connecticut school teacher in the 1800s. But you'd never guess from just that name and occupation that Prudence Crandall was a total bad-ass.
Anthony Conwright's larger point in that history lesson is timely: "School Boards Have Long Been a Tool of White Supremacy." Turns out that it's a bad idea to set things up so that the majority gets to vote on whether or not the minority enjoys any rights.
• While we're visiting the 19th Century … "This is grave of Charles and Charlotte Ray."
Charles Bennett Ray was an evangelical abolitionist pastor, boot-maker, and newspaper editor. Unlike most of the evangelical abolitionists discussed in Donald W. Dayton's Discovering an Evangelical Heritage, Ray was never forced out of white evangelicalism. Alas, that's because, as a Black man, he was never allowed within it in the first place.
But Ray did serve as pastor of two predominantly white churches in New York City which, as Erik Loomis writes, "can't have been frequent, even among northern liberal conservatives. Heck, it's pretty rare today." I'm intrigued, but haven't been able to find out more about either of those churches — Crosby Congregational and Bethesda Congregational. Somewhere in some archive there's a box or a drawer or a shelf and a fascinating dissertation waiting to be written.
• Waffle House mass-shooter Travis Reinking believed that Taylor Swift was stalking him, that everyone he saw on the sidewalk was a government agent belonging to a vast conspiracy persecuting him, and that God spoke to him personally — that God told him to take his assault-style rifle and open fire in the Nashville restaurant. So this is a story about madness and delusion and irrationality.
And I don't mean the voices in Reinking's head. I mean the madness and delusion and irrationality of the idea that it would be impossible or unpopular or unconstitutional to do anything to make it slightly more difficult for someone like Travis Reinking to acquire an assault-style rifle.
And also the second level of madness, delusion, and irrationality of something we all know to be true: Travis Reinking was only able to own that gun because of "pro-life" politics.
• So I was browsing through cover versions of Concrete Blonde songs on YouTube, as one does, and came across this fine rendition. Given that these folks are all from Ohio bands, and given that young Joe(y) Burrows just led the Bengals to an unlikely upset and a ticket to the Super Bowl, this seemed apropos.
(OK, yes, these folks are mostly from northern Ohio, but still, work with me here.)