• Well, here's a familiar story of greed and cruelty, with a disheartening twist: "Residents Protest Grand Canyon University's Plan to Evict Trailer Park."
A group of protesters chanted as they marched to the front gates of Grand Canyon University, braving the sweltering heat, at times huddling in the shade.

"Save our homes!" one sign read. "Grand Canyon University is leaving families homeless," was another.

Most of these protesters on Tuesday afternoon are residents of the Periwinkle Mobile Home Park, a small trailer setting right on the edge of Grand Canyon's west Phoenix campus. In October, everyone in this community will be forced to leave their homes. As of now, the only compensation most will receive is $1,875, from a state fund for trailer relocations.
Grand Canyon University is a Christian college — a now non-denominational white evangelical school originally founded as a Southern Baptist institution in 1949.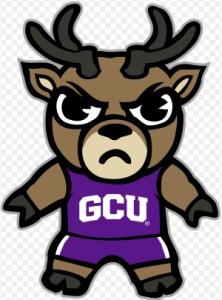 By 2004, it's enrollment had shrunk to about 1,000 students and the school was in deep financial trouble. That's when it rebranded as a for-profit college, massively investing in online degree programs and enrolling student loans at a record pace. (That's not a typo — GCU students have borrowed more than $6 billion.) The school says it now has 20,000 students on campus, plus another 90,000 online.
Awash in cash from this explosive growth, GCU has been expanding its campus, buying up adjacent properties up to — and including — the now-adjacent Periwinkle Mobile Home Park. And now GCU plans to raze the park and use the site for student housing.
The 50 households now living in Periwinkle were given six months to clear out — to move the homes they own off of the land they don't or else to have those homes seized and destroyed. Just because manufactured homes are sometimes called "mobile homes" doesn't mean they're actually mobile, as Katya Schwenk explains in the Phoenix New Times article linked above:
The state of Arizona offers decent compensation for people looking to relocate their trailers when faced with an eviction: up to $12,500 for relocation costs of certain types of mobile homes. But many trailers in parks like Periwinkle are too old, or too structurally unsound, to be moved. Even if they could be, they wouldn't be accepted by many local trailer parks, which often restrict trailers built before a certain year.

The only option for these residents is to abandon their trailers at the lot. The state offers more meager compensation for those who select this option: a little over $1,800.
So GCU's move-it-or-lose-it ultimatum means these families and elderly retired folks will be losing their homes and all the savings they used to acquire them.
The following isn't from Schwenk's report. It's from Grand Canyon University's own website:
West Phoenix is where GCU calls home. That's why GCU stands committed to transforming the surrounding neighborhoods into a safe, thriving place for those in the community to live with hope and better futures. Along with providing academic excellence and vibrant campus life, GCU believes its purpose is to partner together to implement initiatives in the area that open educational opportunities for all, create jobs, restore housing and reduce crime. GCU calls this United by Purpose.
OK, then.
• Recording an "album" these days seems almost as quaintly retro as writing a "blog," but the Drive-By Truckers have a new album out and it includes this: "Maria's Awful Disclosures":
This is a song about the best-selling, fraudulent 1836 conspiracy tract The Awful Disclosures of Maria Monk, or, The Hidden Secrets of a Nun's Life in a Convent Exposed. Diana Butler Bass wrote about this fever-dream of a book a few years back: "Kidnapping, Pedophilia, and the End of America."
It's a classic text of Satanic baby-killerism, a book suggesting that behind the walls of every Catholic building lurked a McMartin Preschool, Comet Pizza, and coven of Warnke Warlocks. That book helped to fuel the anti-Catholic hysteria driving the Know Nothing Party and the Bible Riots of 1844.
Longer-term, that hysteria taught American Catholics that their whiteness was, and always would be, contingent — perpetually in need of reregistration and reaffirmation that would only be granted to the extent that those probationally white non-WASPs agreed to participate in and to support anti-Black racism.
Anyway, it's a good song, albeit a depressingly timely one.
• This story about the bizarre spite of a right-wing white Alabama pastor is further confirmation of a general rule: If you're looking for grace, avoid any church with the word "Grace" in its name.
• Michael F. Bird is not the first person to make this point — nor does he claim to be — but he's a respected white evangelical biblical scholar, so he may be the first person to make this point who might actually be heard by some of the folks who need to hear it: "I'll Say it: Certain Theologies Enable Sexual Abuse."
There is something particularly hypocritical and sinister when some church leaders champion complementarianism as good for women, and yet reduce women to either a source of sexual temptation or see them as an instrument for male sexual fulfillment. Yes, that is not everyone in the SBC, it finds expression elsewhere too, but there is a weird type of complementarianism that oscillates between chivalry and chauvinism, between seeing women to be feared for their powers of seduction yet also aggressively controlled in want of sexual gratification, where women are dangerous Jezebels yet also a live-in concubine to be sexually enjoyed. …

Church leaders need to own up to their responsibility to protect the vulnerable from abuse and recognize the need to develop a culture for effectively confronting violence and abuse that focuses on the support of victims, not protecting the accused. What is more, the best, simplest, and easiest way to do that is to include women – whether ordained or not – at all levels of decision-making in churches and institutions. You need women present wherever matters affecting women are discussed or debated. Not that hard.