From November 22, 2005, "A game for goats"
Pleasantly surprised to find that this game was still online 18 years later.
---
"When the Son of Man comes in his glory, and all the angels with him, don't say anything without your lawyer present."
— Matthew 25:31 (American version)
OK, I've seen this LiquidGeneration game [warning: it plays music] linked to from a few places.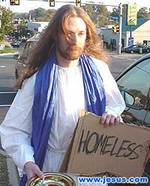 It's pretty funny — either despite or because of its combination of irreverence and callousness. The description of the game is simple: "Have you ever gotten a homeless person confused with the Son of God, Jesus Christ? Well we certainly have. Now, utilizing the new LiquidGeneration game Homeless or Jesus? you can test your ability to differentiate between the two."
Playing the game produces a series of details from various photographs of bearded men, about half of whom are street people and the other half actors portraying Jesus Christ (or, in one case, Jesus Quintana). You have to guess which is which before seeing the full photo.
I get the gag, and like I said, it's pretty funny. But it's bad theology.
"Is this Jesus or is this a homeless street person?" is a misleading question because, as far as we're concerned, a homeless street person is Jesus:
Then the King will say to those on his right, "Come, you who are blessed by my Father; take your inheritance, the kingdom prepared for you since the creation of the world. For I was hungry and you gave me something to eat, I was thirsty and you gave me something to drink, I was a stranger and you invited me in, I needed clothes and you clothed me, I was sick and you looked after me, I was in prison and you came to visit me."

Then the righteous will answer him, "Lord, when did we see you hungry and feed you, or thirsty and give you something to drink? When did we see you a stranger and invite you in, or needing clothes and clothe you? When did we see you sick or in prison and go to visit you?"

The King will reply, "I tell you the truth, whatever you did for one of the least of these brothers of mine, you did for me."
For those who claim to be followers of Jesus, this passage (from Matthew 25) doesn't provide a great deal of wiggle room. So, naturally, it tends to provoke a great deal of wiggling.
Many American evangelicals lunge for a technical, lawyerly reading of the above — one that hangs on an exculpatory reading of the phrase "these brothers of mine." That phrase, they insist, qualifies and limits Jesus' call to feed/clothe/house/tend/visit "the least of these." This qualifier, they say, means they are only obliged to care for their fellow believers.
This is an age-old trick. First we question the obligation itself, asking the question of Cain, "Am I my brother's keeper?" And when that fails to get us off the hook, we try to limit the obligation, turning to the Pharisees' question: "Who is my neighbor?"
So, according to this dodge, we don't need to treat these difficult/addicted/smelly street people as if they were Jesus because they aren't "brothers" of his — those scruffy Samaritans aren't on our team.
But even by this parochial standard, we seem to be in trouble. Millions of Christians, after all, are among the billions of desperately poor people in this world scraping by (or not) on less than $1 a day. If we want to avoid hearing, "Depart from me, you who are cursed … For I was hungry and you gave me nothing to eat" then we'll need to figure out some way of further limiting this passage.
But don't worry, our best lawyers are working on it.