Welcome readers! Please subscribe through the buttons at the right if you enjoy this post.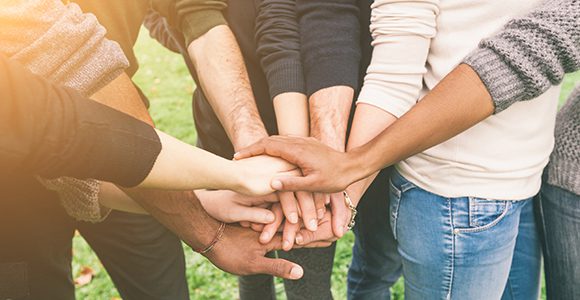 In the gospels we read the instruction, "Do not judge, and you will not be judged. Do not condemn, and you will not be condemned. Forgive, and you will be forgiven. Give, and it will be given to you. A good measure, pressed down, shaken together and running over, will be poured into your lap. For with the measure you use, it will be measured to you." (Luke 6:37) And, "Do not judge, or you too will be judged. For in the same way you judge others, you will be judged, and with the measure you use, it will be measured to you." (Matthew 7:1)
The verb translated as "judge" in this saying has a rather broad meaning, so the only way we can narrow it is by looking at its textual context. The context is Jesus' repeating of the Golden Rule and emphasizing our interconnectedness. To judge or krino means "to separate" or "to make a distinction between." (Mounce's Greek Dictionary) It can be positive or negative. At its heart, though, is to separate another from one's self. It means to discriminate.
Discrimination is perfectly acceptable when we have two things to choose from: we should strive to discern which choices are harmful and which are compassionate. But discrimination toward things is not the same thing as discrimination toward people. It is judgment or discrimination toward people that is opposed in this saying.
Oppressive Non-Judgement
It's also helpful to consider these instructions through the lens of social locations. Too often I hear Christians whose social location is one of privilege and who are seeking to alleviate their misplaced sense of guilt exclaim, "Don't judge me! Jesus said not to judge." They are using this saying as a way to avoid accountability for their actions. At the same time, those at the bottom of certain pyramids are judged by those at the top continually.
In the film Enough Room At The Table, I share my take on the type of community that is life-giving in regards to "not judging." We are not talking about creating communities where there is no mutual accountability among community members. Where in the end anything goes because we are too afraid of ever "judging" someone's actions. Instead, we're opposing the kind of judgment that would distinguish and separate us from one another. We're opposing the kind of judgement that would value someone else as less than oneself. We are affirming communities where we see ourselves as interconnected with each other, and where we can be accountable to one another. Let me tell you a story that will help make this clear.
I'm in community with two friends that self-identify as belonging to the LGBTQ community. Both are people of color. One identifies as gender-nonconforming, and she prefers the pronouns she and they. The other as a cisgender man, though he is involved in activism for the rights of transgender people. Never have I encountered such accountability as I have from being in relationship with these two. They have continually called me to analyze (judge) my blind spots as a white, cisgender, straight male. Being in community with them has never meant that "anything goes" (no judgement) and they do not allow me to live unconsciously when it comes to my own social location of privilege. Each of us is deeply committed to an expression of strict ethics rooted in compassion, interconnectedness, and the golden rule.
Each of us is dedicated to a Shared Table world view, and, just like them, I am called to come to that table in a posture of humility and learn about other people's experiences in our world.
I wouldn't for a moment ever say that these friends have ever judged me. Yet, they have called me on the carpet for my ignorance at times, and there have been times when these moments were even painful to my misplaced ego. But their feedback has always been in the spirit of connectedness. My friends make it clear that we are in this together.
The community that Jesus is teaching about his prohibition toward judging is not a community where we throw out all values, as some today wrongly imagine a judgment-free community would. The community Jesus points to, and the community I have experienced with my friends and others, is a community where I have allowed my own values to be informed by members of the community that my previous values had harmed. There's a world of difference between throwing out all values, and holding strictly to a new set of values that come from embracing our interconnectedness with each other rather than judging and separating from each other. In this community, there is no us-versus-them. There is only us.
This kind of community centers the voices of oppressed and marginalized people. This is not a community that holds on to domination or subjugation in any form. Religious communities characterized by heterosexism, racism, or sexism sometimes claim to be simply trying to hold to account those who don't align with their values, and disciplining those others "out of love."
So it is very difficult to get these communities to see that what they are really engaging in is not love, but discrimination. They claim to be, in love, pointing out the self-destructive "sin" of others. But they fail to see that by disconnecting (krino) themselves from those they claim to love, they risk developing a false feeling of moral superiority, and they also risk failing to listen. Listening is a way to allow our values to be shaped by other people especially those our present values are harming, and is essential for people who are dedicated to not harming other people.
Life-Giving Non-Judgement
By contrast, it is acceptable to for those receiving this type of unjust or prejudicial treatment to respond to would-be judges with Jesus's teaching "Do not judge." For those whose social location is at the bottom of a social pyramid, even one claiming the authority of the Bible, asking for an end to discriminatory judgment is survival. They aren't crying out for a community without boundaries; rather, they are desperately longing for a community characterized by a posture of listening and not one of judgment, a community that embraces the interconnectedness of humanity rather than sharply drawn lines between kinds of people.
Remember, the stories of Jesus were written during a time when the rabbinical school of Shammai was dominant. The school of Shammai drew sharp lines between Jew and Gentile, but didn't stop there. Division never does. Before long, lines were also drawn between what we might call today "fundamentalist" Jews and Jewish people who were more all-embracing.
In his book, Laying Down The Sword: Why We Can't Ignore the Bible's Violent Verses, Philip Jenkins shows how the conquest narratives of Canaan have fueled and justified Christianity's violence through history. Jenkins then looks at today's headlines in Palestine. I believe what we see happening today illustrates the trajectory Jesus challenged in his own social context.
Jenkins writes: "Jewish extremists do not confine their campaigns to attacking Arabs and Muslims. As Rabbi Lamm observed, in trying to show the moral and intellectual perils of the Amalek doctrine, the concept is infinitely expandable . . . Next would come the turn of religious Jews whose faith is not quite what the strictest Orthodox think it should be. Actually, in terms of their condemnations, rather than of actual violence, that is a fair description of how some extremists have escalated the biblical commands. As the ultra-Orthodox have grown, so they have become ever more strident in denouncing mainstream or secular Jews who, they believe, fall short of the theocratic standards that are demanded of the new Israel."
The entire book is really worth your reading. It is an excellent critique of Bible-based segregation, what we would call "judging" others, and the violence that results from both. The above is true of Christianity, too!
Jesus stood, I believe, in the spirit of Jewish tradition of Hillel against this human tendency and teaches instead "do not judge." Do not engage in the game of "us and them." Ultimately, there is no "them." There is no "other." There is only "us." And our future depends on seeing and embracing this reality. For the same measures that we use for others will be used for us. We will reap the intrinsic results of what we sow. Jesus lays the choice before us: the way of discrimination, segregation, extirpation, and global annihilation, or the way of compassion, interrelation, integration, cooperation, restoration, and peace. The way of judgment will not stop at your own doorstep. The law of reciprocation will work either for or against all of us.
We have the power to set in motion the kind of world we would like to live in. Choosing to live in harmony with the type of world we desire is choosing to take the first step toward it.