Welcome readers! Please subscribe through the buttons at the right if you enjoy this post.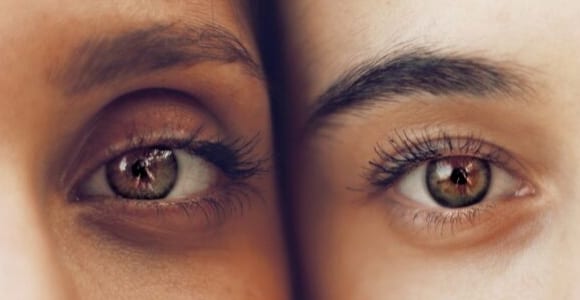 Both Matthew's and Luke's gospels speak of what we think is light actually being something else.
Matthew 6:22-23: "The eye is the lamp of the body. If your eyes are healthy, your whole body will be full of light. But if your eyes are unhealthy, your whole body will be full of darkness. If then the light within you is darkness, how great is that darkness!"
Luke 11:34-35: "Your eye is the lamp of your body. When your eyes are healthy, your whole body also is full of light. But when they are unhealthy, your body also is full of darkness. See to it, then, that the light within you is not darkness."
Two things must be said from the beginning of contemplating these metaphors of light and darkness in both Matthew's and Luke's gospels. We can speak of the life-giving quality of light without demonizing darkness. Today we understand that life requires both light and dark. What's important is a balance, a life-giving equity, rather than one or the other. I can understand the original use of this language and also understand that that use is no longer appropriate today.
Rev. Dr. Wil Gafney. In a statement circulating the internet this past Easter season which was attributed to Rev. Dr. Wil Gafney (which I still cannot for the life of me find where she said this, but this does sound like her) we read, "We can celebrate the light of Easter without demonizing darkness and reinscribing a white supremacist dialectic on Christ and the resurrection. My blackness is radiant, luminous and will not and does not need to be made white as snow. The blood of Jesus will not make me white. We must learn to talk about brokenness in the world with our reducing evil to darkness and goodness to light. Blackness is God's good gift." (From more from Gafney go to www.wilgafney.com)
Also, whenever we use a metaphor of "eyes" or "sight" where blindness is equated with that which is inferior we must also recognize how this metaphor itself is rooted in ableism. Fish don't know they're wet. Able-bodied people often don't realize how ableist they are being. But acknowledge it we must, for this is a first step toward change. Naming injustice is a primary step toward action that reverses injustice. "In ableist societies, able-bodiedness is viewed as the norm; people with disabilities are understood as those that deviate from that norm. Disability is seen as something to overcome or to fix, for example, through medical intervention. The ableist worldview holds that disability is an error or a failing rather than a consequence of human diversity, akin to race, ethnicity, sexual orientation, or gender." (https://en.wikipedia.org/wiki/Ableism)
With this in mind, let's consider the above passages.
Lamp of the Body is the Eye
In 1st Century Jewish culture, people believed that a person possessed either light or darkness within them: "The human spirit is the lamp of YHWH that sheds light on one's inmost being" (Proverbs 22:27). In our passages from Matthew's and Luke's gospels, Jesus uses the eyes as a symbol for determining whether what is inside his listeners is truly light or really darkness. "Many people believed that light was emitted from the eye, enabling one to see, rather than that light was admitted through the eye. Although here Jesus compares the eye to a lamp, he speaks of 'diseased' eyes which fail to admit light." (IVP Bible Background Commentary: New Testament; Matthew 6:22-23 cf. 11:34-36)
When one steps back into the cultural context of these passages, the meaning is rather simple: what you see when you look at others determines whether what is inside of you is "light" or "darkness." Two people can look at the same person and see very different things, based on what their eyes are trained to see.
A fun, literary example is found in Sir Arthur Conan Doyle's stories about Sherlock Holmes. As a private investigator, Sherlock's eyes and powers of observation are well trained to see much more than others around him see. In our saying this week, Jesus is teaching his listeners about a specific power of observation that he desired his followers to become proficient in: the ability to look at others who share our world with us through the lens of generosity.
Generosity
When you look at others, what do you see? Is it typically positive by default? Do you give people the benefit of a doubt? Do you assume the best about them? Or is your eye judgmental, maybe critical, or even condemnatory?
Jesus spoke positively about having an eye that was "single," "generous," or "healthy."
A healthy eye sees others generously. And it is singular, too, in the sense that one is persistent in generously extending the image of God to everyone that one encounters. A person with a healthy eye remembers the truth in the Jewish story that an angel walks before each of us declaring "Behold the image of God." Being disrespectful or to humiliate anyone bearing the Divine image is a denial, in that person, of the Divine whose image they bear. These acts were also seen as a defacement of the Divine image. To lie about another person was to deny the very existence of God. The school of Hillel in the first century taught that murder was both a civil violation and a sacrilege of that which was sacred. The Hebrews' sacred text taught that when we shed human blood, the act is regarded as diminishing the corporate divine image within humanity. In the Hebrew creation story found in the second chapter of Genesis, humanity begins with the whole of humanity in one person. This was believed to have taught that the taking of a human life as equivalent to annihilating the entire world. The opposite was held to also be true—to save one life was to save the entire world. (Remember the ending scenes of the film Schindler's List.) This applied to slaves and to non-Jews as well. The Jewish religion of the Rabbis became inseparable from the practice of the golden rule to others and practicing the golden rule became the touchstone of one's religious worship of the Divine.
This is listening for and seeing God in the Other. According to Genesis, all persons bear the image of God (see Genesis 9:6). In the Christian New Testament, we find this passage: "Whoever claims to love God yet hates a brother or sister is a liar. For whoever does not love their brother and sister, whom they have seen, cannot love God, whom they have not seen" (1John 4:20). If every person bears the image of God, I'm called to see and to listen to God in you, whoever you are. If we generously kept in mind the view that every person we meet bears the image of God, how different our world might be.
In addition to this, Matthew's context builds on this generous view with a focus on economic generosity: Jesus' vision of a world where people take responsibility for taking care of one another. "Jesus speaks literally of a 'single' eye versus a 'bad' or 'evil' one. A 'single' eye normally meant a generous one. A 'bad' eye in that culture could mean either a diseased one or a stingy one. Such eyes become a symbol for the worthlessness of a stingy person." (IVP Bible Background Commentary: New Testament; Matthew 6:22-23 cf. Luke 11:34-36)
Luke adds another statement to this emphasis on resources. A few passages later, Jesus states, "Now then, you Pharisees clean the outside of the cup and dish, but inside you are full of greed and wickedness. You foolish people! Did not the one who made the outside make the inside also? But now as for what is inside you—be generous to the poor, and everything will be clean for you." (Luke 11:39-41)
In both of these gospels, this saying refers to serving other people. Again, Jesus' new world is defined primarily by people taking care of people. Later New Testament letters include these words: "If anyone has material possessions and sees a brother or sister in need but has no pity on them, how can the love of God be in that person?" (1 John 3:17)
In addition, Jesus' generosity goes far beyond economic generosity. It also encompasses the whole person. The media plays a part in this for us. When people of color, especially men, are victims of police brutality, the media goes to work to criminalize them so as to bias how the rest of us see them. (See How News Networks Criminalize Black Victims of Police Violence.) Contrast this with how the media characterized Brock Turner, a rapist, and put the highest possible spin on his character to the masses. Ta-Nehisi Coates, author of the article My President Was Black, in an interview on the Daily Show with Trevor Noah contrasted the path it took for Obama to become president and the path Trump took to do the same:
"If I have to jump six feet to get to the same place you have to jump two feet for, that's how racism works . . . to be president he [Obama] had to be scholarly, intelligent, president of the Harvard Law Review, the product of some of our greatest educational institutions, capable of talking to two different worlds. Donald Trump had to be rich and white. That was it. That's the difference." (See the interview here.)
What we chose to see when we look at another person should be more than skin deep. What we choose to see and what we choose to believe about a person will directly impact our thoughts, feelings, opinions, and attitudes toward them and ultimately our behavior. This is possibly why in these passages, Jesus says that what we see in another determines whether we truly possess light instead of darkness.
The very first thing we should choose to see and believe in each person we encounter is that they are of inestimable worth simply because they are a part of the human web. This applies not to just individuals, but also to the entire planet. As Oscar Romero taught, "We are not three worlds [First World, Second World, and Third World], we are one world."
In Jesus' worldview, God indiscriminately causes the sun to shine and the rain to fall:
" . . . He causes his sun to rise on [those we deem] evil and the good, and sends rain on [those we deem] righteous and the unrighteous." (Matthew 5:45)
" . . . he is kind to [those we deem] ungrateful and wicked." (Luke 6:35)
Jesus called his followers to relate to genuine political and economic enemies with love that seeks to transform them away from oppressing the lower classes. Yet some White Christians today still discriminate against others based on their skin color, and some Evangelical business owners discriminate in whom they bake cupcakes and pizzas for.
If the sun shines on a person, if the rain falls on a person, we are called to see them as a bearer of the image of the Divine, to look for God in them, regardless of how much we feel tempted to "Other" them as instead. We are all connected.
Yes, we are different, and those differences should be seen and celebrated, but we are all still part of one another and in this together. When we fail to celebrate each other, when we choose to neglect this basic step in how we are seeing others, it does not matter what we claim to be—light bearer or reflector—the light we claim to possess is not life-giving, but destructive.