Welcome readers! Please subscribe through the buttons at the right if you enjoy this post.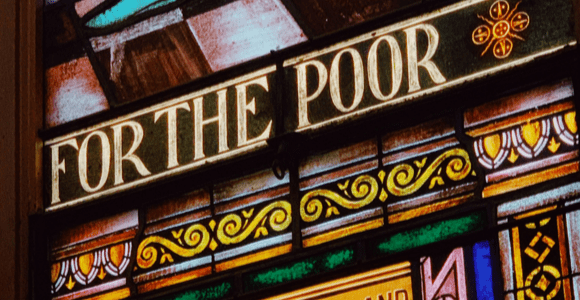 Both Matthew's and Luke's gospels speak of a rant by Jesus against some of the Pharisees:
"'Woe to you, teachers of the law and Pharisees, you hypocrites! You give a tenth of your spices—mint, dill and cumin. But you have neglected the more important matters of the law—justice, mercy and faithfulness. You should have practiced the latter, without neglecting the former . . . Woe to you, teachers of the law and Pharisees, you hypocrites! You clean the outside of the cup and dish, but inside they are full of greed and self–indulgence. Blind Pharisee! First clean the inside of the cup and dish, and then the outside also will be clean. Woe to you, teachers of the law and Pharisees, you hypocrites! You are like whitewashed tombs, which look beautiful on the outside but on the inside are full of the bones of the dead and everything unclean . . . [The Pharisees] love the place of honor at banquets and the most important seats in the synagogues; they love to be greeted with respect in the marketplaces and to have people call them 'Rabbi.'" (Matthew 23:23, 25–27, 6–7, cf. Luke 11:42, 39, 41, 43–44)
I do not believe this rant to be against all the Pharisees. Many of those who comprised the teaching Pharisees were wise, honest, good people, including the apostle Paul who joined the followers of Jesus later, and perhaps also Jesus himself. The Pharisees were made up of two groups: those of the school of Hillel and those of the school of Shammai. I believe it was the school of Shammai, which Judaism ultimately rejected too, that Jesus is railing against in this saying. Jesus taught much of what the school of Hillel taught (except Hillel's economic protections of the rich and his socially unjust teachings on divorce for women). The Jesus of the gospels was raised as a poor, working-class Jew. He may also have been raised by parents who resonated deeply with the school of Hillel interpreting the Torah through the lens of the golden rule.
Also, there is nothing anti-Jewish in this rant. Jesus is standing in the very long tradition of the Hebrew prophets in calling religious and political leaders to justice, mercy, and faithfulness. Consider the following from Isaiah:
"Stop bringing meaningless offerings!
Your incense is detestable to me.
New Moons, Sabbaths and convocations—
I cannot bear your evil assemblies.
Your New Moon feasts and your appointed festivals
I hate with all my being.
They have become a burden to me;
I am weary of bearing them.
When you spread out your hands in prayer,
I will hide my eyes from you;
even if you offer many prayers,
I will not listen.
Your hands are full of blood;
wash and make yourselves clean.
Take your evil deeds
out of my sight!
Stop doing wrong,
learn to do right!
Seek justice,
liberate the oppressed.
Defend the cause of the fatherless,
plead the case of the widow." (Isaiah 1:13-14)
There are also these words from the book of Amos:
"Hear this, you who trample the needy
and do away with the poor of the land,
saying,
'When will the New Moon be over
that we may sell grain,
and the Sabbath be ended
that we may market wheat?'—
skimping on the measure,
boosting the price
and cheating with dishonest scales,
buying the poor with silver
and the needy for a pair of sandals,
selling even the sweepings with the wheat." (Amos 8:4-6)
In the same book, the prophet speaks for God when he says:
"I hate, I despise your religious festivals;
I cannot stand your assemblies.
Even though you bring me burnt offerings and grain offerings,
I will not accept them.
Though you bring choice fellowship offerings,
I will have no regard for them.
Away with the noise of your songs!
I will not listen to the music of your harps.
But let justice roll on like a river,
righteousness like a never-failing stream!" (Amos 5:21-24)
Jesus, like the Jewish prophets before him in Judaism, is prioritizing and centering justice for the oppressed, mercy for the less fortunate and disinherited, and faithfulness to the marginalized and downtrodden over and above religious ritual, worship, and festivals.
Ritual can be done in such a way that shapes us into people who actively work toward justice and compassion for the oppressed of our world. But if it doesn't shape us into active agents of liberation for the oppressed (see Luke 4:18-19), ritual has very little meaning. I resonate deeply with the priorities found in Isaiah, Amos, and this passage about Jesus.
In these gospels, Jesus contrasts conscientious tithing of the most minute items in the market with neglected justice, mercy, and faithfulness toward the poor. He contrasts the external ritual purity rituals (washing hands, etc.) with being generous toward the poor. He then calls to account those who love making a show, receiving accolades, but being inwardly "dead bones." Remember as we have seen over and over again this year, the reign of Jesus' God looked like people taking responsibility for taking care of other people.
The Jewish Jesus-followers in the early church preserved a similar statement rooted in Jesus' teachings:
"Religion that God our Father accepts as pure and faultless is this: to look after orphans and widows in their distress." (James 1:27)
As someone who doesn't have much taste for most things "religious" but who resonates with the values of Jesus, I love this statement in James. It reminds me of another statement by the late Marcus Borg:
"For Jesus, compassion had a radical sociopolitical meaning. In his teaching and table fellowship, and in the shape of his movement, the purity system was subverted and an alternative social vision affirmed. The politics of purity was replaced by a politics of compassion." (Meeting Jesus Again for the First Time, p. 58)
Jesus, much like the Pharisee Hillel a generation before him, taught a politics of compassion, and he taught it very specifically in terms of compassion and justice for the poor, oppressed, and marginalized.
What If We Did What Jesus Taught?
What would Christianity look like today if we began to filter every religious thing we do, even our ritual and liturgies, through the filter of justice and compassion?
Consider again the following from the book of James:
"Listen, my dear brothers and sisters: Has not God chosen those who are poor in the eyes of the world . . ." (James 2:5)
"If one of you says to them, 'Go in peace; keep warm and well fed,' but does nothing about their physical needs, what good is it? In the same way, faith by itself, if it is not accompanied by action, is dead." (James 2:16-17)
"But someone will say, 'You have faith; I have deeds.' Show me your faith without deeds, and I will show you my faith by what I do." (James 2:18)
I love the book of James because it is the only New Testament commentary we have on Jesus' Sermon on the Mount. Rather than following Paul's more cosmic Christ, the author expounds on Jesus' actual teachings and helps other Jewish Jesus followers to practice them.
A practice that would prove beneficial would be that of making central in our present-day teachings the golden rule, the Sermon on the Mount, and how we relate to one another. What would change is we placed matters of dogma, worship, and less practical theology on the periphery. I firmly believe that you and I are bear the image of the divine. That means that, in this life, the closest I will ever come to the Divine, is YOU! This is what I believe the author of 1 John is trying to get at in this verse:
"If we say we love God yet hate a brother or sister, we are liars. For if we do not love a fellow believer, whom we have seen, we cannot love God, whom we have not seen." (1 John 4:20)
This means that my actions toward others are my faith. They don't just reflect it. My actions are what I believe. God-talk can become very theoretical and pointlessly argumentative, and harmful as well! It is only when we acknowledge that each of us has a piece of the puzzle and we need to respect each person's piece that God-talk can bear any good fruit. I want my faith to bear fruit and my focus to be right here on Planet Earth with you.
What would happen if we began to prioritize our practices according to how those practices express compassion and justice in the lives of others, prioritizing matters of justice, compassion, and faithfulness to our fellow humans above all else?