Welcome readers! Please subscribe through the buttons on the right if you enjoy this post.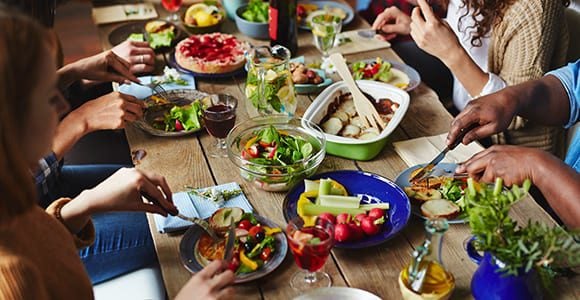 In both Matthew's and Luke's gospels we read:
Matthew 8:11-12: "I say to you that many will come from the east and the west, and will take their places at the feast with Abraham, Isaac, and Jacob in the kingdom of heaven. But the subjects of the kingdom will be thrown outside, into the darkness, where there will be weeping and gnashing of teeth."
Luke 13:28-29: "There will be weeping there, and gnashing of teeth, when you see Abraham, Isaac and Jacob and all the prophets in the kingdom of God, but you yourselves thrown out. People will come from east and west and north and south, and will take their places at the feast in the kingdom of God."
These passages have a long anti-Semitic history rooted in supersessionism.
I want to offer an alternative. Jesus' saying may be based on a well-centered passage in the Jewish prophetic tradition of Isaiah:
"And the almighty Yahweh will prepare for all the nations on this mountain a banquet of rich foods, a banquet of preserved wines, of spread out rich foods, and preserved refined wines. And on this mountain, he will swallow up the covering that is over all peoples, even the covering woven on all the nations. He will swallow up death forever. And the Lord Yahweh will wipe clean the tears from upon all faces. And the shame of his people he will remove from upon all the earth. For Yahweh has spoken." (Isaiah 25:6-8)
In the prophetic tradition of Isaiah, the messianic feast is not prepared exclusively for the Hebrew people but includes "all the nations." The apocalyptic Essenes of Jesus' society were looking for this banquet in their "end of the age." They expected it to mark the transition between the present age and the "age to come" (see The Rule of the Congregation 1QSa or The Community Rule 1QS.)
And they understood this banquet both literally and metaphorically as definitive of the quality of the messianic age when all violence, injustice, and oppression was to be put right in the earth.
Matthew's gospel tellingly tacks this saying on to the end of the story about the centurion and his slave (Matthew 8.5-10). For Matthew's community, the centurion story could have been seen as evidence of how "all the nations" were to be included in Isaiah's feast. If this is true, this would explain much about the inclusivity that this community hoped for.
Replacement versus Exclusion
The early Jesus community did not understand including Gentiles in their feast as an anti-Jewish move. And they did not see "all the nations" being included to replace the Jewish festival attendants. In this saying, some are being excluded. Yet, there is a vast difference between a party for everyone that some will be shut out of and a party meant exclusively for some and whose original audience would be replaced by others.
Why does this distinction matter?
The Pharisees included two schools of thought. One, the School of Shammai, drew strict lines between Jews and Gentiles, in an effort to preserve their Jewish identity. They also drew strict lines between those who practiced Torah according to the School's interpretations and fellow Jewish people they labeled as "sinners."
It is understandable that people removed from their original land and held captive in foreign territories or scattered abroad, would re-gather to seek liberation. It's important to protect others' heritage and identity as a people when they're being erased by their oppressors and their oppressors' heritage and culture.
Just like the indigenous people here on this continent or Africans uprooted, enslaved, and removed to colonial lands, the Jewish people were struggling desperately to preserve their own identities and uniquenesses among a people not like themselves and who dominated them. The Jewish people living in the empires that subjugated them were being dehumanized, and in that context, I can understand and applaud the School of Shammai for focusing on their people's Jewish peculiarity.
How we preserve our identity and heritage matters, though. Subjugators typically preserve and parade their identity through exceptionalism. In the United States, for example, American exceptionalism and the Doctrine of Discovery was the soil out of which grew the destructive weed of Manifest Destiny. These dehumanizing philosophies made genocide possible for the Native peoples across this continent and those who, through slavery, were violently brought here.
Exceptionalism
Exceptionalism can also be a way for oppressed and subjugated peoples to survive: feeling superior to those dominating you can be a way to resist. This form of survival and resistance can also be unhealthy. Those under Roman domination in Jesus' society who began to look forward to a feast eventually imagined that feast not for "all the nations" but for their own vindication. In that vision, the messianic feast would be an event where oppressors would be excluded or even punished. In Ezekiel, at the messianic banquet feast, YHWH turns the Hebrew people's enemies into food for predators of both the sky and the land.
"As for you, son of man, this is what the Sovereign Lord says: Tell every kind of bird and every wild beast: 'Assemble and come! Gather from all around to my slaughter which I am going to make for you, a great slaughter on the mountains of Israel! You will eat flesh and drink blood. You will eat the flesh of warriors and drink the blood of the princes of the earth – the rams, lambs, goats, and bulls, all of them fattened animals of Bashan. You will eat fat until you are full, and drink blood until you are drunk, at my slaughter which I have made for you. You will fill up at my table with horses and charioteers, with warriors and all the soldiers,' declares the Sovereign Lord." (Ezekiel 39:17-19)
In our passages above Jesus seems to be addressing those in his time who were looking for a retributive feast, one more like Ezekiel's than like Isaiah's inclusive, distributive, and restorative feast. Those looking forward to a time of retribution, who were so sure they were superior to others around them, would be found not at the places of honor around the festive table, but excluded and shut out from the feast entirely. They would be found "gnashing their teeth."
This proverbial phrase is key. The gnashing of teeth referred to a level of anger that caused a person to clench their jaw and grind their teeth (e.g. Acts 7:54).
In other words, Jesus is saying, those of you who are looking for a retributive feast where you are included to the exclusion of those you have deemed unworthy, like this Roman centurion, there will be so many from east to west included in my feast that you're not going to be able to emotionally cope. When you see who is welcomed and affirmed, when you see how wrong you were about those you thought should be forbidden from sitting at the table with you, it's going to make you so angry!
In the new world that we are shaping, if any are left in "outer darkness," it won't be those you believe don't measure up to your standards of respectability or virtue. It will be you! You cannot accept the welcome, affirmation, and inclusion of those you feel should be excluded. You will be excluded because you cannot accept those who are being included.
This was the same point of Luke's parable of the older brother (Luke 15:1-2; 25-32) and Matthew's wedding banquet parable where a guest did not want to be dressed the same as those he felt superior to (Matthew 22:8-11).
Conclusion
I'm happy to be able to say that before the end of the first century, the Rabbis choose the School of Hillel's earlier and more inclusive interpretations of the Torah (see BET HILLEL AND BET SHAMMAI).
One takeaway from the passages above is that there are better ways to protect identities and heritages than exclusion. Our differences should be preserved and celebrated, acknowledged, and mutually valued. As each of us finds our place at the table, as we honor each person's voice in relationships of egalitarianism rather than domination and subjugation, we can learn to listen to one another. And we then can integrate the many experiences of life into a meaningful and coherent whole: not a new homogenized mass, but a mosaic filled with beauty, diversity, and variations.
Lastly, this week we learn that exclusion is its own self-fulfilling prophecy. To hope for a world where certain ones are no longer there is to create a world where you yourself are no longer welcome. You get the world you always wanted. The only catch is that you'll be the only one alone, in the "outer darkness," in a world where exclusion is excluded. Exclusion won't be included in a world that is characterized by inclusion, distributive justice, and peace.
Does inclusion still provoke anger? You bet. Over the last five years, Renewed Heart Ministries has become a more open, welcoming, affirming, and inclusive ministry, including for those who identify as LGBTQ. And do I have stories to tell. The common thread through all of them is anger from those who are upset that we've moved this direction.
While I'm saddened by the loss of those who have rejected and now exclude RHM and me, I do take a small portion of comfort in the fact that at least we are in the right story. Solidarity breeds crosses. But the story of Jesus tells me that crosses can also be followed by resurrections.
When you practice inclusion of those whom others have inaccurately deemed as deserving exclusion, will some people get upset and angry with you?
Absolutely. But be of courage. You're not alone. This is a universal story to which your life is becoming more aligned.