Welcome readers! Please subscribe through the button on the right.
(Read this series from the beginning at Part 1  and Part 2.)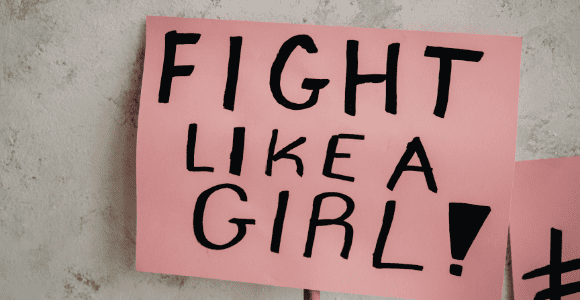 In this week's reading from the gospel of Luke, we read of two more women: Elizabeth the mother of John the Baptist and Mary the mother of Jesus. Both Elizabeth and Mary would, for Luke's listeners, call to mind ancient stories of courageous, scandalous, feminine liberation on behalf of oppressed people.
Elizabeth's story is of a life miraculously conceived in her though she is past childbearing years. This is a common theme in Hebrew liberation narratives of liberation, including Hannah with Samuel, and Samson's mother with Samson. Elizabeth's miracle will prepare the way of liberation for people in hopeless oppression. Hers is a child who will proclaim hope in the face of impossibilities.
Mary's story, on the other hand, is not one of life being created where it was impossible. Her story, like Jael's and Judith's (see Part 2), is much more sexually scandalous. The life growing in her was conceived before she and Joseph were joined in marriage. And that life will not prepare for liberation, like John's will. No, this life will tell the story of the way of liberation itself. The scandal of Jesus' conception, with all its surrounding questions, will climax in the scandal of women some thirty years later testifying to the scandal of an empty tomb.
These narratives aren't perfect. In the ancient stories, it is the women who liberate. In the Christmas narratives women now give birth to sons who are the conduits of liberation. The ancient stories may have been written at a much less patriarchal time than the stories in our gospels; I don't know. Still, this week's reading is not about John or Jesus. The reading is about Elizabeth and Mary, who shaped them.
With all of this in mind, go back and read Mary's Magnificat as translated by Rev. Wil Gafney, Ph.D:
My soul magnifies the Holy One,
and my spirit rejoices in God my Savior,
for God has looked with favor on the lowliness of God's own womb-slave,
Surely, from now on all generations will call me blessed;
for the Mighty One has done great things for me,
and holy is God's name.
God's loving-kindness is for those who fear God
from generation to generation.
God has shown the strength of God's own arm;
God has scattered the arrogant in the intent of their hearts.
God has brought down the powerful from their thrones,
and lifted up the lowly;
God has filled the hungry with good things,
and sent the rich away empty.
God has helped God's own child, Israel,
a memorial to God's mercy,
just as God said to our mothers and fathers,
to [Hagar and] Sarah and Abraham, to their descendants forever.
One of Advent's loudest themes is that liberation, salvation, change come from the bottom up and from the outside edges in; from those in more marginalized social locations. In the economy or reign of the God of this gospel, it is the hungry who are filled with good things. It is the lowly who are lifted up. The arrogant are scattered, the powerful and privileged are brought down, and the rich are sent away empty.
As we look around us at our world, societies, and communities today, this way may seem as impossible as Elizabeth's story. Dare we choose to be people of hope in the face of apparent impossibilities? Some may also deem this way as scandalous as Mary—scandalous in its inclusion, scandalous in its outspokenness, and scandalous in its brazenness.
During this time of Advent and always, this is the kind of life and work we are called to be about. Dare we choose to be people of the scandalous gospel of Jesus?