Welcome readers! Please subscribe through the button on the right.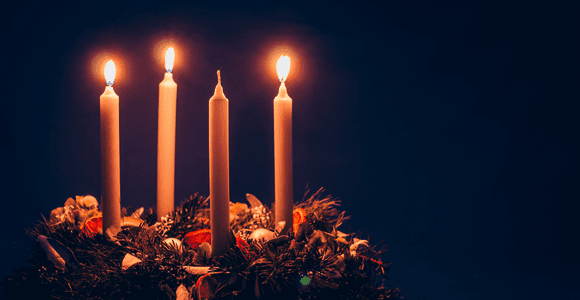 Our Advent reading this week is from the gospel of Matthew:
When John, who was in prison, heard about the deeds of the Messiah, he sent his disciples to ask him, "Are you the one who is to come, or should we expect someone else?"
Jesus replied, "Go back and report to John what you hear and see: The blind receive sight, the lame walk, those who have leprosy are cleansed, the deaf hear, the dead are raised, and the good news is proclaimed to the poor. Blessed is anyone who does not stumble on account of me."
As John's disciples were leaving, Jesus began to speak to the crowd about John: "What did you go out into the wilderness to see? A reed swayed by the wind? If not, what did you go out to see? A man dressed in fine clothes? No, those who wear fine clothes are in kings' palaces. Then what did you go out to see? A prophet? Yes, I tell you, and more than a prophet. This is the one about whom it is written:
  'I will send my messenger ahead of you,
who will prepare your way before you.'
Truly I tell you, among those born of women there has not risen anyone greater than John the Baptist; yet whoever is least in the kingdom of heaven is greater than he. (Matthew 11:2-11)
Love is a traditional theme during Advent. In the gospels, love holds the most concrete meaning for me when spoken of in the context of justice. We don't see a lot of familial love in Matthew, Mark, Luke, or John. We don't see romance. But we do see love demonstrated though concrete actions of justice for the marginalized, disenfranchised, and excluded.
If we interpret the central message of the four gospels as universal love, what we see over and over in the stories is love and justice together, just as Dr. Emilie Townes once said in a documentary:
"When you start with an understanding that God loves everyone, justice isn't very far behind." —Dr. Emilie M. Townes, Journey to Liberation: The Legacy of Womanist Theology
In our reading this week, Jesus uses his actions of justice and liberation to validate his ministry to the imprisoned John.
We'll unpack this, next.
(Read Part 2)