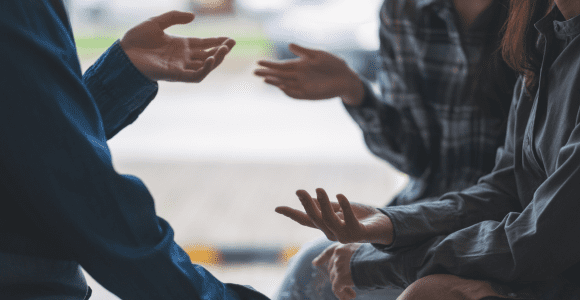 Regardless of these possible origins for our reading this week, I do appreciate the nugget of wisdom within the procedure: When a fellow member of your religious or non-religious community is engaging in harmful behavior, go to the person and talk to them about it. So many misunderstandings can be solved through a conversation. 
Welcome Readers! Please subscribe to Social Jesus Here.
(Read this series from the beginning at Part 1 and Part 2.)
The next step in the procedure, "take one or two others along," sounds a lot to me like an intervention. Thus the issue has to be important enough to justify bringing others in. 
When I consider real-life examples where the person being spoken to doesn't respond in ways their friends or community members want them to, what always follows is a schism in the relationship with the person bringing the concern or in relation to the community.
I've been on both sides of this procedure. I've been among friends who in love for another friend staged an intervention which saved their life: today our friend is in a much better place than they would have been had they continued down their original path of self-destruction. 
I've also been on the receiving end. Many times folks attempted to intervene with me when I and Renewed Heart Ministries first began affirming and welcoming those who are part of the LGBTQ community. Eventually I and those who came to me concerned about who I was affirming and including in a gospel of love parted ways. Looking back now, as the adage goes, I'd rather be excluded over whom I include than included for whom I exclude. 
Just a few weeks ago, I answered a call from a concerned White Christian who thought I speak out about racial justice too much. Our conversation didn't change their mind, and I'm not about to change either in the face of the racially based harm still happening in our society. So we parted ways.
In these cases, I guess I'd have to say I am now treated as a "tax collector" or a "pagan": their relationship to me resembles much more the biases against pagans and tax collectors in 1st Century Galilee than it does the Jesus of the gospels. I would love it if they treated me the way Jesus treated tax collectors! But that's not been my experience. 
So what is a life-giving way to relate to those with whom we have significant differences? Are all differences the same? Are some differences of such intrinsic significance that in the wake of disagreement, we must end relationships? Disagreements about a person's worth and right to existence are much different than other conflicts. Are we sure that what we disagree about is at that level? Or are we too quick to sever relationships over the slightest differences? We must weigh both the values over which we are disagreeing and the value of the relationship that may be lost. 
On the opposite side of the spectrum, do we turn a blind eye because we are conflict averse and afraid of rocking the boat? I appreciate that in this week's reading, Jesus followers are not encouraged to avoid conflict, but to lean in, beginning with one-on-one conversation. 
How I wish many stories that have circulated about me over the years would have begun first with a simple conversation. Conversations don't solve everything. Sometimes the conflict is unavoidable. But how much misinformed harm can been averted with a conversation? We shouldn't jump to rumors, nor bury our heads in the sand. The life-giving option lies somewhere in the middle, beginning with a direct discussion. Which steps come next can't be predicted, but whatever those steps are, may we take each one thoughtfully with life-giving intent for everyone involved. 
The rest of our reading refers to binding and loosing. You can hear me and Todd Leonard discuss this teaching on YouTube. 
Lastly for this week, the promise of where two or more are agreed in our reading this week repurposes Jewish rabbinic wisdom contemporary to this passage. The wisdom stated that where two or more studied the Torah, God was present in their midst. 
The life-giving grappling for me this week revolves around the first portion of this week's reading: What is a life-giving procedure for relating to those in our communities with whom we have concerns and disagreements? 
Concerns and disagreements will always happen. Human beings are messy. We all get to choose how we navigate those concerns and disagreements in a life giving or death dealing way.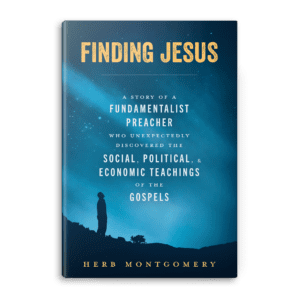 Herb's new book, Finding Jesus: A story of a fundamentalist preacher who unexpectedly discovered the social, political, and economic teachings of the Gospels, is now available at Renewed Heart Ministries.