Kids have great ideas about how to earn some extra cash. How can you encourage your kids to develop their own entrepreneurial spirit?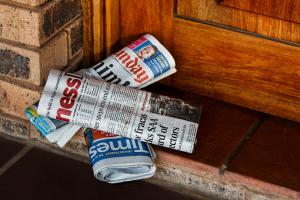 When I was 12, I wanted to have my very own newspaper route delivering the Progress-Index, a daily afternoon newspaper in Petersburg, Va. But because of my tender age, my mom called the carrier supervisor on my behalf to vouch for my dependability. The carrier had informed my mom that I would be the youngest person to have a route in the history of the Progress-Index, but she prevailed and I started delivering newspapers to some 60 customers in my neighborhood.
Rain, shine, snow, and heat didn't keep my from my route. Sometimes I walked it, but more often, I rode my bike, learning to balance with a heavy paper bag slung across the left side of my body. With my right hand, I tossed papers on porches with the finesse of a starting pitcher—rarely did my throws result in banging on the storm or screen door. Once a month, I and my border collie named Dusky would go to customer houses to collect. Being a rather shy individual, this was a huge test of my grit and determination, but I preserved.
From seventh through eleventh grade, I held that paper route, providing extra services like putting the newspapers in the magazine holders underneath the mailboxes for my senior customers. One of my customers used to brag about me to others: "I love to tell people my paper boy is a paper girl," she would tell me frequently.
It wasn't until we moved into our current neighborhood that I realized newspaper delivery is no longer the province of the young—it's morphed into one held by adults who can drive large routes and toss newspapers onto driveways instead of porches. While some of the old traditional jobs kids used to have—mowing lawns, walking dogs—have been co-opted by adults (and even turned into businesses), enterprising youngsters can still earn cash through a variety of jobs. In my area, kids and teens have given swim lessons, run ballet camps, taken care of pets, babysat, and done yard work, among a host of other creative things.
Read on for ways to encourage your kids to earn money this summer.