By Susan G Mathis, guest blogger
Three months before I was born, my father died, leaving my mother to raise two children under two—alone. But when I was four months old, my mother, widowed grandma, and bachelor uncle bought a house together. Moreover, they rented out a room to an "old-maid" nurse. Lucky us—my brother and I had not two but four adults telling us what to do! Mom still quips that with all those different and very diverse role models, it was amazing we turned out "half normal." But our early childhood was a happy, well-adjusted one. Somehow we understood the different roles and levels of authority each person held in our lives.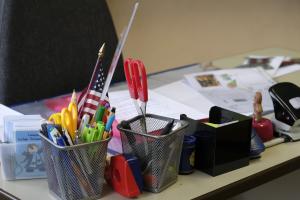 What an amazing responsibility it is to touch the lives of each little life we meet! Like those grown-ups who were so influential in my young life, we all play an important part in helping children become who they are meant to be. Whether we are a grandparent, aunt, uncle, teacher, caregiver, or simply a friend of the family or neighbor, we can make a lifelong mark on the hearts and minds of the children whose lives we touch. As we partner with his or her parents, we also help form the child's view of authority figures and the child's view of his or her parents.
When I owned and operated my own preschool, one of my primary objectives was to come alongside parents and help them successfully parent their children. I wasn't there for my own agenda but for the child's and the parents'. My main objective was to serve the families in my life, whether I played the role of mentor, teacher, partner, or teammate. And later, when I taught elementary school with colleagues who were teaching my children (and I teaching theirs), I learned to navigate the challenges that arose in partnering with them as a parent and as a colleague.
Supporting parents
As preschoolers, my brother and I usually felt quite secure because we knew that, though Grandma and Uncle—and others—gave their opinions on child rearing, they always acknowledged who the parent was—Mom! They built a support structure to help my mother raise us well. But whenever the "old-maid-nurse" boarder gave her know-it-all opinions as to how to raise us, that's when the lines of authority were undermined and our little worlds became confused.
As a teacher I was keenly aware that with my education came the knowledge of child development, psychology, and early childhood education that parents sometimes didn't have. And sometimes a parent's inexperience caused frustration for me, the child's temporary caregiver.
Jason came to my preschool from a single-parent home. He was far too worldly-wise for his young years, and he was excessively aggressive. At first, I was judgmental about his mother and impatient with him, but I sensed there was unseen struggles. So I began to befriend Jason's mom, humbly and gently mentoring her in parenting skills, especially when it came to discipline and imparting social skills. Though we never spent time together off the school property, we built a relationship that became an important foundation for the future. Halfway through the school year, I discerned that Jason had deeper issues, and because I had built a place of trust with his mother, I was able to share my concerns. Through a series of events, we discovered that Jason's babysitter had sexually abused him! The compassion, kindness, and concern I showed for that little boy and his mother went a long way in helping them through a terrible situation.