By Guest Blogger Kaye Wilson
Are you familiar with the phrase, "Say the magic words!"? I don't hear it often anymore, but as a child I heard it almost daily, either from my parents or parents of my friends. It was their prompt to get us to say "please" and "thank you." It was every child's first lesson in manners.
While teaching a child to say those words doesn't automatically make him grateful, the words themselves are very powerful, and can work almost like magic—especially "thank you." The simple two-word phrase "thank you" has the power to completely transform reality—or at least, how we perceive it.
In St. Paul's first letter to the Thessalonian church, he urges them, " . . . give thanks in all circumstances, for this is God's will for you in Christ Jesus." (I Thess. 5:18 NIV) This goes far beyond the appropriate response for a birthday gift—surely he doesn't mean all circumstances?
What I've found, and I'm certainly not alone, is that the act of thanking God even in difficult circumstances works, as I mentioned above, like magic in transforming the way we see reality. When we express thanks to God in the midst of the hard things, from stressful work to bickering children, to difficult in-laws, and so on, we open ourselves to the possibility of seeing beyond the thing that's right in our face to something bigger and more important—the assurance that the God who made us really loves us and will use the difficulty for our good and his glory, and that it won't last forever. We can take the next step, then the next, and with each one we not only get closer to the end of our current suffering, whatever it might be, but also to God himself.
This is great freedom! It's freedom from the natural compulsion to complain about difficulties, freedom to do the difficult or unpleasant things we have to do without chafing at them, or the stress of trying to change our circumstances. This freedom leads to overall well-being—contentment, better posture (since you are no longer carrying the burden on your shoulders), a smiling face, and grateful co-workers and family members!
Teaching your children to say "please" and "thank you" is a first and important step in helping them to appreciate other people, but your own example is even more powerful. Your attitude can actually set the tone for your whole family; your thankfulness, or lack of it, will rub off on them!
To help the message and the magic of "thank you" to really sink in, try these strategies:
First, begin to practice giving thanks in all circumstances, especially the unpleasant or difficult ones. Write I Thess. 5:16 on an index card and post it in different places around the house; make it a family motto!
With your kids, practice the please-and-thank-you pattern for all kinds of things, not just gifts.

Would you please pass the potatoes? Thank you!
May I watch TV please? Thank you!
May I play with your toy for a few minutes? Thank you!

Teach children to face the giver when they say "thank you," to make eye contact, and to smile. Allow them to take the thing that's given only after this process is complete. Set up various scenarios to practice at home, acting out each one and having each person take turns being the "giver" (the one being asked for something).
Teach the "giver" to always say, "You're welcome!" with a happy smile. It completes the exchange, and it's so much more personable and respectful than essentially ignoring someone thanking you.
Regularly thank God for " . . . our creation, preservation, and all the blessings of this life" (Book of Common Prayer). Gently encourage your children to say "thank you" even in difficult situations.
Saying "thank you" is powerful and transformative; it changes the way you see things, it changes the atmosphere in your home, and it changes hearts. Your children will observe and imitate this new approach to life. Saying "thank you" puts the focus on the giver rather than on yourself, and the ultimate giver is God. We never lose when we fix our gaze on him.
About Kaye Wilson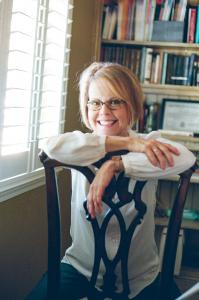 Kaye is a certified Leadership Parenting Coach, nationally certified teacher of music, writer, public speaker, mother of five, grandmother of eight, former homeschooler, Classical Christian schoolteacher and headmaster. She's available for private coaching, parenting classes or piano lessons! Her many essays on parenting can be found at here.