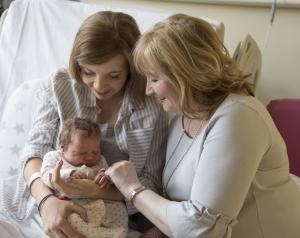 The following is an excerpt from my interview with Angela Breidenbach on my podcast, "You've Got This."
When my first was born, my parents were already old hands at being grandparents, as my older siblings had given them two granddaughters and two grandsons. With the first grandbaby on my husband's side of the family—and the first grandbaby on my side in more than a decade—we weren't sure what to expect in terms of grandparents.
We soon learned how lucky we were, in that neither set of parents tried to undermine our parenting. Both grandparents respected our child-rearing decisions, and both simply loved on our children.
But even when a grandparent has the best of intentions, the relationship between grandmother and daughter/daughter-in-law can become less than ideal. "With my daughters-in-law, where tension was felt—and they know this, I'm being very honest—is when I shared too much information with them, and made them feel like I thought they weren't capable," said Angela Breidenbach, who's the mother to six grown children and "grammy" to seven.
Breidenbach, who writes romance through the ages, teaches the business of writing as well as genealogy and faith, and is in process of getting her genealogical studies degree, worked hard to repair the relationships with her daughters-in-law. Here are her X suggestions for grandparents to improve and encourage their relationships with their precious grandkids.
Think before you share. After raising kids, we all have a lot more knowledge than when we brought home our firstborn, but that doesn't mean we have all the answers. "I didn't think to stop and let them solve their problem," she said. "My suggestions made them feel inept and challenged, even though my intent was to share that love and those age-old solutions we all know."
Spend time alone with the grandchildren. Because my grandparents lived too far away, I wasn't able to spend one-on-one time with them as a child. But that's something we've worked hard to do with our own kids. Of course, you need to be sure your parents or in-laws are capable and willing to have the grandchildren without you around, but learn to allow that time—even when your kids come back wound up!
Let go of your control. It's hard to allow grandparents the privilege to disrupt a child's schedule, especially when they're little, but unless it will truly harm the child, we need to allow them more leeway. "I experienced that when my father was feeding my child ice cream for the first time," Breidenbach said. "What I learned was that I was being too controlling. And if I continued on that path, my child would never learn flexibility and about rules in different places."
Stay involved. Technology offers today's grandparents a wonderful way to keep in touch with their grandkids, even when those grandchildren live across the country. "Do video messaging back and forth, pick up the phone to call and text—have regular times to do this," Breidenbach said.
Make memories together. Beyond sending the kids to spend time at the grandparents' home, consider allowing grandparents take the grandkids on special trips, if health and finances permit. One friend of ours grandmother takes a grandchild on an overseas trip when the grandkid turns 10. It's become a rite of passage for the kids and something the younger ones look forward to.
Grandparents aren't free babysitters. Grandparents enjoy spending time with their grandchildren, but parents should be careful about asking for too much childcare. "I'm not a professional babysitter, so don't abuse the relationship—build the relationship," said Breidenbach.
To hear more grandparenting and grandkids from Angela Breidenbach, listen to "Tips From the Smarter Grammy" on the "You've Got This" podcast.