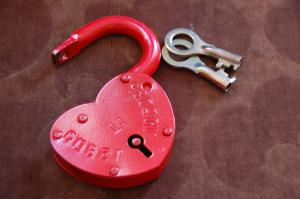 By guest blogger Cynthia L. Simmons
When my son was about seven, he ate several leftover candles from a birthday cake. That evening I hadn't started cooking yet because I homeschooled and was checking the last few assignments. My son came into the room where I worked and begged me to fix dinner, explaining what he had done. Guilt for being too busy bothered me, and I quit checking school work to cook.
I wasn't concerned the candles would harm him because certain medications contain wax. Besides he didn't eat much. However, I teased him about his unusual snack, especially every time we celebrated a birthday. My mother must have sensed repeating the story bothered him because she pulled me aside one day and suggested I stop. As a girl, she had polished furniture with her brother's outgrown baby clothes. She thought she was pleasing my grandmother, but Granny never allowed Mom to forget the transgression. The repetition hurt Mom since my grandmother already favored my uncle.
I learned several lessons from this incident. First, keep small things small. When faced with reading through all those Old Testament laws, we usually fall asleep. However, those guidelines established proportional justice, or to say it another way, God made the punishment fit the crime. In my son's case, his actions didn't even fall into the category of sin. But when I continued to mention what he did, he probably thought it seemed more important that it was.
Second, differentiate between childish irresponsibility and sin. My youngest daughter used to squirm so much at the dinner table that she turned over her milk almost every night. She didn't intend any harm or disobey any rules, but she was so young she couldn't sit still. That's being childish. On the other hand, if you teach your child never to take a cookie from the kitchen without permission, he will sin if he does. You treat the two situations differently. I made my daughter clean up the spilled milk, which is a natural consequence of her behavior. If one of my children took a cookie without asking, I would punish him for disobedience.
Third, consider your child's heart.
As parents we have a huge responsibility to teach our children the Bible and mold them into responsible adults. Yet, we must be alert that we don't discourage them or make them feel they can never please us.
You can guard your child's heart several ways. For instance, brag on their good traits and remind them you love them at odd moments. I have a friend who did that. She used to call her son just to tell him she loved him. Also, let them know you are proud of them because they belong to you. Once Mama told me a story about a photographer who watched the neighborhood children playing with me one afternoon. He pointed out the child with curls as the prettiest. She informed him that curly-headed child was her daughter, and I knew from the way she said it she was proud of me. Use special occasions too. We have a special tradition at birthdays when we brag on the birthday child by sharing how much we have enjoyed spending time with them in the past year.
In summary, my son's candle munching didn't make me a bad parent, but I felt guilty anyhow. However, I learned a good parent will keep small things small, differentiate between childishness and sin, and consider the child's heart. Ask God for guidance too. He loves your child more than you do.
A retired nurse, Cynthia L Simmons and her husband have five grown children. A Bible teacher and former homeschool mother, she writes for Leading Hearts and Old School House magazines. She has a special place in her heart for young moms, loves history, and hosts Heart of the Matter Radio. Her latest mystery is Pursuing Gold: Mary Beth and Peter must find a counterfeiter to save their Confederate bank. While sleuthing they learn to pursue God.