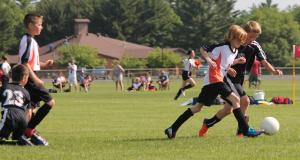 The following is an excerpt from my interview with Lance Miller on my podcast, You've Got This.
Do you ever get the feeling that sports have taken over ever available time slot for many families? Where we live just outside of Washington, D.C., there are opportunities for sports every month of the year. Some families have their children in sports every season of the year, moving from football to basketball to baseball to swim.
"It's definitely easy to pack in too much, which can easily happen," said Lance Miller, a certified John Rosemond Leadership Parenting Coach and a father of four boys. Miller also coaches youth soccer. "We know a lot of parents who get involved with year-round sports."
According to a recent ESPN survey, 67 percent of boys and 47 percent of girls are on sports teams by age 6. Fifty-one percent of suburban boys in third to fifth grade play on three or more teams. But all that playing doesn't translate into a love of the game. The number-one reason why kids quit playing a sport is because they're not having fun anymore. Surprisingly, kids don't care as much about the outcome as adults do—71 percent of kids say they'd play even if no one kept score, according to a USA Today survey. Children also say they'd rather not have parents around when they play, with 37% of kids in sports wishing their moms and dads didn't come to their games.
While playing sports can be great for kids, it can be hard for parents to find the right balance between sports participation and family life. "To make it work in our family, we get involved," Miller said. "I'm a coach with my kids, so I'm at the practices and games. But we also make homework and school a priority."
Miller believes that kids should be true student-athletes. "You're a student first, athlete second, so paying attention to grades is important," he said.
To help avoid having sports be an extra stress on a family, especially one with multiple kids in different activities, Miller recommended looking at the year as a whole to figure out when you can take breaks. "We take a season off at least once a year to free up time and relieve some of the busyness of four kids playing sports," he said. The Miller family typically doesn't participate in sports in the spring and summer, allowing everyone downtime to enjoy pizza/movie nights on Fridays and free weekends. "We regularly pursue that free time to bond as a family," he added.
Miller also pointed out that families should resist joining sports "because everyone's doing it. Sometimes you might think you have to sign up for soccer because other parents are asking you what your kids do apart from school. But that's not a good reason to start sports."
Instead, take the time to really evaluate the time commitment and the logistics involved before signing up—if it will put too much stress on you as a mom or dad, then perhaps it's not the right time for Junior to play soccer. "Decide if you can meet those requirements and don't forget to ask if it will fit with our family," Miller said.
To hear more about kids and sports, listen to "Juggling Schedules" from "You've Got This" podcast.