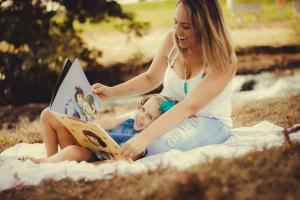 The following is an excerpt from my interview with Dara Lovitz on my podcast, You've Got This.
Now, twins. Some people hear that and they think "Oh my goodness, I would just die if I had twins." Did you feel that way when you learned you were having twins?
Dara: No. I was thrilled. I was really excited. There aren't twins in my immediate family. I had plenty of fears about being pregnant and going into labor, and I thought if I could get two out of one in this deal that works out in my favor. Of course I had the same hesitations and fears that a lot of twin parents have, which immediately has to do with costs of two babies at once and then two toddlers at once and two preschoolers at once and then you know, way down the line, two college students at once!
We have these concerns about whether we're having twins, whether we're having one child, whether we have other children at home and we're pregnant again. You know, we all kind of have to kind of navigate through those kinds of fears. So how did you kind of work through some of the concerns that you might have had?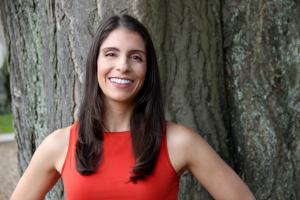 Dara: I am not sure my advice would be universal because my temperature runs anxious. My normal Dara is anxious, worried, fearful—it's just how I am. I ended up doing a ton of research. I Googled every issue. I ended up finding a couple of parenting blogs that I liked the philosophy of, and I stuck with those. A lot of people gave me books, which were helpful when they were going in the right direction.
Parenting can be difficult at times, but we know our kids. We really have the best knowledge on how to do this. We just get all tangled up I think, when we over-read or we over-subscribe and we think that we have to do everything perfect. One of the blessings of twins or having more than one child is realizing how different they all are and how one thing that worked for one is not going to work for the other. Did you find that to be true, as well?
Dara: A hundred percent. Each child is unique and what works for one child might not work for another. There are some generalities in raising children. I mean, all children no matter who they are need love. They need to feel safe and secure in their homes, in their bodies. You know, they need to have bodily autonomy. I mean, there are certain things that are general across the board for all children; and then there's a whole lot of variability depending on the makeup and the wiring of the child.
For my twins, I'm raising them in the same exact environment, you know? Same household, same socioeconomic status—and they have just sort of developed into these different individuals. If I've learned nothing else from studying twins and interviewing them, it's that in nature versus nurture—nature wins. There is so much that's sort of beyond our control. Not to say that parents have no role—there's an important role we play in guidance and development and making sure they're safe—but as far as their personalities and whom they turn into, it seems like the die has been cast there.
I'm a huge, huge advocate of one-on-one time. We started years ago in our family breakfast with mom or dad. There is actually a sheet on our refrigerator right now that has every first and third Friday of the month, my husband and I take turns on a rotating basis with each kid…. You think "How could you not have one-on-one time with one kid?," but it can happen. You know, you don't want every interaction to be a barrage of questions from mom or dad, you know? You want it to make that connection because that's really what we're going for here, right? You want to make sure that you have that connection with your kid because it does make life go easier.
Dara: Sometimes at the end of the day, I reflect on what took place and areas for improvement, in some cases, and oftentimes I think about "What are the words that I shared with my children?" and a lot of it is logistical or it's orders or it's you know, "Put your shoes on, go the bathroom. Put your shoes on, go to the bathroom. Put your shoes on, get your backpack. We have to go, we have to go. Yes, you can have a cookie after you eat something healthful."
It's always like this! And then they say things to me and it's usually requests for food or something about school. But at the end of the day, I lie in bed and cuddle with them at night before they go to sleep and that's finally when we can talk. … The lights are out, there is no distraction, no TV, no food. Now I hear everything about their day—the good things, the bad things, and it's a chance for me to really get to know them. A lot of the twins that I interview, they said they appreciated that their parents would spend one-on-one time with them with simple things, like walks around the block.
To hear more great advice and stories from Dara, listen to "The Uniqueness of Each Child," on the "You've Got This" podcast.